Donny Osmond Shares Throwback Photo Wearing a Tool Belt and Fans Joke
Fans of Donny Osmond reacted lightheartedly to an Instagram post he made, which featured a throwback photograph of himself wearing a tool belt. 
Donny Osmond was thrown into the spotlight very early in his life, becoming a child star, and a member of the famous "Osmond Brothers" at the age of six. 
It is therfore, expected that Donny would have so many fond memories about growing up, and he decided to share one of such memories with his fans on Instagram.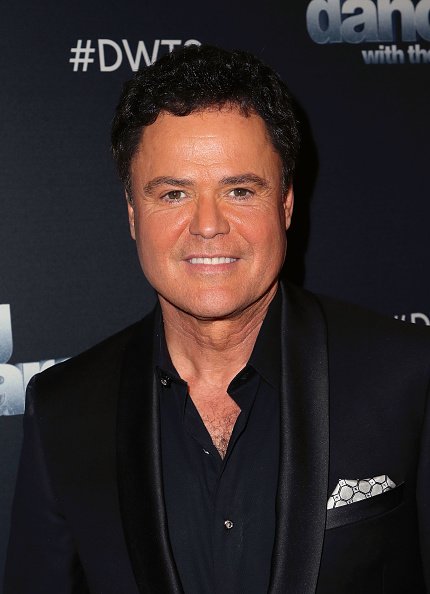 The 62-year-old posted a photo of himself from years back, as a young boy, wearing a tool belt and standing behind a kitchen sink, looking back at the camera as though he wanted to react to something someone said. 
In the caption to the post, Donny implied that the picture was one of the few that showed him in his natural habitat. He wrote,
"A rare sighting of Donny in his natural habitat. [emoji] #FBF."
The picture by Donny Osmond attracted a host of reactions from many of his fans, with some finding it hilarious. One fan jokingly asked Donny, "Do you do house calls?"
Another fan said that Donny's photo was cute and that they loved the way the former teen idol was a regular guy, adding that the fact that mega fandom hasn't gotten into Donny's head made him very charming. 
Donny's dad told him that marriage would mean the end of his career, but the beginning of his personal life.
A third fan asked Donny if he could come to their house and fix her sink, adding that the photo was so adorable, while a fourth person said they loved seeing such images of Donny in a natural, relaxed way and would love to see more of them. 
Another fan wrote, "Man of many talents," adding the hashtag, Bob the Builder to drive home their point, while another fan said:
"Whatever you fixing – mine is broken. [emojis]"

Donny Osmond was born into a large family, he was the seventh of nine children. His parents loved music and enjoyed singing with his father, formerly an army sergeant, being a disciplinarian, and his mom, caring and nurturing. 
Donny said in a Guardian interview that his father was his mentor, and at 19, he knew he was in love with his secret girlfriend, Debbi Glenn, and wanted to marry her. His father however, had some words for him. 
Donny's dad told him that marriage would mean the end of his career, but the beginning of his personal life, something the singer said he discovered to be right after he married Debbie, who he tagged as an amazing person. 
Walt Disney discovered "The Osmonds" previously composed of Donny's older brothers, Wayne, Alan, Merrill, and Jay in California. Donny later joined them to complete the quintet.
The brothers performed at many shows, including the "Andy Williams Show," where they played for nine years. Their career continued to rise, with the brothers touring several places in the world, performing their hit tunes. 
The only female Osmond sibling, Marie, soon joined the brothers, and later on, she and Donny began performing duets. They also had their own television show, "Donny and Marie."
Donny later faced difficulties in his career and took a break at some point, but he revived it and has gone on to release more hit songs and collections, as well as host several television shows.