Melania Trump Flaunts Curves in Lotus-Printed Dress with Red Belt While Visiting a School in India
First Lady, Melania Trump showed off her slender figure in a floral embroidered dress as she spent some time engaging in activities with children at a local school in India.
During her second day on her tour of India, Melania Trump made a solo trip to the Sarvodaya Co-Educational Senior Secondary School in New Delhi.
The first lady was treated to a grand welcome by the young students. She was handed a bouquet of flowers right after she received the traditional red tilaka dot on her forehead.
Melania showed off her slender figure in a printed dress by Carolina Herrera. She went for a demure look with a button-up high collar and long sleeves.
The flowing dress cinched her at on her waist with a bold red belt. It was a mid-length button-up style that had pleats at the bottom.
With the Headline "Flotus Wears Lotus," it was revealed by India Today that the embroidered flowers on her dress were lotus flowers.
Originally, the designer Carolina Herrera incorporated the lotus flower in her dress design to pay homage to her Venezuelan roots, where the lotus flower is popular across the country.
For Melania, who carefully curates each piece of clothing she wears, the almost $2 000 lotus embroidered dress was in honor of her host country.
It is reported, the Lotus flower is India's national color. It is also a symbol of the country's ruling party, the Bharatiya Janata Party.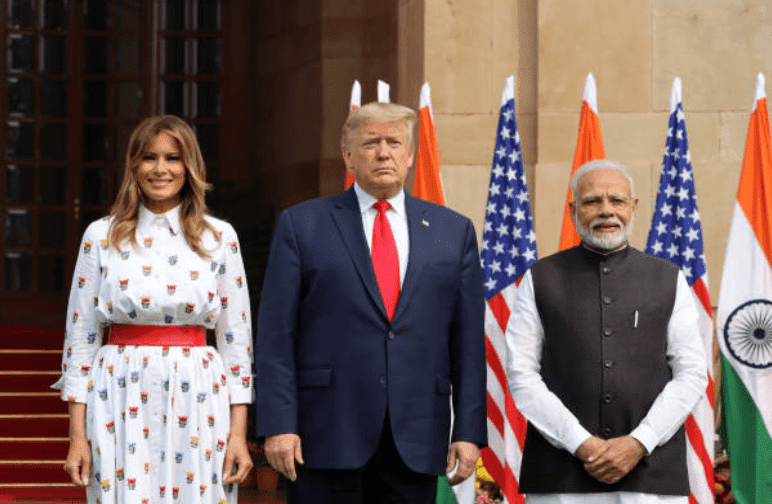 Melania
 was at the school to observe is "happiness class." According to 
TIME
, it is aimed at reducing stress and anxiety by teaching children about meditation, obedience, and other activities. After attending the classes, she 
said:
"It is very inspiring to me that students here begin each day participating in mindfulness. I cannot think of a better way for all of us to start our day."
US President Donald Trump & First Lady Melania Trump depart from Delhi following the conclusion of their two-day visit to India. pic.twitter.com/llalDcR5W9

— ANI (@ANI) February 25, 2020
She was interested in the "happiness classes" as part of observations for programs with her own "Be Best Initiative."
The initiatives is aimed at helping children take better care of themselves by tackling issues like cyberbullying and drug use.