Khloé Kardashian Gets Trolled Online for Advertising Bedazzled Air Freshener on Instagram
As an influencer, Khloé Kardashian is no stranger to promoting items for big brands. Her most recent ad, however, served mostly as a form of entertainment for the internet. 
On Thursday, Khloé Kardashian graced Instagram with a sexy advertisement for Febreze products. The three slides were more of a comedy show for netizens, however.
Khloé, 35, undoubtedly looked good, but her poses for a fabric freshener line drew more comments about the hilariousness of the situation than her looks. Reactions are found below. 
Kardashians bout they bread fr cause @khloekardashian is modeling with bejeweled @Febreze_Fresh 😂

— loc. (@AyYoMoniLoc) February 27, 2020
Khloé makes cleaning sexy
The mother-of-one sat on a bed donned in a white long-sleeve shirt that teased viewers with its unbuttoned top part. Khloé appeared to be wearing no pants. 
I'd only wanna be famous so these companies can send me everything bedazzled..@khloekardashian got 3 febreeze bottles covered in rhinestones. That's goalssss.. send me one too @Febreze_Fresh

— Lo (@lohannaLxo) February 27, 2020
On either side of her was a white pillow. In front of each were at least four bottles of Febreze products. Khloé held one of them in her hand as she gave the camera a sultry look. 
In another slide, the reality star posed on a large, gray sofa. Three of the air fresheners rested in front of her. Behind her on a balcony was a table holding four more of the products. 
Is Khloe Kardashian really advertising Febreze on Insta 🤣

— emma (@emmanye_) February 26, 2020
The most bedazzled air fresheners
The final slide was what prompted a lot of responses from the internet. It showed a closeup of three bedazzled Febreze air fresheners set on a table with a photo of Khloé and her daughter. 
Losing my mind over the fact that Khloe Kardashian has a bedazzled febreze bottle pic.twitter.com/HiO2Ipauxc

— elon's musk (@teytey94) February 27, 2020
The items were covered entirely in white crystals except for the label. The top of two of the products had blue crystals, while the last one was blue. 
This spon con Khloe Kardashian for febreze is sending me thru the roof ... it's so awful. the bedazzled bottles ... the pose with the bottles in the background? So deeply awful it's almost genius tbh pic.twitter.com/jIpTRGXRei

— Conor Behan (@ItsConorBehan) February 27, 2020
Khloé wrote in her caption: "The best ever. I've used Febreze Fabric on my bed for years." She encouraged her fans to try the brand and give her feedback. She also added a link to her favorite scent. 
Kim clears up booing claims
Reactions ranged from people simply not believing what was going on, to insults and claims that the Kardashians are doing anything for money. Mostly, though, people were highly amused.
Elsewhere, Khloé was completely disappointed with the internet after the incident with sister Kim Kardashian and husband Kanye attending Tristan Thompson's game.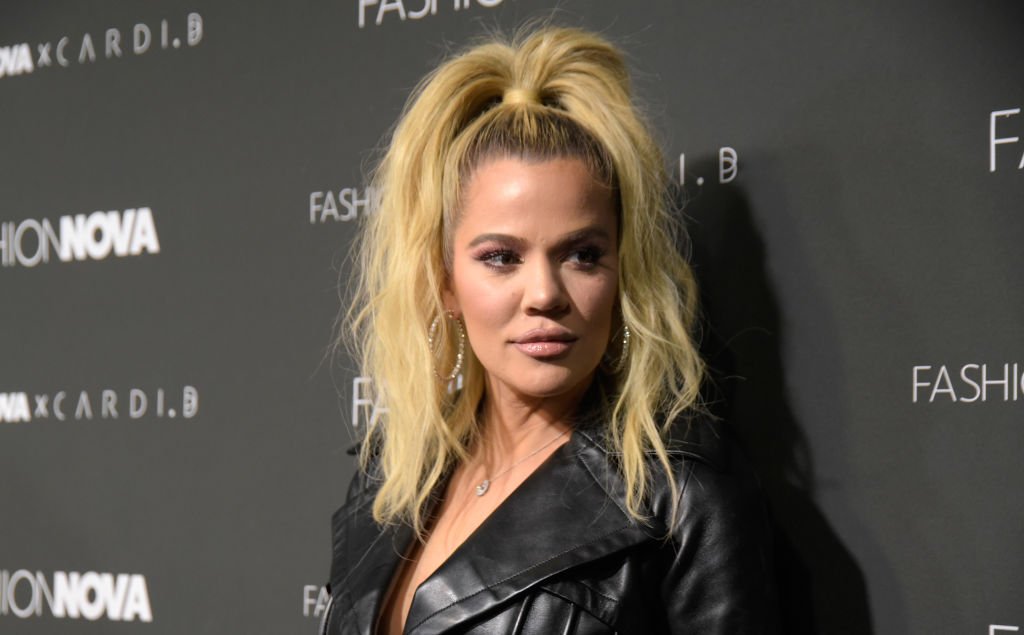 Thompson is the father of Khloé's daughter, True. Earlier this year, false reports emerged that Kim booed her sister's ex-boyfriend during a basketball game. 
In a preview clip for "Keeping Up With the Kardashians," Khloé expressed how crazy it was to her that people believed Kim would go to a game to boo her ex. 
Khloé calls Kim generous
In other instances, the sisters are not so cool with each other, though. Last week, another preview clip showed how Khloé reacted when Kim invited Thompson to dinner with her friends. 
Khloé kept saying her sister was "beyond generous" for inviting her ex-boyfriend but told Kim that it was her decision. Khloé handled it well, just as she's probably doing with the air freshener promotion critic.