Khloé Kardashian from KUWTK Is Reportedly Wary of Ex Tristan Thompson Who Is Doing His Best to Win Her Back
Khloé Kardashian is reportedly not ready to welcome Tristan Thompson back into her life romantically, despite his desperate and continuous efforts to win her back.
Tristan and Khloé's relationship has come a long way since they broke up over a year ago. The NBA player's cheating scandal sent Khloé packing, but now that they are on good terms again, he wants them to get back together.
SO MUCH MORE THAN ONLINE FLIRTING
According to a source that spoke with HollywoodLife, Tristan's flirty comments on social media are only the tip of the iceberg.
As recent as Monday, Tristan spread the flirting on thick when he commented on a picture Khloé posted to social media, as he wrote with a drooling emoji: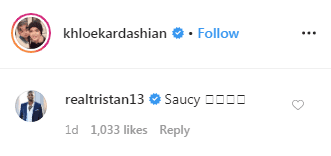 Tristan's online flirting aside, he comes on even stronger in person and loves sending Khloé flowers regularly, as the source added:
"Her house is filled with flowers and a lot of them are from Tristan. He sends her sweet texts and never stops telling her he wants her back."
SHE IS NOT READY
Even though Khloé likes the attention, she reportedly trusts Tristan as a father to their 23-month-old daughter True, but not yet as a romantic partner, wanting things to stay "as they are."
On April 15, the Cleveland Cavaliers play their last game for the season, and Tristan is looking forward to spending more time with True and Khloé during the summer.
REBUILDING THEIR RELATIONSHIP
Despite Tristan's show of affections, the pair are reportedly also taking things "extremely slow." The couple has put an emphasis on their communication and talk "a lot more" to try and make their relationship work.
According to a source that spoke with the publication, Khloé never really got over Tristan, and around the New Year, she started noticing the "positive changes" he made for them as a family.
COMMITTED TO THEIR DAUGHTER
During an interview on February 22, Khloé shared that she is committed to a good co-parenting relationship with Tristan.
She believes that even though True is still small, she would pick up on animosity between them, and she doesn't want that for her daughter. Even so, Khloé called Tristan a "great person," and she knows that he loves their daughter very much.
Tristan Thompson's affections for his daughter was clear in a video clip he shared of them late in February as they tried out some dance moves.
The duo had a grand time as they hilariously danced to Justin Timberlake's "I've Got This Feeling" and True looked adorable as she tried to mimic her dad.