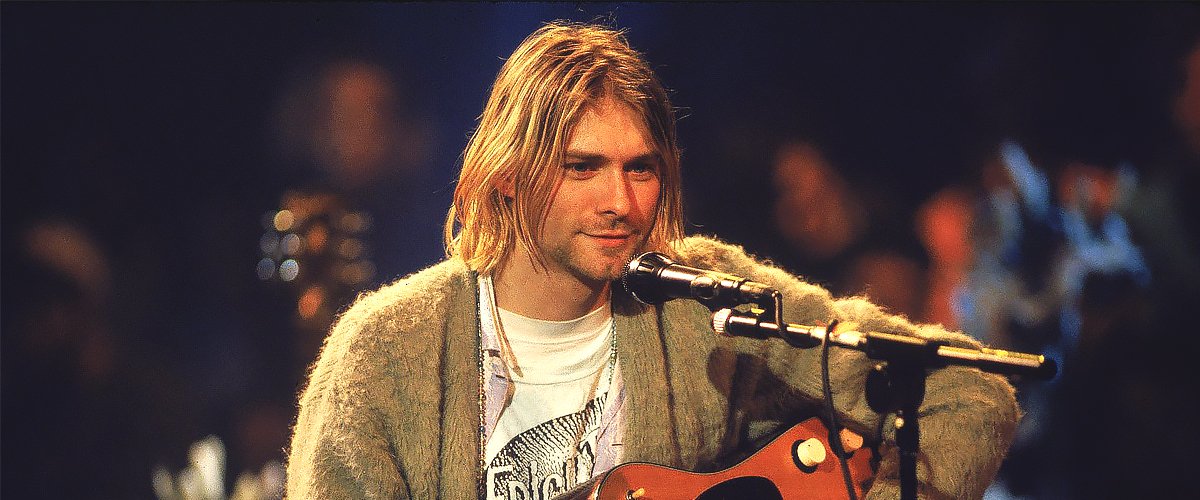 Getty images
Kurt Cobain's Only Daughter Frances Bean Is All Grown-Up and Has a Charming Voice
Frances Bean Cobain is the only daughter of legendary singer Kurt Cobain. The toddler who lost her dad before she clocked two has blossomed into a beautiful young woman dedicated to making a name for herself.
Navigating through childhood and adulthood can be daunting. The quest to find one's self while establishing a path for one's life often takes its toll.
But this is perhaps more daunting for children who have to grow in the eye of the public. With a famous parent or being a child star, it is no wonder these adults try to find some privacy in their life.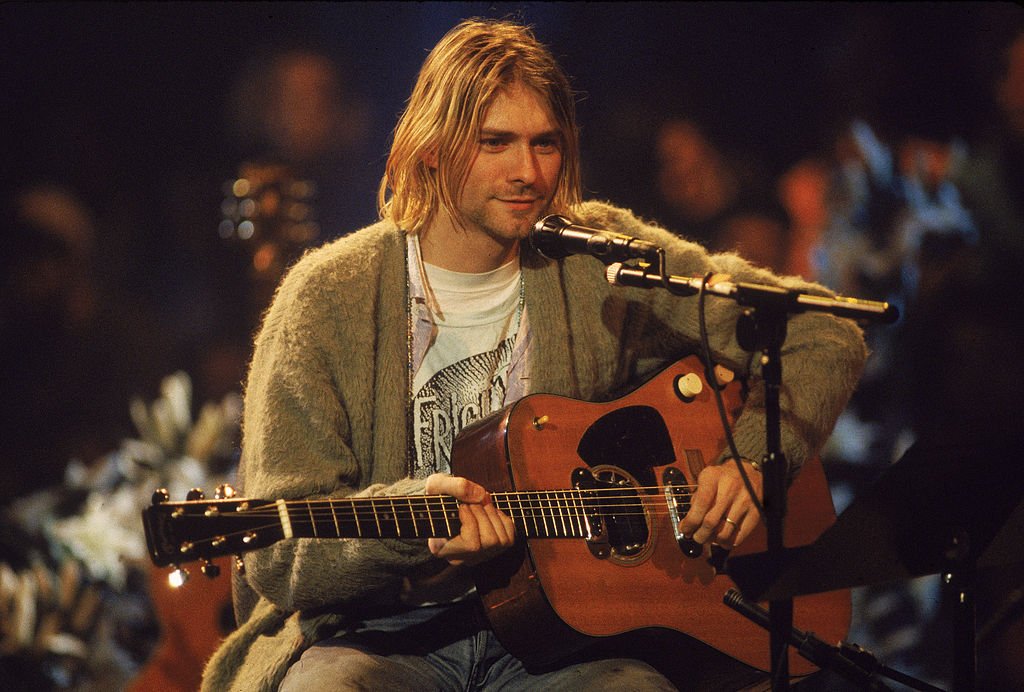 American singer and guitarist Kurt Cobain (1967 - 1994), performs with his group Nirvana at a taping of the television program 'MTV Unplugged,' New York, New York, Novemeber 18, 1993 | Photo: Getty Images
Kurt Cobain was a legendary singer known for his time with the band "Nirvana." Dubbed as the voice of Generation X, the pressure soon got to him, and he committed suicide with a gunshot to his head.
However, before his passing, he had a beautiful daughter named Frances Bean Cobain. Born to Courtney Love and Kurt Cobain, Frances is the only child the singer had before he passed on.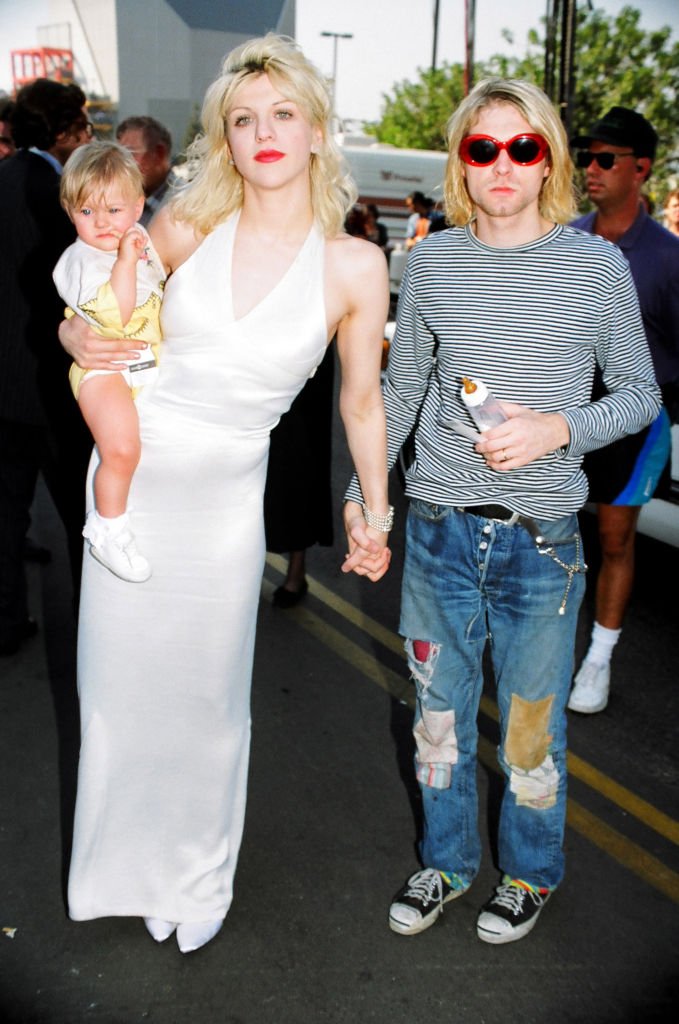 Courtney Love, Frances Bean Cobain, Kurt Cobain of Nirvana September 02, 1993 | Photo: Getty Images
FRANCES' LIFE AFTER DAD'S DEATH
Growing up without a father figure can take its toll on the life of a child. Speaking on her life without her dad, Frances revealed that while she somewhat understands why he killed himself, she would have loved to have him around just to know him better.
Frances was barely two years old when her father Kurt Cobain committed suicide. It was not until she was five that her mother Courtney Love told her about the suicide, and this was after Courtney had spent a year in therapy.
With a mother who was an addict, Frances was partly raised by her paternal grandmother, who ensured that she lived life as healthy as possible. Her mother also attested that she tried to ensure that Frances grew up with reasonable conditions for a child born into fame.
Although she never got to meet her father, the news, his songs, and talks about him were enough to give her the information that she needed to know about him although not in the manner that she would have preferred.
Recalling how people often compare her to her father, Frances remembered a time when the members of Nirvana came visiting and could not stop staring at her like they had seen a ghost because of her uncanny resemblance to Kurt.
With both parents in the limelight, Frances got exposed to fame at a young age but has since created her own path to live her life on her own terms.
MOTHER-DAUGHTER RELATIONSHIP
Frances and Courtney Love did not have the best mother-daughter relationship while she was growing up. Courtney, who was hooked on drugs even during her pregnancy with Frances, soon had to deal with constant custody battles right from the time she was pregnant.
Word had gotten out that she and Kurt were using drugs while she was pregnant, and social services had come to take the child away from such a harmful setting.
While the case dragged on for a while, the couple was able to retain the custody of their child by promising to clean up their acts.
Although this worked for a few years, soon Courtney relapsed and was back to taking drugs. During this period, Wendy Cobain and some nannies were in charge of taking care of Frances.
As time progressed, the two tried to work on their relationship, but at some point, Frances filed for a restraining order against Courtney, although the reason was not revealed.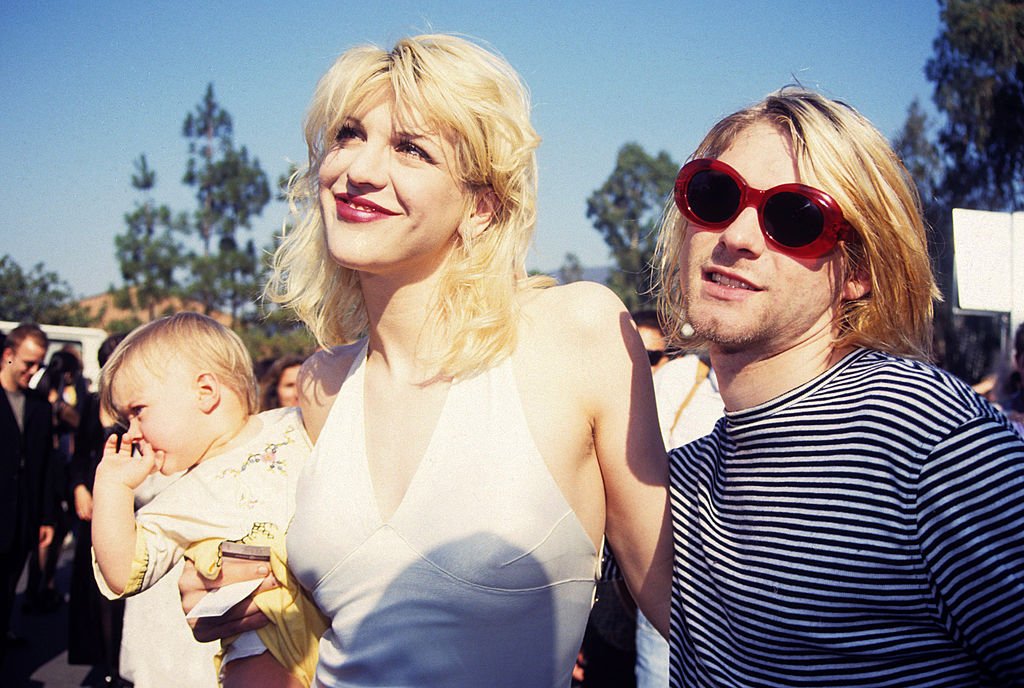 Kurt Cobain of Nirvana (right) with wife Courtney Love and daughter Frances Bean Cobain at the Universal Ampitheater in Universal City, California on September 02, 1993 | Photo: Getty Images
THOUGHTS ON FRANCES' LATE FATHER'S WORKS
Many people regard Kurt as a legendary singer who revolutionized the Rock and Roll genre, but for Frances, this style of music is not for her.
While she admires the works of her father, especially his songwriting abilities, she revealed that she preferred other types of artists. She also expressed that:
"I don't really like Nirvana that much The grunge scene is not what I'm interested in, but "Territorial Pissings" is a great song. – I cry every time I hear that song."
While she interned with "Rolling Stones," Frances got to help out on a documentary that was to detail the life of her father called the "Montage of Heck."
Speaking of the documentary, Frances opined that it was the closest she's had to having Kurt explain himself and tell his own story the way he would have wanted to tell it.
SHE'S MORE THAN KURT COBAIN'S DAUGHTER
Frances (a dedicated artist with an exceptional voice) has expressed that she wants people to know her for more than just being Kurt Cobain's daughter, as she even felt guilty for taking an inheritance from a man she never met.
She wants people to appreciate her for the works she has done, the money she has made in her name, and the impact she has made in the lives of those around.
Despite her addiction to drugs and unhealthy lifestyle, Frances discovered the need to recover and restore her life to follow the path she truly wants for herself. While it was a tough period for her, it was also a learning curve.
Talented and dynamic, one of Frances' dreams is to have a comic cookbook that is relatable to people. She often shares her works and drawings on her Instagram page.
Whatever the case may be, it is beautiful seeing Frances blossom into the young woman that she wants to be.
Please fill in your e-mail so we can share with you our top stories!