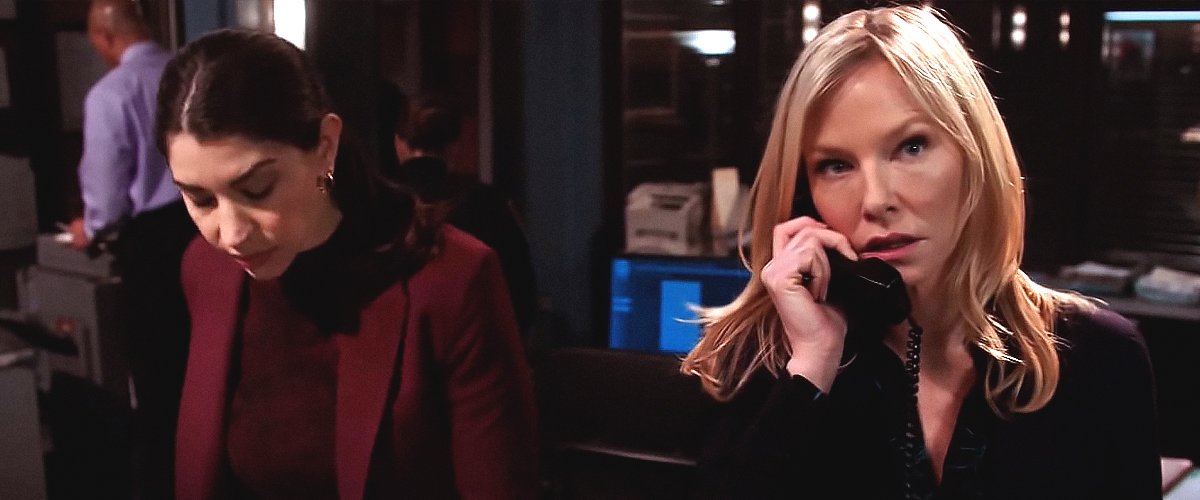 YouTube.com/Law & Order: Special Victims Unit
'Law & Order: SVU' Fans Congratulate Rollins on Her Promotion and Praise the Show's Plot Twists
"Solving for the Unknowns," the latest episode of "Law & Order: SVU," kept fans guessing. Thankfully, most of them liked the plot twists and took to social media to praise the show.
Warning: This article contains spoilers of the 19th episode of season 21 aired on April 16.
"Great plot development"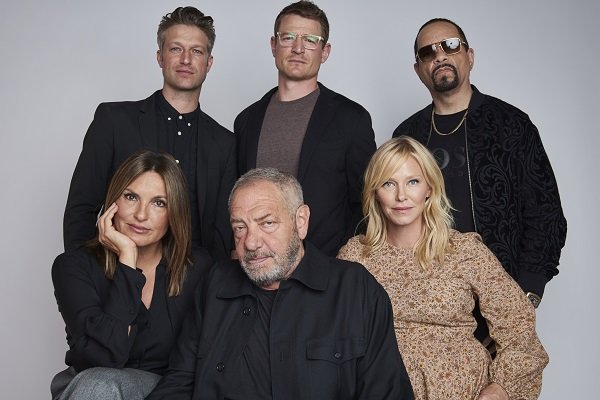 Mariska Hargitay, Peter Scanavino, Dick Wolf, Kelli Giddish, Ice-T, and Philip Winchester on September 20, 2018 in New York City | Photo: Getty Images
RECAP OF LATEST "LAW & ORDER: SVU" EPISODE
From the very beginning, it was almost impossible to predict what would happen. The SVU team was chasing a serial rapist who used a dating app to meet with women and then drugged them so that he could take advantage of them.
The main problem that Olivia Benson (Mariska Hargitay) and the rest of the detectives faced was the lack of evidence that the criminal left behind, especially because the drug that he used completely disappeared.
Jill was the first victim that the team noticed as she was arrested after crashing a bakery truck into a police car on an empty street. The woman, however, had no recollection of what happened or why she was there.
She eventually realized that she had been raped and told Detective Amanda Rollins (Kelli Giddish) that she met a man named Luke Mitchell at a bar the previous night.
After having two drinks, she started feeling different, and after that, she couldn't remember anything else. The Special Victims Unit team went to the bar and then to Luke's house, where he told them that he had sex with Jill but that it was consensual.
To make matters harder for the victim, her TOX screen came back clean, meaning that they couldn't find any drugs in her system. The team then found another woman, Ms. Larson, who also dated Luke and had a very similar experience.
LUKE WAS ID
She went to the station and identified Luke in a lineup, which led the team to call him into the station. He tried to protect himself saying that he had never drugged his dates but that the bar where he took them made strong drinks.
After investigating, they learned that the bartender, Ash, and Luke knew each other. Unfortunately, they reached a dead end, so Olivia held a press conference urging any women who believed that she was raped by Luke to come forward.
Several did it, and Luke eventually confessed that he and Ash knew each other. After feeling the detectives' pressure, he explained that he didn't know anything about the drugs.
He admitted, though, that Ash promised him that his dates would be compliant to him. The only thing that the bartender wanted in exchange was videos from Luke raping his victims.
LUKE AND ASH WERE DISCOVERED
Luke then agreed to cooperate with the SVU team to get info about the drugs used by Ash. The bartender, who was also a chemistry major, got aggressive and beat Luke before officers arrested him.
Ash was recorded admitting that he drugged the drinks, so he decided to cooperate by naming the rest of the rapist he used to work with. At the end of the episode, four more men were arrested. Luke received a ten-year sentence while Ash only a two-year one.
Finally, Olivia told Piper, one of the victims who had it worst, that it was hard for the law to keep up with the kind of drugs used for rape. Piper told Olivia that she wanted to make a victim impact statement, and the Lieutenant said she would support her.
Another highlight of the episode was Amanda Rollins' promotion: she is now a Detective 2nd Grade! Shortly after "Solving for the Unknowns" ended, several people took to social media to share their thoughts on it.
PEOPLE'S REACTION
Some of them congratulated Amanda's promotion, especially after the challenging year that she had. Others pointed out that their favorite part of the episode was when Olivia put on her uniform and held a press conference. A netizen wrote:
"Amazing, elusive episode that you just cannot predict. Love the plot-twists & enigmatic way #SVU tells a story, with all the emotion & drama."
The following episode, "The Things We Have to Lose," will be the season finale. "Law & Order: SVU" tends to have more than 20 episodes for each season (except for season 9).
For this season, producers planned to air 24. However, due to the novel coronavirus disease, they had to shut down earlier than expected. Consequently, the show will wrap up with only 20 episodes.
Although the upcoming abrupt ending might not be as exciting, Jamie Gray Hyder, who joined the cast of the show for season 21, promised that it would "tie up loose ends from past cases."
The actress added that while the producers of "Law & Order: SVU" didn't plan "The Things We Have to Lose" to be the season finale, it will "serve that purpose." That episode will air on April 23.
Please fill in your e-mail so we can share with you our top stories!