Gabrielle Union's Daughter Kaavia James Strikes Pose in Black and White Jumpsuit in a Cute Photo
Gabrielle Union's baby girl, Kaavia, melts hearts in a new Instagram post, which features her striking a pose while dressed in a cute black and white jumpsuit.
Gabrielle Union's one-year-old daughter, Kaavia, is back in a new social media update, and her fans can't get enough of her.
A picture that saw the curly-haired tot seated near the top of a staircase made its way to Instagram several hours ago.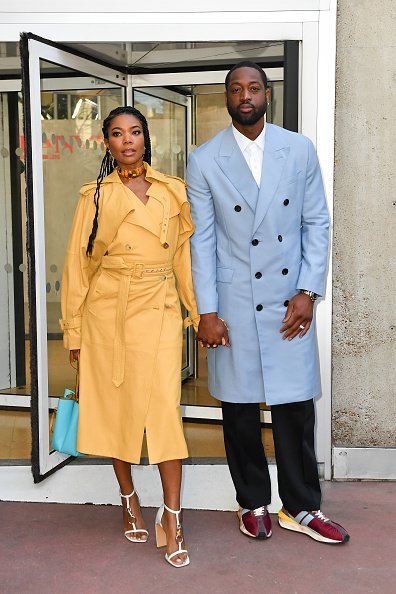 In the picture, the 1-year-old baby was dressed in an adorable black and white jumpsuit and, for reasons best known to her, had a cup in her hands.
The photo was shared on Kaavia's personal Instagram page, and like most of the other images that have made their way to her page, the caption that followed the post was a humorous one. It read,
"Listen, ima get down these stairs WITH my sippy cup. Sure, they panicked and tried to intervene, but as you can see..."
In the comments section, fans couldn't get enough of the little bundle of joy. Many tagged her "cute," and others marveled at how fast she's growing.
Kaavia was born to Gabrielle Union and her husband, Dwyane Wade, on November 7, 2018. Since her birth, her doting parents have grown fond of sharing photos of the adorable tot.
Earlier in April, her mother took to Instagram with photos she took with her daughter, Kaavia. In the pictures, Union showed off her natural curls as she gave little Kaavia a piggyback ride. The proud mother captioned the post,
"See @kaaviajames mama's got hair like yours!! When I took my braids out, she was like ?? now mom & baby, both rocking their natural curls."
Union also posted a couple of adorable snaps that captured her husband, Dwyane Wade, combing his daughter's hair on Kaavia's own Instagram page.
After doing a lot of research and watching lots of documentaries, they were willing to give it a shot.
She joked that he would not be satisfied until his little girl looked like Florida Evans from the classic sitcom, "Good Times." Kaavia is Union's only child with Wade, who has three other kids, Zaire, Zaya, and Xavier, from previous relationships.
His daughter, Zaya, made her red carpet debut recently after she identified as a member of the LGBTQ community in April 2019.
The Wade-Union trio made an appearance at the Truth Awards — an annual ceremony dedicated to celebrating the black LGBTQ+ community's achievements.
Wade was dressed in a mostly black suit and a pink shirt, while his wife, Union, looked gorgeous in a primarily white and black suit with green straps underneath.
Zaya stood out in a green suit jacket with black pants and a pink sash. Wade announced news of his daughter's big reveal on February 11 during his appearance on "The Ellen DeGeneres Show."
On the show, he opened up about how he supported his kid since she told her parents she wanted to be addressed with female pronouns.
Since then, he and his wife have remained outspoken about their unending love for Zaya while urging other parents to make an effort to understand and support their kids.
In an article jointly written by Wade and Union, they revealed that it was not easy seeing things the way Zaya did, however, after doing a lot of research and watching lots of documentaries, they were willing to give it a shot.
Wade and Union have been married since 2014. The pair first met in 2007 while co-hosting a Super Bowl party. They tied the knot in a stunning ceremony in August 2014.