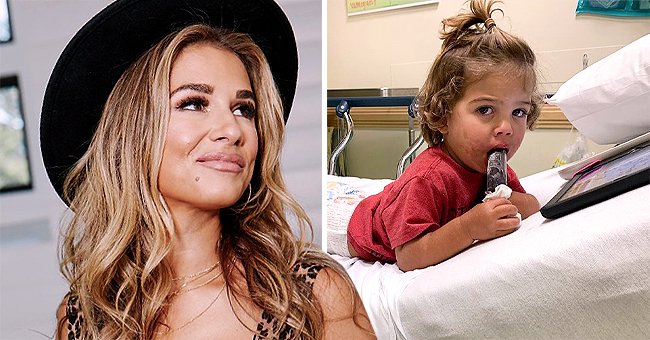 instagram.com/jessiejamesdecker
Jessie James Decker Took Son Forrest to the ER for an Infection from a Bug Bite

Jessie James Decker has had to rush her son to the ER after an infection he got from a bug bite.
Having to take your child to the emergency room is every parent's worst nightmare, and for Jessi James Decker, it happened when her son got bitten by a bug.
The concerned mom shared the photo of her youngest son Forrest lying on a hospital bed, eating a popsicle stick.
Jessie shared that the bite had turned into a boil, and the two-year-old had to be sedated to drain it.
However, she added that he took it like a champ, and is now out of the hospital and doing well. According to an insider, they said,
"He was treated and released. He's home and doing well."
Jessie, who has been married to her husband Eric Decker since 2013, has three children with him, Vivienne,5, Eric Decker II, 3, and Forest, who they welcomed in 2018.
Due to the coronavirus pandemic, Jessie shared that her family could not accompany her and Forest to the hospital, so she had to go by her self.
Jessie revealed that they did not fight but found solutions instead.
When it comes to their marriage, the couple has managed to survive busy schedules as well as cheating allegations.
However, Jessie revealed that they did not fight but found solutions instead. She added that they loved each other saying,
"I just - I'm so in love with him. Of course, he's beautiful but it's not just that, he's such a good person, and he's such a great father and a great husband."
Jessie also credits some advice her mother gave her in keeping her marriage happy, which was never to want to win an argument.
She explained that when you win an argument, it means that your partner loses. She added that it was more important to win together.
The couple often gives fans glimpses into their home life, regularly sharing photos and videos of themselves spending time with their children outdoors.
Recently Eric shared an adorable photo of himself and Forest at the beach swimming, so it seems he is all better now.
Please fill in your e-mail so we can share with you our top stories!