Tanisha Thomas of 'Bad Girls Club' Is a Doting Mom to Her Little Son — What Is Known about the Reality TV Alum
She is a woman that takes a lot of pride in her professional achievements, but nothing has made her prouder than her little prince Aiden, her beloved firstborn.
Tanisha Thomas was 22 years old when she made a name for herself as a cast member of Oxygen's reality TV series "Bad Girls Club." Even when her intense personality made people think she was going to burn out fast, she gradually worked her way into becoming the show's host.
Ever since then, she has achieved what few can: Making a lucrative career out of reality-TV show appearances. Since her debut, Thomas has been on "Tanisha Gets Married," "Marriage Boot Camp," and "Crazy Talk."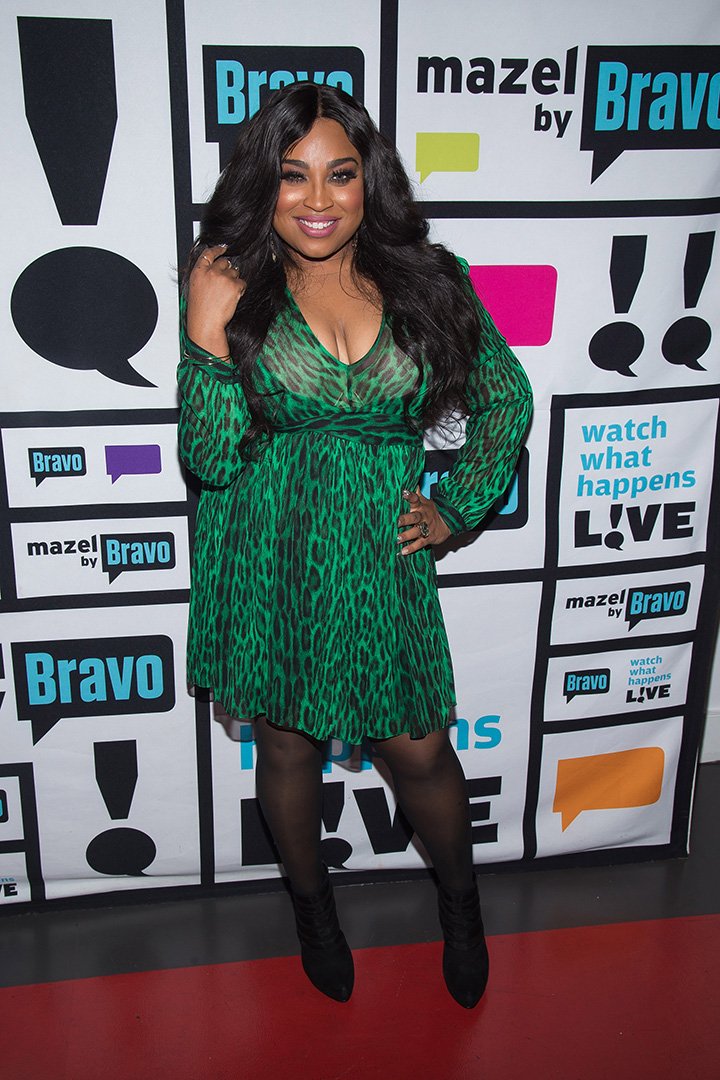 In 2017, after ten years on the show, Thomas left "Bad Girls Club" to focus on her first child, born in 2018. Now, she is happily engaged to the father of her son, but it took a long time for her love life to get to such a happy place.
NOT QUITE THE FAIRYTALE
In 2012, Thomas gave HOT97 the exclusive that while she was still legally married to Clive Muir, with whom she exchanged vows in 2011, the two had stopped living together after only five weeks as husband and wife.
The marriage took place in front of TV cameras for the documentary series "Tanisha Gets Married," and the ceremony was aired in June 2012, in an episode titled "Possibly Ever After."
The aforementioned HOT97 interview was done three months after the wedding aired. When asked about her marriage, Thomas confessed that what she expected to be a fairy tale ended pretty soon.
As Thomas shared, she and Muir "got married on December 4, and by January 18th, he was out of [her] house."
Even though Thomas had become a public figure and a reality TV star since she first starred on "Bad Girls Club" in 2007, she admitted that being the focus of a docuseries where she gets married proved to be too much for her to handle.
"You never realize how intense things get when some cameras [are] coming to your personal life. It's a whole different ballgame. They were in my house and my momma's house in Flatbush, Brooklyn," Thomas said.
Thomas added that her husband changed after marrying her, and she complained about him lacking ambition and only wanting to play videogames at home.
Thomas went on to reveal that Muir thought the show was going to make him famous and even quit his job, eventually prompting her to end a relationship of seven years.
MARRIAGE BOOT CAMP
Even though she was pretty cynical about her entire marriage in the aforementioned interview, Thomas changed the tone later and left the possibility of making things work with Muir open.          
Two years later, in 2014, Thomas and Muir tried to make their marriage work once again by taking the extreme measure of joining yet another reality-TV series, "Marriage Boot Camp: Reality Stars" in its first season.
"We have been married for two years, and our marriage is in serious, serious trouble," Thomas shared in a segment of the show, proving that although the two kept trying, they weren't making much progress in the relationship.
"This is honestly our last resort," Thomas claimed about her and her husband's decision to appear on the show.
In one of the series trailers, which showed several altercations between Thomas and Muir, Thomas added trust issues and infidelities to the list of problems in their marriage.
But any hopes for the marriage to be rehabilitated were lost by the end of the show's first season when Thomas and Muir made up their minds about getting a divorce.
REVAMPING HERSELF
Following the demise of her first marriage, Thomas rapidly moved on to start anew, leave her bad experience behind, and figure out how to put herself in a better place.
 In 2015, after successfully launching her own Plus-Size clothing line, PrimBeauty, and becoming the host of a new anthology reality series ("Crazy Talk"), a revamped Thomas spoke with Bossip about the changes she made in her life.
Before embarking on a journey to lose weight, Thomas wrote a book titled "Diary of a F.A.T (Fed up and Tired) Girl," published in 2016, and she achieved her goal of losing nearly 70 pounds.
"I just did the work. I just got tired of saying how sick and tired I was, and one day I was like, 'you know, screw this,'" Thomas shared, explaining that she worked on revamping herself both on the outside and the inside.
DATING AGAIN
After doing all that work on herself, Thomas was once again ready to resume her love life. In the aforementioned interview, she broke the news that she was already in a new relationship, although she kept her beau's identity to herself at the time.
In September 2015, Thomas went on a peculiar first date with a medical doctor named Alex Brevil. The blind date took place in front of the cameras during an episode of the talk show "Steve," after host Steve Harvey tried to set them up.
While Brevil and Thomas seemed to have great chemistry right away, in the end, it was another lucky man who won her heart and gave her one of the best gifts of her life: becoming a mother.
WELCOMING HER FIRST CHILD
 In October 2017, Thomas took to her Instagram feed to share a professional photoshoot with her then-boyfriend Carey St. Hilaire, a travel and lifestyle photographer, to announce that the two were expecting a child.
"I wouldn't trade you for the world, and even though I've developed slight anxiety recently, with you by my side, I know there's nothing I can't conquer," Thomas wrote in the caption dedicated to St. Hilaire.
Thomas and St. Hilaire's son Aiden was born on March 7, 2018, as the baby's proud mother revealed in an Instagram post, sharing a picture of herself in a hospital bed with the newborn asleep on her chest.
In the post's caption, Thomas called Aiden a "blessing" and her "greatest accomplishment."
About a month after welcoming their first child together, St. Hilaire and Thomas celebrated their anniversary as a couple by getting engaged, as they happily shared on social media.
As of June 2020, St. Hilaire and Thomas haven't exchanged vows yet, but the two are happily enjoying every minute as parents to their baby boy, as Thomas showed on Father's Day in a heartfelt Instagram post.