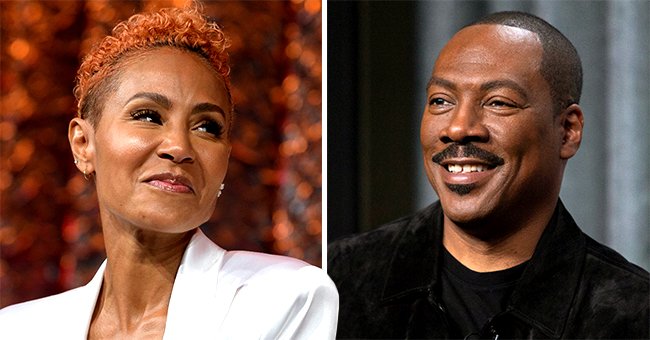 Getty Images
Jada Pinkett-Smith Celebrates 24th Anniversary of 'The Nutty Professor' with Eddie Murphy
Jada Pinkett Smith reflected on her role in the hit comedy 'The Nutty Professor' as she celebrated the movie's 24th anniversary with one of her favorite scenes.
Jada Pinkett Smith has been acting since the 90s. One of her first roles was on an episode of the show, "True Colors." She soon landed memorable roles in" Return to Paradise," "A Different World," "Matrix," and "Set It Off."
In May, the actress shared impressive fan art, which captured her characters from some of her most noteworthy roles. Smith revealed that every role she had every played provided her with some sort of life lesson about herself.
The actress set off her comedic flair in "The Nutty Professor," which recently celebrated its 24 anniversary.
In honor of its release date, Smith posted one of her favorite scenes and admitted that she had a lot of fun filming with Eddie Murphy.
In an interview with Entertainment Weekly, Smith shared that Murphy had offered her several other movie roles before handing her the script for "The Nutty Professor," she explained:
"I knew to wait, I said I'm not going to waste my Eddie Murphy card. I'd got to wait for the right project Eddie!"
The wait was worth it because Smith's post in honor of the movie's anniversary has already received over 470 000 views. Many fans have been praising the movie, one fan said, "one of the best movies ever made. And you looked flawless! Love this."
Another fan added, "yes a classic, I love your hair in this movie." One person commented on the scene she posted, saying, "[I don't know] how you managed to keep a straight face during this scene." Another person praised both stars for their role in the film.

A fan commented on Jada Pinkett Smith's video of her and Eddie Murphy in a scene from "The Nutty Professor" | Source: Instagram.com/jadapinkettsmith
According to
Forbes
, "The Nutty Professor" had a budget of $54 million and raked in $273 million worldwide.
The hit film helped re-established Murphy's comedic genius as a box of hit after a string of lacklustre movies in the early 90s.
It is reported, the film is a remake of Jerry Lewis's 1963 original with the same name. Although he served as an executive producer, he later admitted to having regrets in allowing the remake.
In an interview, he said the movie was perfect the way it was. He explained that having someone takeover diminished that perfection.
Please fill in your e-mail so we can share with you our top stories!