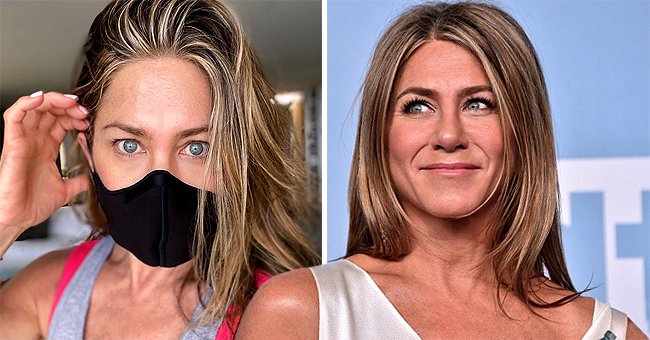 instagram.com/jenniferaniston | Getty Images
Why Jennifer Aniston Thinks It's Important for Everyone to Wear Masks (Photo)
The United States is currently facing a bit of a challenge, with many people unwilling to wear face masks amid the novel coronavirus pandemic.
Given that the virus is still out, several prominent people have tried to raise awareness concerning masks' importance. Famous actress Jennifer Aniston joined the campaign, with an Instagram picture.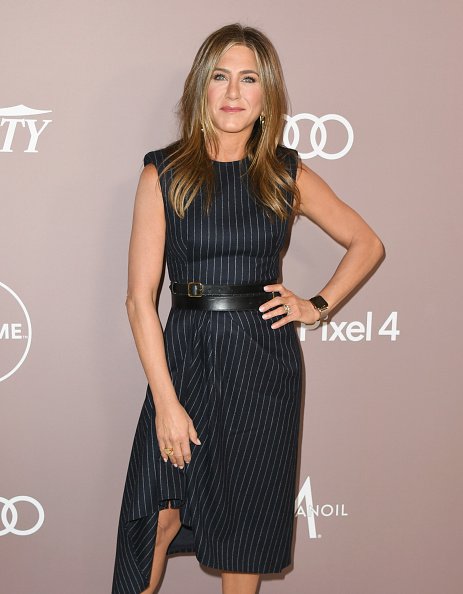 Jennifer Aniston at Variety's 2019 Power Of Women: Los Angeles on October 11, 2019 | Photo: Getty Images
In Jennifer's photo, the actress dons a black face mask while her blonde hair flows freely across her shoulders. Going makeup-free, she pairs her face mask with a grey crop-top and a pink sports bra.
On the issue of face masks, Jennifer explains that she understands the challenge people face when it comes to putting them on. However, it is also crucial for people to stop the spread of the virus, as it has already affected the country enough.
The actress goes on to point out several of the virus's effects on the country, including the closure of businesses, restaurants, and more. All of these alone should be reason enough for people to do better. She adds:
"This simple and effective recommendation is being politicized at the expense of peoples' lives. And it really shouldn't be a debate ??."
Jennifer's argument rests on the fact that many across the country have refused to wear face masks. This is despite the recommendation from health officials to do so.
Still, people will need to play their part to ensure that the virus is dealt with once and for all by adhering to health recommendations and guidelines.
With the issue of race still significant in the United States, this was quite a gesture.
Jennifer has been one of the many celebrities who have spoken out on various issues this year. Last month, she announced that she auctioned several of her nude portraits to help with relief materials for the virus.
Per reports, the actress teamed up with notable photographer Mark Seliger to conduct the auction. The nude portraits were taken years back, when she was still working on the famous sitcom, "Friends."
She eventually donated all proceeds to NAFC Clinics, a charity organization that organized free testing and care to several people nationwide.
In addition to her coronavirus relief efforts, reports also confirmed that the actress donated $1 million to improve racial justice. With the issue of race still significant in the United States, this was quite a gesture.
Jennifer's donation came in the wake of the outcry caused by several police killings this year alone. With protests rocking the nation, many have called for an end to these injustices.
Sources claimed that she donated the funds to several organizations. One of them was "Color of Change," an American racial justice organization.
The actress also posted on her Instagram page to draw awareness for the arrests of several police officers who allegedly killed Minnesota resident George Floyd.
Please fill in your e-mail so we can share with you our top stories!