Hilary Farr Is Not Married to David Visentin — inside the 'Love It or List It' Host's Life
Gorgeous designer and TV host Hilary Farr is determinedly single, though rumors have linked her to her handsome co-host David Visentin.
Actress and interior decorator from "Love It Or List It" Hilary Farr has been working with colleague David Visentin since 2008 and the chemistry between them has led fans to speculate about a possible romance.
After all, they are both good-looking and work well together, and bicker like an old married couple, but Farr and Visentin have never dated. In fact, their personal lives might be a surprise to fans.
Farr keeps her personal life private, and the only passion she admits to is for her adorable Pomeranian-Chihuahua mix, Mimi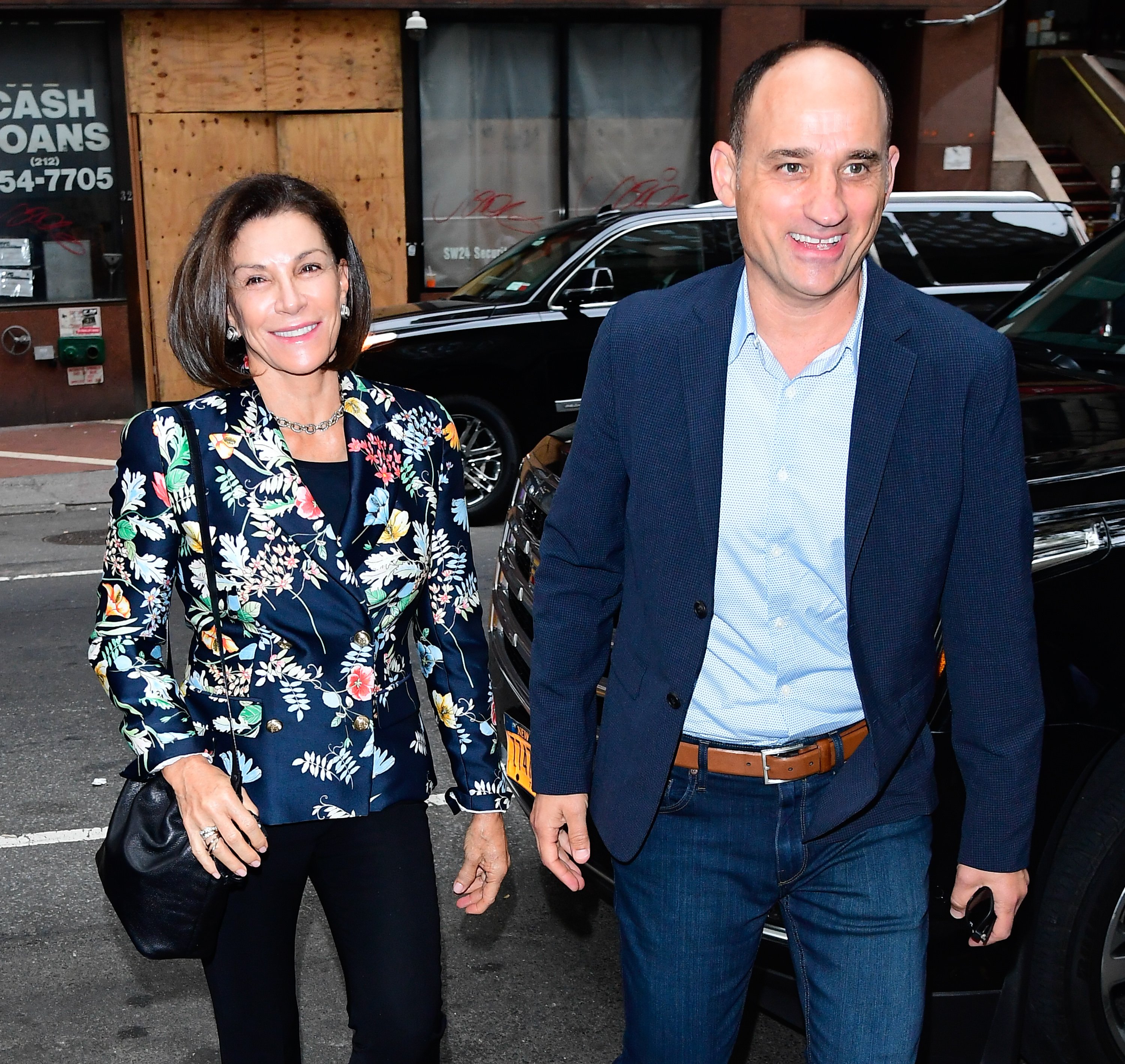 THE UNMARRIED COUPLE
Farr and Visentin's dynamic on-screen relationship has led to speculation and outright gossip that maintained that their connection was more than professional and that they were, in fact, having a real-life affair.
The two have never been more than great co-hosts and good friends, have never dated or entertained romantic feelings for each other. Farr commented provocatively to the gossips:
"What you see is what you get. We adore each other."
HILARY FARR -- SINGLE MOM
Farr has a grown-up son -- she doesn't look old enough, but she is 67 -- whom she shares with ex-husband TV producer Gordon Farr. Farr keeps her personal life private, and the only passion she admits to is for her adorable Pomeranian-Chihuahua mix, Mimi.
DAVID VISENTIN -- MARRIED DAD
Visentin is just as zealous about protecting his family from public scrutiny, and his wife, Krista Visentin, likes to keep a low profile. The couple married in 2006, and share a gorgeous nine-year-old son, Logan. Krista tends to avoid the limelight and doesn't' have a social media presence.
A video from my son Josh and grandkids that I wanted to share. Happy Mother's Day! pic.twitter.com/xppySH4WHZ

— Hilary Farr (@Hilary_Farr) May 10, 2020
THE ROMANCE RUMOR
The romance rumor probably started because of the two co-hosts' penchant for privacy, and for their incredibly dynamic on-screen relationship. Their friendly competitive banter keeps the audience glued to their seats, and fueled the aforementioned speculation.
LOVE IT OR LIST IT
Visentin and Farr met for the first time on the set of "Love It Or List It." In the series, Farr transformed the houses of home-owners who were weary of their surroundings, while Visentin urged them to "list it," sell and move on to greener pastures.  
Visentin is an estate agent, and Farr has been a dancer actress and, of course, an internationally renowned interior decorator. Her passion for design started at a young age when she helped her mother redecorate their home. The secret to decoration is, Farr revealed:
"You have to figure out a way to get an emotional impact."
One of my fav photos of Mimi! pic.twitter.com/2rUKdQOK7x

— Hilary Farr (@Hilary_Farr) July 8, 2020
HILARY FARR ANIMAL LOVER
Farr doesn't just adore her Mimi, she is also an active animal rights activist, working to end elephant poaching in Africa. Closer to home, she is a supporter of several animal shelters, and conservation charities like The David Sheldrick Wildlife Trust, and Veterans Empowered To Protect African Wildlife.
HILARY FARR -- ACTRESS
Farr originally wanted to be a ballet dancer, but she grew too tall and decided to focus on acting instead. In the 70s, Farr accumulated a series of credits which included a role in the 1975 cult classic, "Rocky Horror Picture Show," starring Susan Sarandon, Barry Bostwick, and the inimitable Tim Curry.
In the film, Farr played the bride in the film's opening scene, the wedding which inspires Brad to propose to Janet and sets off the chain of events that brings them to Dr. Frank-N-Furter's door. Farr explained how she got the part:
"It came about because we lived — as a family — right below Tim Curry [AKA Dr. Frank-N-Furter himself]." 
During the 70s Farr worked on a series of films, including "Legend of the Werewolf" with the legendary Peter Cushing, "City on Fire" with Henry Fonda and Ava Gardner, and "The Return" with Cybill Shepherd, and Martin Landau.
After her divorce, Farr turned to design and worked in Australia, Britain, and finally, the United States. She is now residing in Toronto but travels frequently to New York to oversee the operations of her design firm, Hilary Farr's Designs.
The fabulous Miss Farr is as adept at reinventing herself as she is at transforming drab and dreary homes into showplaces.