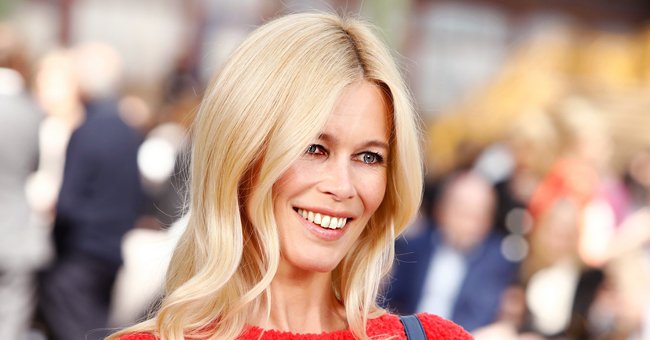 Getty Images
Check Out Claudia Schiffer Sharing Her Treasured Wardrobe Items as the Supermodel Turns 50

Claudia Schiffer just turned 50 years old, but fans might not believe it from her recent post. Sporting a unique blue piece, the model showcased her youthful looks.
Nothing about Claudia Schiffer's 50th birthday celebration is average. On Tuesday, the longtime supermodel shared her blowing out candles on a unique-looking cake while wearing an extravagant blue dress.
Schiffer shared details of her clothes in the caption, including the creator's name and dress brand. The piece is a recreation of another one she wore years before. The post is found below.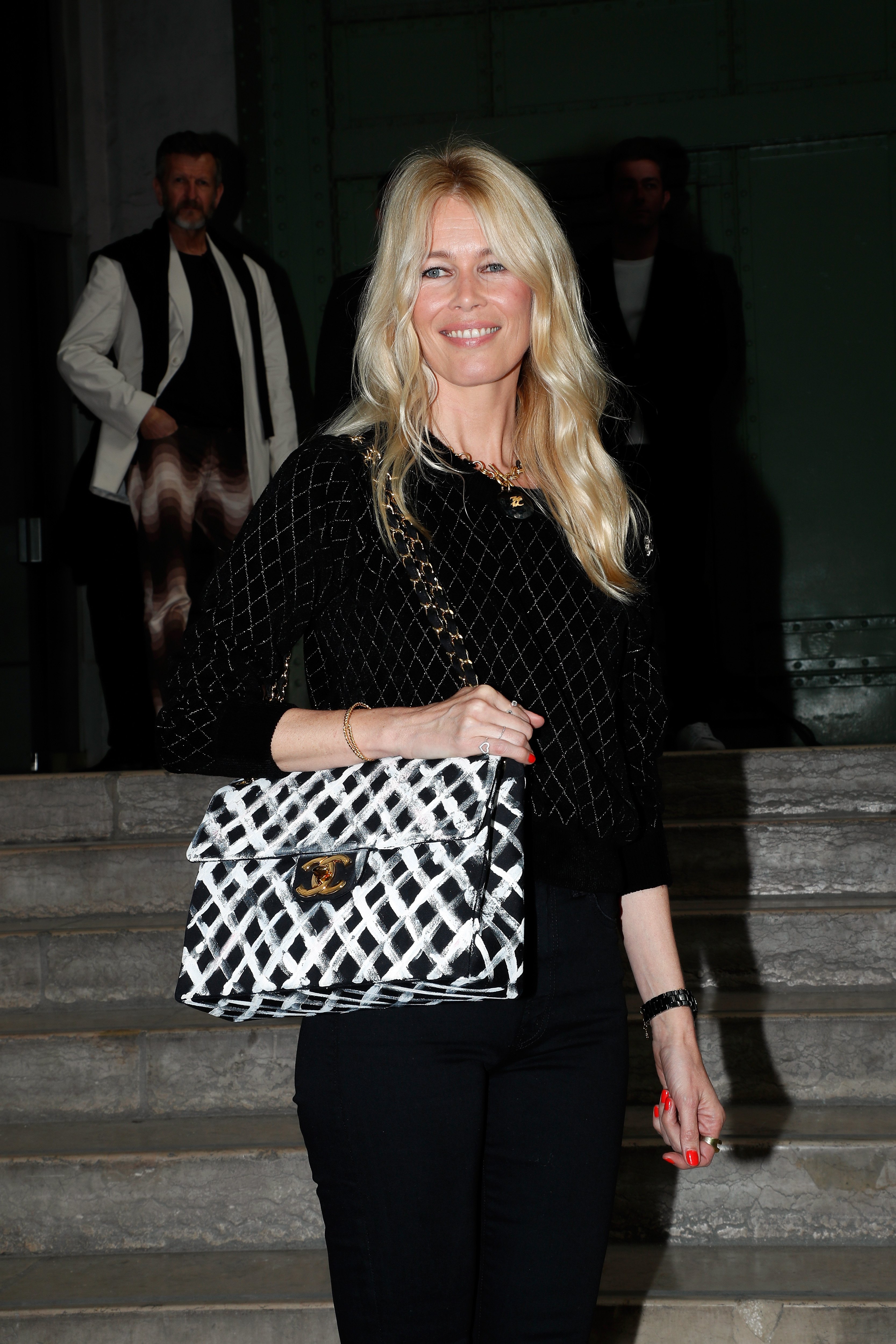 Claudia Schiffer attends the "Karl For Ever" tribute to Karl Lagerfield in Paris, France on June 20, 2019 | Photo: Getty Images
SCHIFFER BLOWS OUT CANDLES
In the seconds-long video, Schiffer stands in her kitchen in front of an island. She is holding up a cake that looks like a set of pancakes stacked on top of each other.
Around the edges are several tall candles — less than 50 — and in the middle is a circular portion with writing on it. Schiffer blows out the candles before giving a small laugh.
The supermodel wore an elaborate blue dress, which, according to her caption, is a Balmain piece created by Olivier Rousteing. In an episode of "Inside the Wardrobe" for British Vogue, she elaborated on it.
ALL ABOUT HER BLUE DRESS
The blue dress was initially created in a dark-green color for a Balmain campaign Schiffer did years ago. Photographer Steven Klein was behind the camera alongside Naoma Campbell and Cindy Crawford.
Schiffer said of Rousteing's re-creation: "It's just absolutely gorgeous. I absolutely love it. It fits me like a glove. So well done, Oliver. You're amazing."
Schiffer also received a few more birthday presents on her special day. Dolce & Gabbana gifted her a handbag and a few other pieces to honor her decades-long contribution to the modeling industry.
HER STANCE ON AGING
Schiffer has been modeling since the '80s, gracing over 1,000 magazine covers with her germanic beauty. Today, Schiffer is still taking on new projects. Her most recent is a denim brand called Frame.
Still as fit as ever, Schiffer often rocks jeans bottoms and wants to share her creativity of the timeless look with others. Age is not something she considers a limitation. She said:
"I believe age should be celebrated and revered. There's a reason we have cakes and parties on our birthdays, and I feel the same way about getting older each year."
INTERESTING FACTS AND LOVE LIFE
Some of Schiffer's most notable moments over the years include her runway debut as a teenager in 1990 for Karl and Chanel. In 1992, she experienced theatrics in fashion with a Gianni runway show.
Before the modeling word picked her up, Schiffer wanted to be a lawyer like her father. Along her unforeseen journey, she has learned to speak three languages fluently.
In her personal life, Schiffer was once engaged to magician David Copperfield. After several years, the pair split up in 1999. Schiffer has been married to Matthew Vaughn since 2002 and has three children.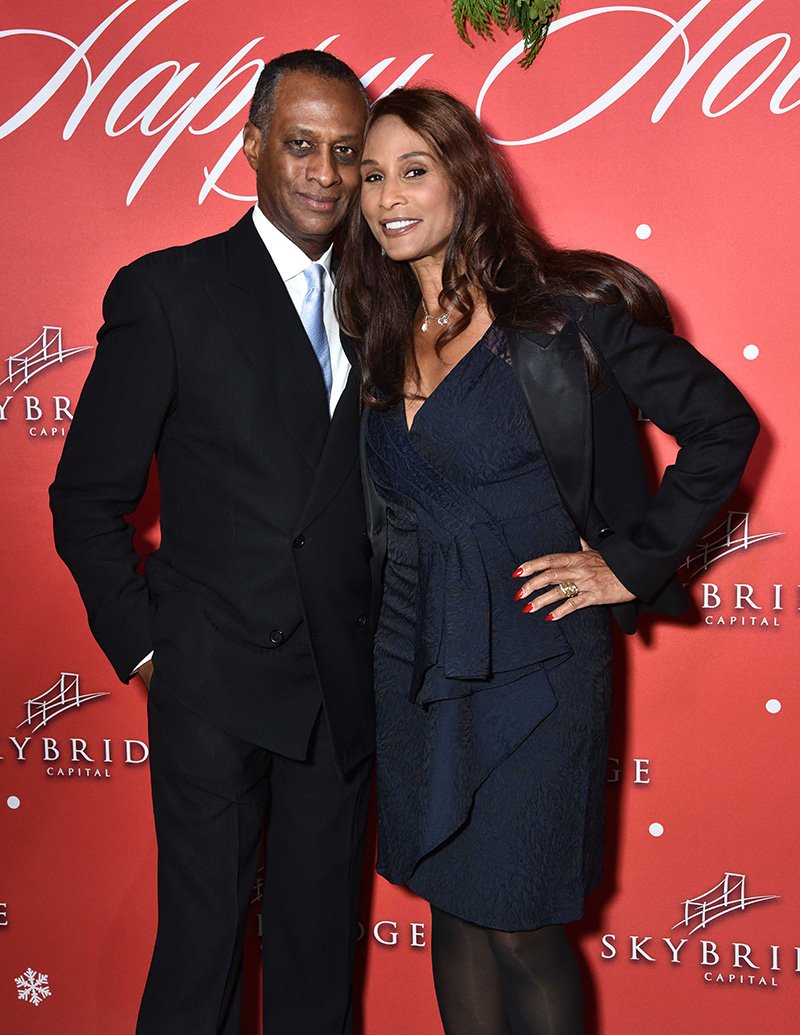 Brian Maillian and Beverly Johnson attend SkyBridge Capital Holiday Celebration at Hunt & Fish Club on December 14, 2016 in New York City. I Image: Getty Images.
BEVERLY JOHNSON GETS ENGAGED
Another supermodel who recently found love is Beverly Johnson. At 67, the stunning woman got engaged in July to financier Brian Maillian. Johnson spoke about her new status in an interview with People.
She said it was "amazing" to find someone at this point and was incredibly happy that she and her fiancé share similar life experiences. Johnson has been married twice before to Billy Potter and Danny Sims.
Please fill in your e-mail so we can share with you our top stories!