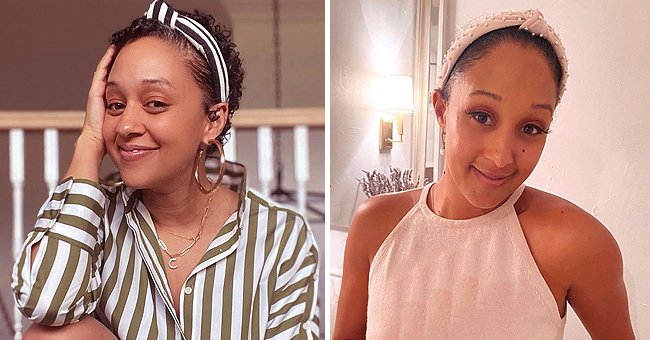 nstagram/tiamowry Instagram/tameramowrytwo
Tia Mowry Says Her Daughter Cairo Sometimes Confuses Her Aunt Tamera with Mom
It's hard enough to remember different faces when you are a toddler, but for Tia Mowry, things are a little harder for her kids.
Growing up a twin is excellent. You have a best friend for life and someone who will always have your back. But one of the downsides is that you are continually reminding people who-is-who.
Tia and Tamera Mowry got their start acting as twin sisters on the hit show, "Sister, Sister" and now Tia is revealing that someone close to her has trouble telling them apart too.
During an interview with People, Mowry spoke about her two children, Cairo and Cree, and revealed that her daughter loved seeing her mother on TV.
However, the actress admitted that the two-year-old was still working out the family resemblance, mostly when they hung out with Tamera and her daughter Ariah. She said:
"We feel like Cairo and Ariah look alike. And then when she looks at my sister Tamera, she'll go, 'Mama.' Because she thinks it's me."
During the interview, Mowry also revealed that while her son enjoyed seeing his mom on TV, he was a bigger fan of the twin's younger brother Tahj Mowry, adding that they had a close uncle-nephew relationship.
As for the sisters, despite rarely appearing on screen together anymore, the bond between the pair is still powerful, made evident earlier this year on their birthday.
She left a lovely message to her sister where she called her a 'ride or die since birth.
On their special day, both twins took to Instagram to pay tribute to their twin with Tia sharing a touching post for her sister, celebrating all the moments that they have shared together.
Tamera shared a stunning photo of the pair to her page and she left a lovely message to her sister where she called her her 'ride or die since birth. She added:
"When we are together I can't wait to wrap my arms around you, sniff you like we always do (ta hee-hee) and giggle till the sun comes down. I love you very much TT!"
Tamera Mowry and Tia Mowry sign and discuss their new book "Twintuition" in April 2015 | Photo: Getty Images
While they may have grown up in front of our eyes, both Tia and
Tamera
have now embraced aging after they
revealed
that they were letting their natural gray hairs out.
After Tia shared an empowering message about aging being a sign of wisdom, her sister showed her support by sharing a stunning photo of herself, also embracing the gray.
Tia has also been giving a glimpse into family life during quarantine, sharing a hilarious video of her daughter Cairo decorating the bathroom with her mother's pantyliners.
Last year, the proud mother gushed about her daughter after revealing that at 17-months-old Cairo was already learning to read, adding that they had been practicing with flashcards.
Please fill in your e-mail so we can share with you our top stories!