Will Smith Tells Son to Stop Being Naked as Jaden Goes Shirtless in Promo Clip for His Mixtape
Will Smith's son has just released a new mixtape and the proud father is celebrating his achievement with a little of his signature dad humor. 
Will Smith's son, Jaden has just released his third mixtape, a follow up to his 2012 "The Cool Cafe: Cool Tape Vol. 1" and 2009 "Erys."
The new album named "CTV3: Cool Tape Volume 3" includes collaborations with other artists like Justin Beiber in the song, "Falling for You."
The rapper also shared some of the art for the album which features bright colors, rainbows, and a topless Jaden. 
The latter of those things seems to have bothered his father who took to Instagram to congratulate his son. However, he had to make a little comment about his lack of attire. He wrote:
"Congrats, J Diggy!! Cool Tape Volume 3 is FIRE. I'm proud of U, Sun ☀️... Oh, and stop being nek'd out in the street. Put a [expletive] shirt on! #CTV3 Link in Bio"
While his comment may have been tongue in cheek, it is Smith's particular brand of dad humor as someone who made a name for himself in the music industry seeing his son succeed him. 
During an interview, Jaden opened up about his song with Beiber revealing that he wrote it with his guitar teacher in his room. 
He had pulled inspiration from a variety of things including his perspective as an artist, singer, and poet.
When speaking about his album, he said that he had always had Beiber in mind, adding that he worked on it for almost a year before he played it for the singer. 
Jaden also spoke about what the album meant, sharing that he had pulled inspiration from a variety of things, including his perspective as an artist, singer, and poet. He said:
"I'm speaking from the perspective of being 16,17ish. That's when a lot of people get their first love, or heartbreak, around that time, and same for me. So I'm going back there." 
Recently, the star made an "appearance" at this year's VMAs. The red carpet moments were shot at different locations before airing and Jaden definitely made an impression. 
The rapper brightened things up with a color-blocked jacket worn with some chunky sneakers. He brought it all together with a pearl necklace by Polite Worldwide.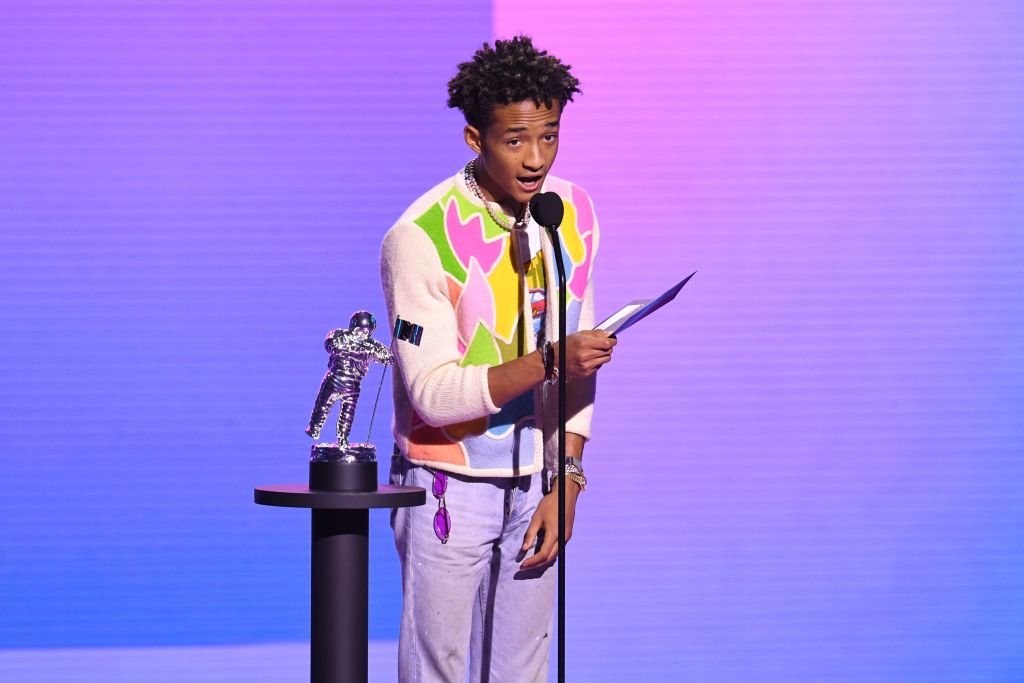 Smith shares his son Jaden with his wife Jada Pinkett Smith and the couple also has a daughter, Willow Smith. 
The rapper also has another child from his previous marriage to Sheree Zampino who he was married to until 1995, Trey.