Look through 9 Awesome Fashion Choices So Far in 2020 from 'House of Payne' Star China McClain
Actress China Anne McClain has quickly risen over the years to become a respectable and stylish young lady. Her impeccable fashion style comes easy to her and somehow, she always manages to pull off some of the best looks. These are her top 9 looks for 2020 so far.
Early in February, McClain took to her Instagram to give her fans a very cryptic sneak peek of a project she was working on. 
The actress looked as stunning as always, rocking a full face of makeup and long straight black hair. Her animal print outfit was hidden underneath a cozy-looking blue robe as she smiled brightly at the camera and challenged her fans to guess where she was.
Much later in February, McClain rocked her short natural hair with a calm makeup look. Her outfit was a stunning black sleeveless jacket with a lace-detailed top peeking out from underneath. The "House of Payne" star accessorized with silver jewelry and her warm yet calm smile as she struck a pose.
A March 27 post saw McClain dressed in a black off-shoulder top that showed off her flawless skin. Her wine-colored hair was styled in a short haircut, and her only accessories were her earrings and an eye-catching cross necklace.
On April 19, McClain shared snaps of her rocking a chic nerdy look. She wore a beanie with an oversized hoodie. Topping off the look, she added a pair of large thick-rimmed glasses to complete the nerdy look and pulled it off effortlessly.
May 12 saw a fabulous all-black look. She wore a black turtleneck top paired with black pants as she crossed her legs while sitting in a chair with a hilarious expression. Her lipstick was also a dark shade, as was her hair, leaving the only pop of color to her large gold square earrings.
On June 26, the young actress shared an appreciation post for her fans who helped her reach the 100,000-follower mark on TikTok. She was rocking her stunning short red hair again with a camouflage jacket and a black top underneath. As always, her makeup was done flawlessly and her bright smile lit up the photo even more.
Rocking yet another all-black outfit, a July 11 post featured McClain in a plain black top paired with a matching black beret. Towards the end of July, the former Disney child star stunned her fans with two photos of herself wearing a skinny-strapped brown dress with the sun and trees adding an incredible shadow effect.
On August 25, when McClain turned 22, she shared more stunning pictures of herself basking in the sun while wearing a red Bob Marley shirt and a matching red scarf. Beautiful is always the word of the day for this young actress.
McClain's style is no doubt something to fall in love with and even take inspiration from. Yet, one thing stands out with her sense of fashion and that is her desire to test limits and take on the task of trying something different.
In 2017, the young actress traded her straight hair for her own natural curls. This surprised everybody, McClain included, because for so long, that was how she wore her hair all the time. Although she was still as stunning as always, the message behind the transition was much more moving.
McClain debuted her voluminous curls in a stunning snap of herself wearing an all-black outfit, hoop earrings, and makeup. She then penned a caption about how she felt the need to straighten her naturally curly hair to fit a certain standard.
She chose to eschew that same standard and embrace the "magic" that was her natural hair. The message was well-received by many of her fans and followers who admired the young actress's courage and candor.
That natural hair declaration came only a few years before she finally decided to take the bold step of doing a big chop. In an August post on Instagram, the 22-year-old openly addressed her fans and men who thought that Black women who cut their hair for whatever reason were unattractive.
According to McClain, this category of men who put a woman's looks before her character could stand in the way of her blessings but for her, cutting her hair off was just something she wanted to do.
This immeasurable wisdom coming from this young star comes from the wealth of knowledge and talent that operates in her family. McClain's parents met while working in the entertainment industry, and when their kids came, they found themselves following their parents' footsteps.
Most recently, she has been starring in the CW superhero series, "Black Lightning," but her impressive resume goes way back. Before "Black Lightning," McClain was a big Disney child star. Starting her acting career at 7 gave her the opportunity to bloom fast in the industry.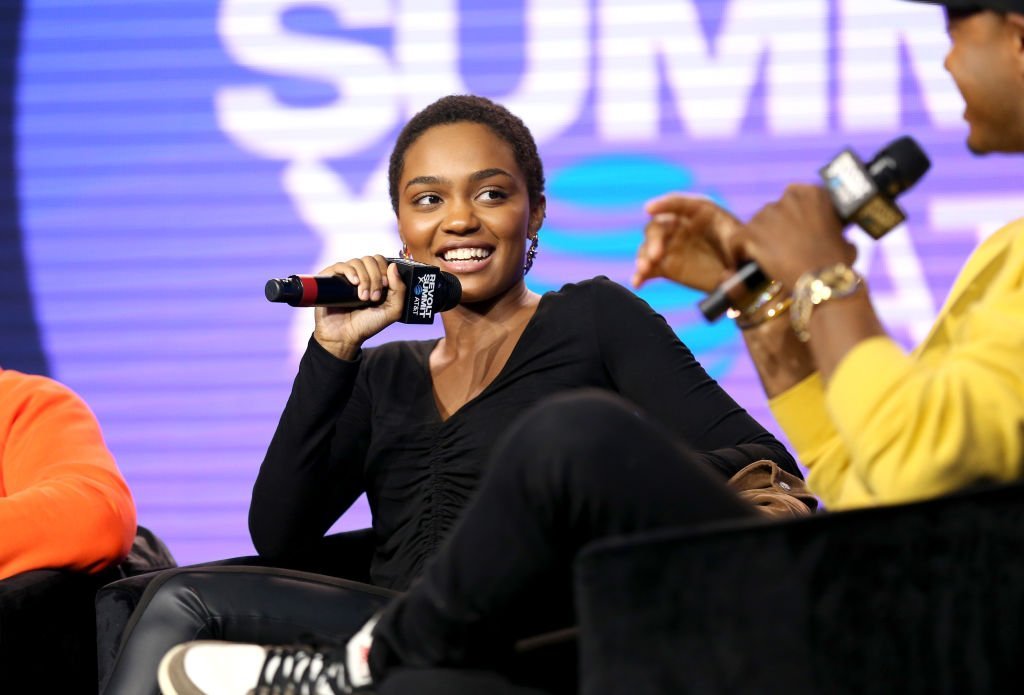 Today, she has quite a number of movies on her resume, including Disney's "A.N.T. Farm" series and the "Descendants" franchise. China McClain has come so far and clearly, she does not plan on taking her foot off the gas anytime soon.