GMA's Robin Roberts Looks Classy in a Beaded Pink Dress and Gold Heels in a Stunning Photo
"Good Morning America" broadcaster Robin Roberts is one sophisticated woman. She showed off a classy look in a beaded pink dress and a pair of gold stilettos in her latest social media post. 
Robin Roberts is an epitome of grace and elegance. She does not dress merely to impress; she makes sure her fashion style communicates just how empowered she is as a woman.
On October 1, the 59-year-old TV personality posted on Instagram her latest outfit that made her exude more confidence and style. Many fans were mesmerized by how classy she looked in the picture.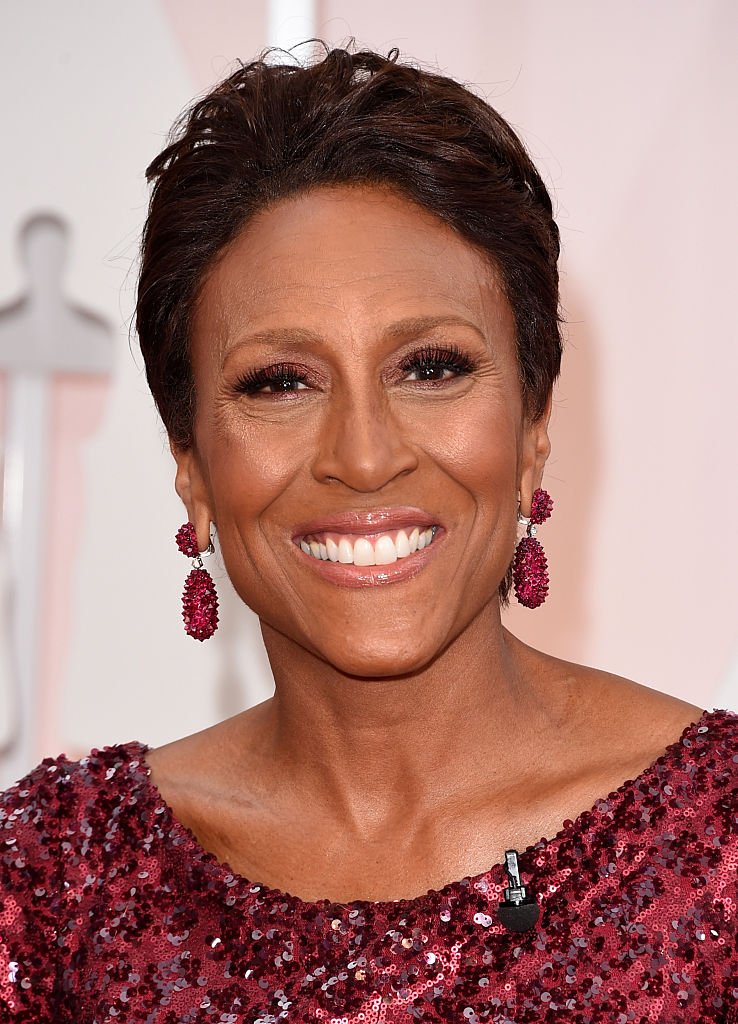 Roberts looked like she was in between a TV set break. While waiting for time to pass by, she let someone take her picture to show off her beautiful pink Michael Kors dress. 
The TV host topped her look with gold accessories and a turquoise ring on her finger while her hair was styled in place. She completed her look with a pair of gold heels.
Amid the COVID-19 pandemic, the picture also marked Roberts' recent return to the studio after months of staying at home and spending quality time with longtime partner Amber Laign.
Roberts wore pink to mark this month's breast cancer awareness. The set where Roberts was standing had a pink-themed background. On the screen behind her, the GMA texts were also in pink, with a pink ribbon on the side. The TV show host wrote:
"How can it feel like 2020 is flying by and crawling by at the same time?! Grateful to be back in the studio for #gmagoespink?."
Roberts donning a pink beaded dress was not the only time she stunned in an outfit. During the 2017 Academy Awards, she wore a beautiful Roland Mouret gown. 
The former ESPN sportscaster seems to be proving to everyone that she is staying in the loop when it comes to fashion trends aside from her usual pantsuits. 
She told Ellen Degeneres in a 2014 interview that Laign, who does not like the spotlight, has been supportive of her career.
As she continues to embrace stylish skirts and dresses, Roberts began to feel comfortable about it. Amber Laign, her girlfriend since 2005, supports her fashion choices.
The pair have been inseparable over the years. They also managed to stick with each other through the hard times, including when Roberts was diagnosed with myelodysplastic syndrome.
She told Ellen Degeneres in a 2014 interview that Laign, who does not like the spotlight, has been supportive of her career. Despite the fame, the couple chose to keep their relationship private.
Even though she is one of the most respected journalists globally, Roberts also has her fair share of racial discrimination at work. She reportedly encountered a racist remark from one of the ABC network executives.
Citing anonymous sources, the HuffPost reported that in 2018, ABC News executive Barbara Fedida allegedly threw a remark to Roberts after the latter asked for a pay raise.