Fans Impressed with Kimora Lee Simmons' Son Wolfe's Long Hair after Seeing Him Skateboarding
Kimora Lee Simmons' son, Wolfe had fans excited and impressed with the length of his hair as she shared a clip of him skateboarding around the house alongside his elder brother Kenzo.
Many are fascinated by the length of Kimora Lee Simmons' son's hair. Taking to Instagram, Kimora shared a clip of her youngest son, Wolfe, as he played around with her Chanel skateboard.
The clip showed Wolfe, 5, trying to balance on the skateboard while calling out to his mother to take his picture. Wolfe could be seen wearing a blue and white graphics designed shirt with black shorts and blue and black socks.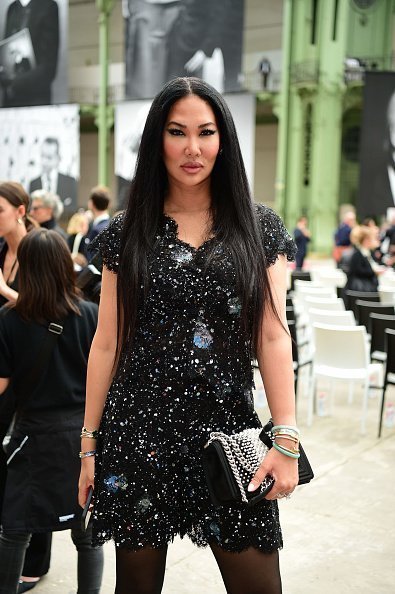 The five-year-old looked adorable as he struggled to maintain balance on the black and gold-rimmed skateboard. Alongside the clip were two still images of him.
The first featured him holding his arms out as he used his legs to balance the skateboard in a slanted manner. The second shot was similar to the first, only that Wolfe was wearing a stern face this time. Kimora captioned the post:
"I told him he can only use my skateboard on the carpet, with NO shoes!! Lolol!??? #wolfelee #ollie #art."
For fans and lovers of Kimora and her family, the most fascinating thing about the shared images was the length of Wolfe's hair which was braided and it fell straight down his back. The long braid reached the young lad's waist.
Although Kimora seems to be having a great time with her children, things between herself and her husband Tim seem to be rocky.

Fans took to the comments section to reveal their love and fascination for the hair. Someone expressed that Wolfe's hair was beautiful while another expressed shock at the amount of hair he had.
Kimora also shared a seven-minute-long video of herself, Wolfe, and Kenzo playing around the house. In the video clip, Kimora showed the brothers playing with their skateboards and moving around the house while cautioning them to stop. 

Kimora said: "I guess this is the life of a boy mom because a girl mom honey would have been playing dolls in the corner of the house right now."
In the video, Kimora showed off her decorations in preparation for Halloween and some of the things she had gotten to help prepare for the holiday. She also intimated that she and the boys were going to head out to pick up pumpkins.
Wolfe, who turned five sometime in April, is the last of Kimora's kids. She has elder daughters: Ming and Aoki, from her former marriage to Russell Simmons. 
She welcomed her first son Kenzo with ex-partner Djimon Hounsou and she welcomed Wolfe with her husband, Tim Leissner. She recently adopted another son, Gary, earlier this year.
Although Kimora seems to be having a great time with her children, things between herself and her husband Tim seem to be rocky as there have been allegations that he was cheating on her. Aside from that, everything seems to be going fine with Kimora and her adorable family.