Check Out Halsey's New Look after She Traded Her Long Locks for a Shaved Head
Halsey fans were in for a surprise this week when the singer decided to have a change in her look. The musician shaved off all of her hair and went for a bald look which she showed off on social media.
Halsey is no stranger to short hairstyles and buzzcuts. In 2015, the singing sensation featured a buzzcut look, and the following year she explained to "Nylon" magazine why she'd made the change.
She revealed, at the time, that her hair had been a big racial indicator in her whole entire life. The singer, who is biracial, noted how hair has been a symbol of the struggles people of color have faced.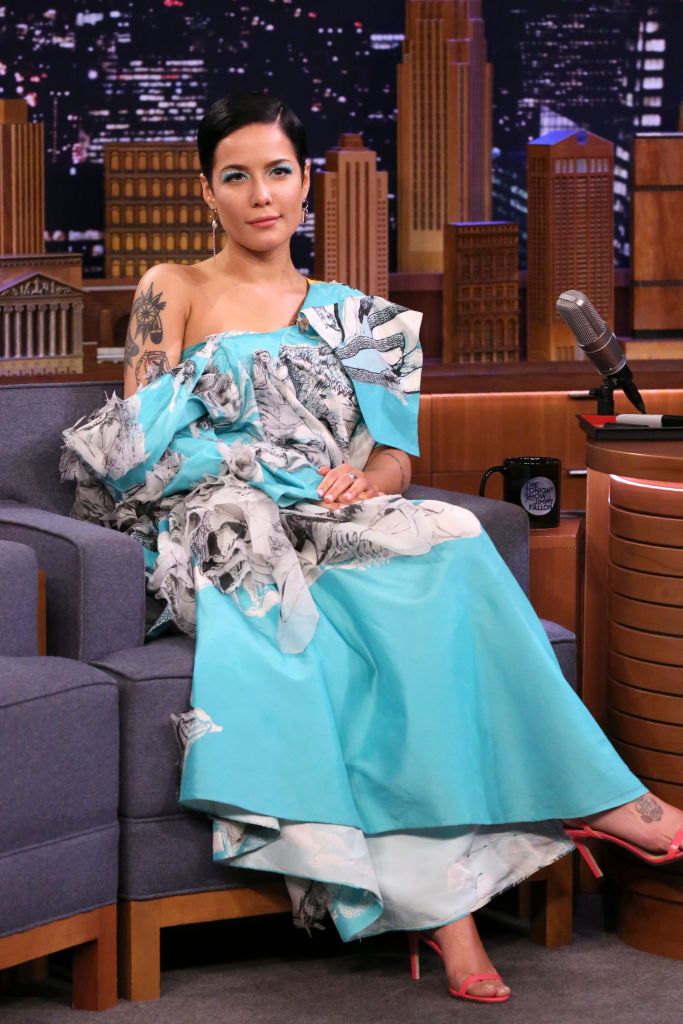 WHY SHE SHAVES HER HAIR
Halsey explained her changed hairstyle revealing that it was important for her to be able to shave her hair. She shared how she wanted to be able to prove to herself that she could still love herself if she lost her hair.
So this week, the star went back to her look from four to five years ago. Taking to Instagram, the star shared a TikTok video where she discouraged herself from "doing it" without revealing what "it" was.
PRESENTING HER NEW LOOK
In the footage, the songwriter sported what seemed to be her long black tresses. Speaking to the camera, the vocalist promised that she wouldn't do "it" and noted that she was just thinking about "it."
Halsey has been making some massive moves this year.
Suddenly without warning, the star flipped her head down and when she lifted her head up the hair had fallen off! Come to find out that she was actually wearing a wig on top of her bald head all along!
I was growing it out for so long and I told myself I wouldn't shave it till I saw what it was like healthy and long and then I saw it healthy and long and said "mm this is nice but I miss bald." and then so I did it! https://t.co/qTSuI6XBgq

— h (@halsey) October 19, 2020
GOING BALD BECAUSE SHE COULD
On Twitter, a fan asked Halsey, 26, if she had gone bald this time for any specific reason or if it was for a television show. The star shared the question and added her response writing:
"I was growing it out for so long and I told myself I wouldn't shave it till I saw what it was like healthy and long…"
HALSEY ADDRESSES FANS
Halsey explained to her fans why she had cut her hair revealing that when she saw it growing healthy and long she had a thought. The star shared her trail of thought before cutting hair locks, stating:
"Mm this is nice but I miss bald."
WORKING WITH BUDWEISER
Besides creating music and going bald at the drop of a hat, Halsey appeared as the face of Budweiser's "Be a King" campaign. The star was used to help inspire the brand's consumers to be people who chased their dreams like the singer.
She also joined up with the alcohol brand to make a short movie about her life before she became a pop star. In the footage, her fans got to see where she grew up as a teenager in New York, riding the subway while doodling, and some of her new poetry.
HER RECOGNITION BY "TIME"
The singer has been making some massive moves this year. "Time" magazine recently named her as one of their "2020 Next Generation Leaders" and she had the pleasure of being featured on the publication's cover.
Halsey is a platinum-selling musical artist who is also an activist and an advocate, according to the magazine. She thanked the publication for the powerful and humbling recognition by taking to social media.