TMZ: Rapper Tekashi 6ix9ine's Kidnapper Sentenced to 24 Years in Prison for His Crime
American rapper Tekashi 6ix9ine's kidnapper and fellow Nine Trey Bloods gang member has been apprehended and sentenced to 24 years in prison.
A man identified as Anthony "Harv" Ellison has been sentenced to prison by a New York judge following his involvement in kidnapping his fellow gang member and hip hop star, Tekashi 6ix9ine. 
Ellison was convicted in October on charges of kidnapping, assaulting, and racketeering. It is noteworthy that his sentence came a year after the crime was committed, as investigations were made to gather enough evidence against him.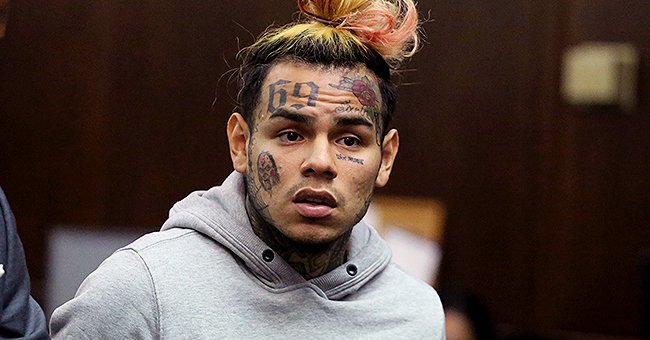 Tekashi himself played a huge part in seeing that Ellison was apprehended. He provided video evidence that pointed out who the assailant was and the events that ensued during his kidnap. 
According to Tekashi, who sang "Trolls," he and Ellison had an amicable relationship before things went south. He noted that when he was kidnapped, Ellison held him at gunpoint, assaulted him, and demanded money. 
The case's presiding judge, Paul A. Engelmayer, referred to Ellison as a cruel person because of the ghastly wound inflicted on Tekashi.  The rapper had a slash on the face from his ear to his chin. 
Ellison was also convicted for other crimes associated with the Nine Trey Bloods gang.
Before the time of his kidnap, which felt like revenge, Tekashi was involved in a drive-by shooting. This development led to his arrest and conviction, and he was given a two-year sentence.  
Amid his jail term, the main steam rapper cooperated with authorities and ratted out some gang members. His sentence was later converted into home confinement, where he was made to wear an ankle monitor for four months. During this period, he released two songs, "Gooba" and "Trolls."
While Ellison's court proceedings were going on, Tekashi, who sang "Fefe" alongside rap icon Nicki Minaj, admitted that he was in the same gang as the assailant. He shared that he was kidnapped at gunpoint and forced into a stolen car. 
Ellison and his accomplice drove him around town, all the while beating him while he begged for his life. In the end, the duo took the singer to his Brooklyn home and carted away with valuables. 
According to a recovered clip, Tekashi, whose real name is Daniel Hernandez, was handed over to his girlfriend, who presented a bag of goods to his kidnappers. In retrospect, Ellison was also convicted for other crimes associated with the Nine Trey Bloods gang.