See Cute Outfit Serena Williams' Adorable Daughter Olympia Wore While Playing in Toy Kitchen
Serena Williams' daughter Alexis Olympia Ohanian looked super-adorable in a casual summer outfit and hair accessory as she played chef in her own little mini-kitchen. Check out the sweet snaps here. 
Olympia Ohanian gets cuter by the day! The 3-year-old baby girl of tennis legend Serena Williams and Reddit founder Alexis Ohanian was busy playing chef in the kitchen recently and she looked active and confident while doing so. 
Taking to her Instagram stories, Williams shared a clip of the baby girl going about her mini play kitchen as she did her "chores." The impressive kitchen boasted a cooking stove and little utensils. 
OLYMPIA'S MINI KITCHEN
A mini sink with a golden faucet was also visible in the picture. On the wooden floor, a small doll in a red dress was just lying around as Olympia minded her own kitchen business. Her favorite doll Qai Qai was nowhere to be seen. 
Last month, Williams shared that she enrolled Olympia in tennis lessons.
Talking about her outfit, Olympia was wearing what looked like a pink spaghetti-strap tank top. She paired it with printed leggings and walked barefoot in her kitchen. But that was not the cutest part. 
Olympia's cute hairstyle totally stole the show! Her curly hair was braided into two parts from the middle. To top it off, she wore a pink headband with a big mesh flower on it. Absolutely adorable!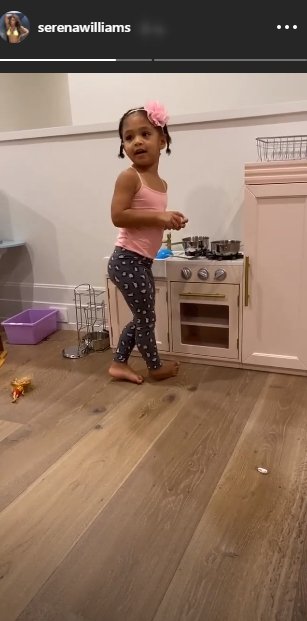 HER MANY TALENTS
When she is not busy around the little kitchen, Olympia often spends time with her mother, and thankfully, Williams is generous enough about sharing posts of their fun times on Instagram. 
Back in October, the tennis star and her daughter did a duet during which the baby girl belted out one of her favorite cartoons, "Paw Patrol." It was just one of the many precious memories they have spent together.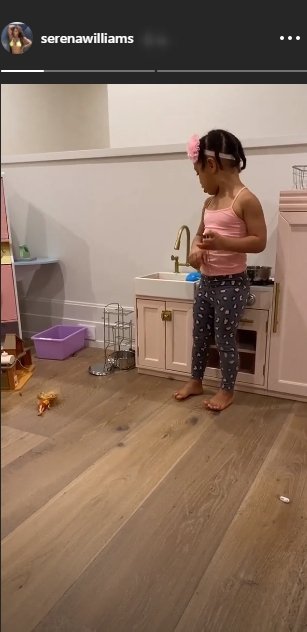 The mother and daughter duo also enjoys dressing up as Disney princesses, but most of all, they share a love of tennis. Yes, little Olympia is already following in her mother's footsteps!
Last month, Williams shared that she enrolled Olympia in tennis lessons. She also documented the time she dropped Olympia off for her very first training session and shared it in her Instagram stories. 
TENNIS IN HER VEINS
Prior to joining the classes, Olympia was already making headlines for spending time in the court with her mother. Just a day after sharing the "Paw Patrol" duet video, Williams shared a photo of Olympia holding a tennis racket in the court. 
She made tennis look cute with her strong look wearing a bright red dress and a matching headband. The pictures from July 3 were even more iconic, with the little one twinning with her mom in a purple tennis outfit as she geared up to play on the court.