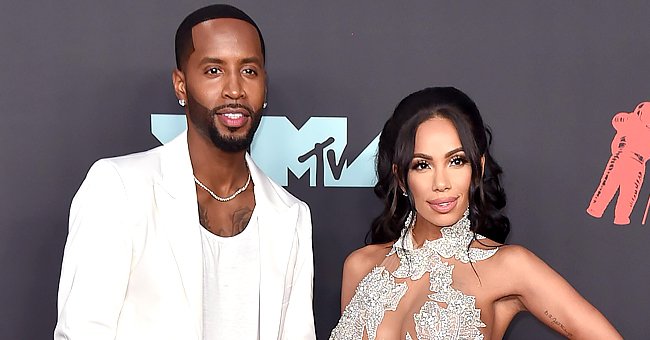 Getty Images
Erica Mena & Safaree's Daughter Safire Melts Hearts as She Kisses Her Dad on the Cheek (Video)
The musician and TV personality can not be a prouder dad since his first child was born last February. In the recent video he posted on social media he showed how he is nurturing their father-daughter relationship.
39-year-old rapper and "Love and Hip Hop: New York" star, Safaree Lloyd Samuels, best known as Safaree, recently took to Instagram to post a cute video in which his 9-month-old baby daughter, Safire Majesty, kisses her dad so lovely that all his fans had their hearts melted.
While the musician was having a little ride with the girl, he started kissing Safire who was just staring like she did not care that much. However, in a sudden move, the little girl started to kiss her daddy on the cheek surprising him with her action.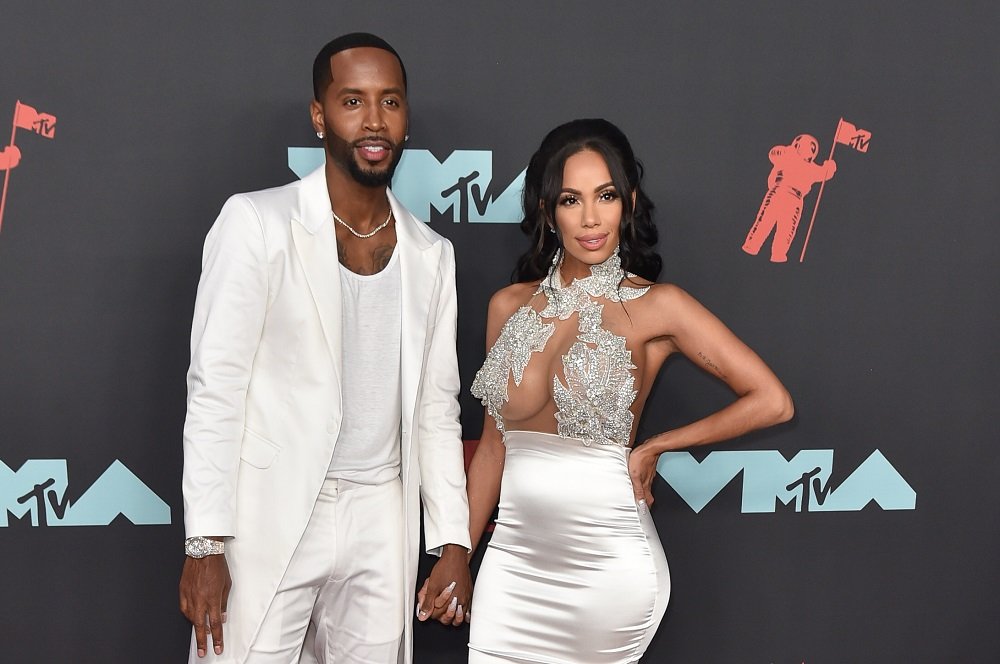 Safaree Samuels and Erica Mena Samuels attending the 2019 MTV Video Music Awards red carpet at Prudential Center in Newark, New Jersey, in August 2019. I Image: Getty Images.
Safaree's fans immediately reacted to the video by commenting how cute that moment was and how pretty the baby is. Follower @_thevibe83 wrote "she beautiful god bless her," while @_iiam.kayyyy was specific to say "She's da prettiest."
Other comments were rather hilarious, like user @strawberri.curls who pointed out that "She's like ummm you're not mommy," finishing the comment with a laughing emoji, while @missb876 wrote: "She loves you! Leave her alone ! Adorable."
Ever since the rapper and his 32-year-old wife and TV personality, Erica Mena, knew they were going to be parents, they both agreed to keep their first daughter away from the public eye.
Because of that, it was not until a couple of weeks ago when Mena decided to finally post the first image of little Safire's face on her Instagram. In the picture, the baby appears wearing an animal-print outfit and bow headband, confirming Safire's cuteness.
The "Love And Hip Hop" reality stars were so careful about their baby daughter's privacy that they took their time to reveal their child's name, and after a few months, they had not made it public yet.
About the time when the little girl was barely 3-months-old, a photo of Safaree nesting his daughter while watching TV at home was posted on Instagram. Safaree's fans went crazy about the musician's commitment as a father.
Safaree and Mena's first public appearance happened in November 2018 at a Brooklyn Nets vs. Utah Jazz NBA game when they went together wearing matching coats. A few weeks later, the couple happily announced that they were engaged.
Even though each one had recent breakups, the couple showed very soon how committed and in love they both felt for each other. By the time of their engagement, Safaree posted a touching message on his Instagram for his fiancée.
The couple married in October 2019 and on February 2, 2020, they had their first child together. When the baby was born, Mena wrote on her Instagram that she felt pleased to watch her husband obsessed with their daughter.
The rapper also took to Instagram to post about how happy he felt about being a dad. "I'm a part of the #girldad club now," he
, referring to a Kobe Bryant related hashtag. Though Safire is Safaree's first child, for Mena she is the second, since she is mom to her 13-year-old son, King.
Please fill in your e-mail so we can share with you our top stories!