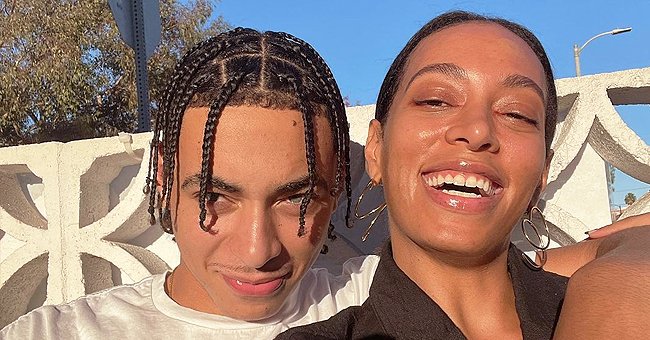 Instagram/julezjsmith
See Striking Resemblance between Solange & Her Only Son Julez as They Pose Together in New Pics

American singer and songwriter Solange Knowles and her only son Julez Smith showed their striking resemblance as they posed together in a recent series of photos on the 16-year-old's Instagram feed.
It is not uncommon for parents to give birth to their exact replicas. There are instances when the resemblance can be so uncanny that it is as though one was staring into a mirror.
That is the case for American singer Solange Knowles and her 16-year-old son Julez Smith. Recently posting a series of photos on his Instagram feed, he further confirmed that Knowles indeed gave birth to her twin.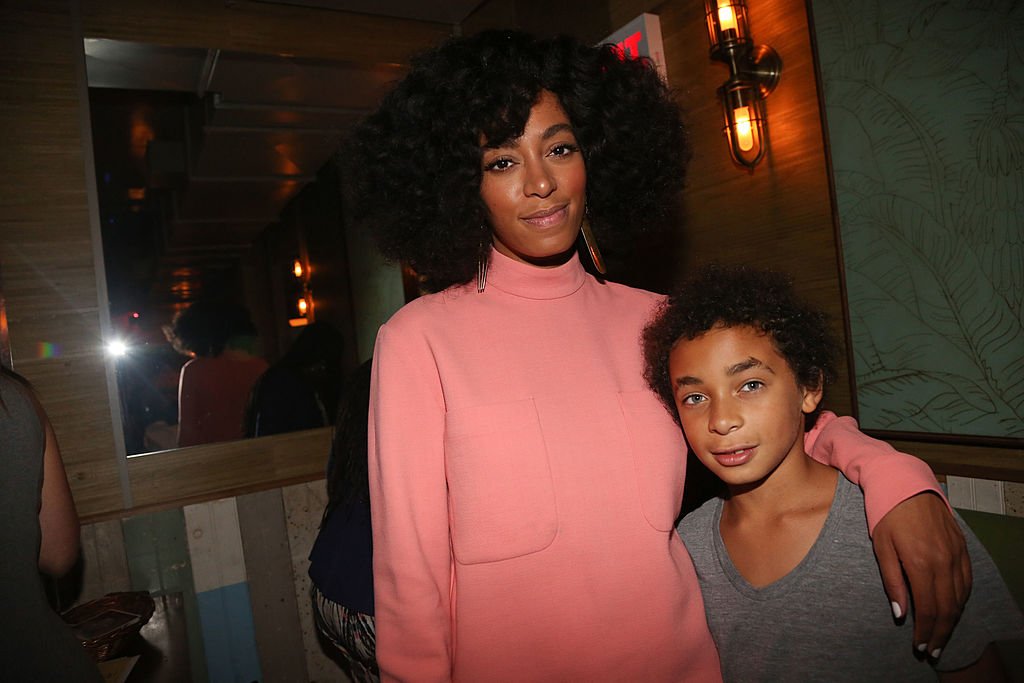 Solange Knowles and her son, Julez Smith attending an event in May 2014. | Photo: Getty Images
The mother and son duo were seen posing side by side for a precious selfie with the clear blue sky serving as a beautiful backdrop. Dressed in a black shirt, the singer had a huge smile on her face while Julez had a more intense look with his hand around her neck.
One of the following slides was also another sweet shot of them posing for another selfie during a fun time at the beach. As usual, Knowles had a massive grin on her face while her son gave a cool pose.
Along with the photos were other snapshots of Julez during different moments. They ranged from him taking a relaxing dip in the pool, to chowing down a healthy serving of bread and bacon, to him sitting all by himself busy on his phone.
With him showing off his good looks in the other slides, one can vividly remember when an Instagram troll called him ugly in 2015. The nasty comment came after the singer posted a photo of her then 11-year-old boy fully clad in Halloween attire.
Solange once revealed that being a single parent in the entertainment industry had its challenges.
Soon after, reactions started rolling in, and one of her followers remarked that he was so cute and at the same time ugly. His mother, however, did not let the statement go by. She typed out a long but educative message on the importance of kinder words.
Now, five years later, fans cannot seem to get enough of his good looks. Photos of the handsome teenager went viral in August when they noticed his attractive manly features and how tall he was growing up to be.
The shock did not come as a surprise, especially since Knowles has, over the years, kept her son out of the public eye. Surely, they were all wondering what happened to that chubby little boy of yesterday.
Julez was born on October 18, 2004, to the singer's high school sweetheart and first husband Daniel Smith when she was just 18. Despite living a relatively private life, the teenager often shows up at events hosted by his famous aunt and uncle, Beyoncé and Jay-Z.
Though having only one son, Knowles once revealed that being a single parent in the entertainment industry had its challenges. She, however, explained that even though she had to compromise some of her interests, she was blessed.
The singer also has the support of her ex-husband as both of them are determined to co-parent Julez to the best of their abilities, especially since they share equal custody. To the pair, raising a morally upright young man was of utmost importance.
Please fill in your e-mail so we can share with you our top stories!