Tamron Hall Shows Fluffy-Haired Son Moses near Beaded Curtain Pull — Fans Warn Her to Tie It Up
Several fans warned Tamron Hall to tie up the beaded curtain pull after she shared a lovely photo that showed off her son's fluffy hair in a recent post on her Instagram feed. 
Fans sure have all the love to give American broadcast journalist Tamron Hall. They made this clear when they voiced their concern over a recent photo of her adorable son, Moses, on her Instagram feed. 
A few days ago, Hall posted a wholesome picture of her son that showed off his impressive curly hair. In the shot, the little boy was seen standing in front of a closet mirror, completely smitten by his reflection.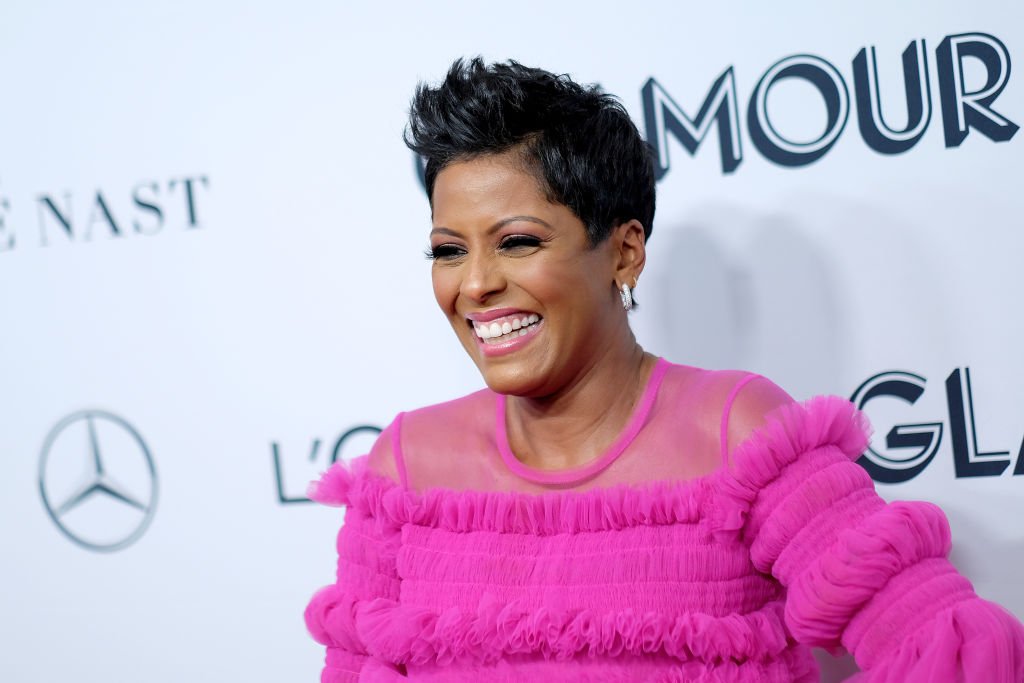 He was so enthralled that he even gave the mirror a good old licking, much to the amusement of his mother. He was clad in a black T-shirt, white patterned trousers, with his beautiful curly brown hair. 
Though the photo's cuteness struck a raw chord in the hearts of the fans, it also rang a note of concern because just beside the little boy was a long white beaded curtain pull.
Immediately, one of them expressed her worry, telling Hall to tie it up as it was dangerous to children and animals. Another also told her to beware of the hazard, and this was supported by several other fans. 
Though the television host might have overlooked the hazardous nature of the curtain drawstring, she has, however, proved to be a super involved hands-on mother over the months. 
She was terrified of losing the child, especially since she previously battled with fertility issues.

In an interview, she opened up about balancing her daily routine as a mother and a busy TV personality. She revealed that once it is 5:35 am, she wakes up when her baby alarm goes off and proceeds to freshen up.
The 50-year-old then goes on to feed Moses. After that, she drinks a much-needed cup of coffee, promptly gets dressed, and steps out for another busy day on the set of her television show, "Tamron Hall."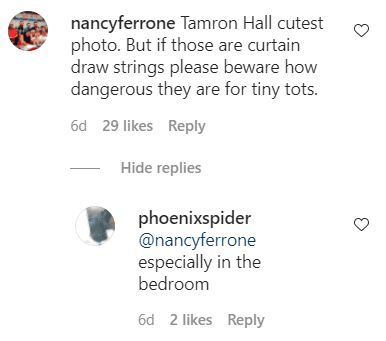 This, however, was way before COVID-19 changed the course of humanity. Due to the pandemic, like most people, Hall had to switch up her lifestyle and start broadcasting her show from home via Instagram Live. 
It was not an easy feat for the star as she had to balance work with the constant presence of her adorable son. Giving her fans a little peek into the situation, she posted a hilarious video of Moses restlessly kicking in the air.
One can almost remember when the tot was born in April last year. Soon after the delivery, the proud mother took to social media to announce the joyous news with a sweet photo of her cradling the newborn. 
Hall kept her pregnancy secret until she was 32 weeks gone. Her reason being that she was terrified of losing the child, especially since she previously battled with fertility issues. Now, it is safe to say that the bad days are over.