'X-Men' Star Sir Ian McKellen among the First in England to Get Dose of COVID-19 Vaccine
Ian McKellen posted to tweet that he was lucky that he was able to have received the COVID-19 vaccine and urged others who could do the same when it was possible.  
"Gandalf the Grey" Ian McKellen shared an ITV article of himself on Twitter receiving the Pfizer COVID-19 vaccine through the NHS and said he was lucky to have had it done. 
McKellan had praised the staff of the NHS and said he had wanted to hug them and if he could he would wait for a week to be able to go back to hug them if it were allowed. 
He shared too that he would not be alive if it were not for the NHS, the UK's National Health Services, as having good and well monitored medical treatment available as a young child was a "wonderful notion". 
He revealed in the ITV video of his vaccine that it has been a real bonus to be able to see what currently is working and not working in the country and that the NHS is definitely an institution that is working well. 
"That's the real bonus of all this, to watch and see what works in this country and what doesn't work - and it seems to me the NHS is right at the top of the list for institutions that do work."
I feel very lucky to have had the vaccine. I would have no hesitation in recommending it to anyone. https://t.co/gBLRR0OeJc

— Ian McKellen (@IanMcKellen) December 17, 2020
The "X-Men" star who played Magento, was able to be one of the first British citizens to receive to vaccine due to his advantaged age, he is 81-years-old. 
He had been diagnosed with prostate cancer 14 years ago and has been monitoring his cancer through active surveillance, which is recommended for men who have low-risk prostate cancer.  
Lionel Blair and Prue Leith have also received the Pfizer vaccine during the NHS's first roll of the vaccine.
This means that his cancer is no serious risk for him at the moment, (and has not been a risk in the last 14 years). Many men live long lives without needing to experience strenuous cancer treatments. 
Along with Sir Ian, other older stars have received the vaccine, and Sir Paul McCartney of "The Beatles" hopes he can be the next to received it as he said, 
"The vaccine will get us out of this. I think we'll come through it, I know we'll come through, and it's great news about the vaccine. I'll have it as soon as I'm allowed."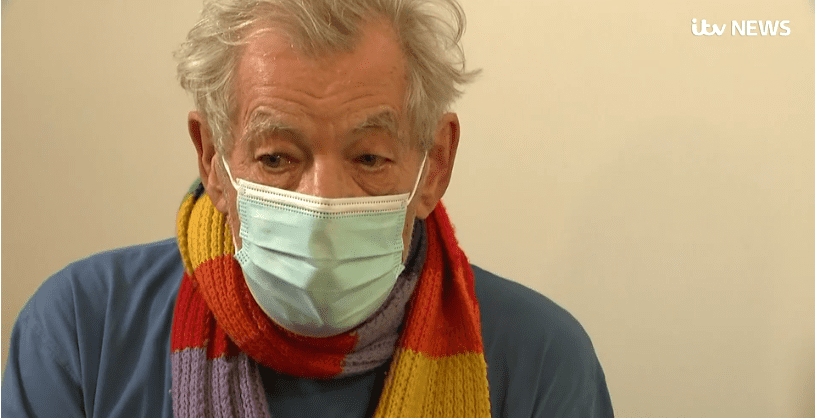 Lionel Blair and Prue Leith have also received the Pfizer vaccine during the NHS's first roll of the vaccine. Blair is a British Tv presenter and Leith is a famous restauranteur and acts as a judge on "The Great British Bake-Off."
The vaccine is actually very interesting as it does not contain a live version of the virus, so even if McKellen was seeking treatment that would cause him to be immunocompromised he would still be able to receive the vaccine. 
McKellan portrayed Gandalf in J. R. R Tolkien's movies "The Lord Of The Rings" and recently backed a bid to buy the author's childhood home, so it may act as a "literary hub".
Martin Freeman, star of "The Hobbit", Annie Lennox, actors John Rhys-Davies and Sir Derek Jacobi all backed the campaign to raise £4.5 million to purchase the property.