Watch Kelly Clarkson's Emotional Cover of Toni Braxton's Hit 'Another Sad Love Song'
Kelly Clarkson lent her powerful vocals to showcase an emotional cover of Toni Braxton's "Another Sad Love Song" in a recent episode of "The Kelly Clarkson Show." 
Kelly Clarkson maintained a reserved composure as she comfortably belted out her signature high notes to the famous break-up song, wowing her studio audience with her 90's rendition of the ballad.
The 3-time Grammy winner took to stage on the Kellyoke segment of her show, to perform a moving version of the hit song amidst her very public split from her husband and music manager, Brandon Blackstock.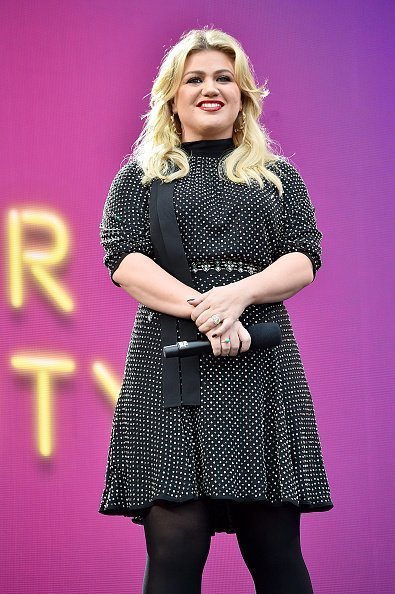 The star met her husband at the Academy of Country Music in 2006, where he became Clarkson's music manager. Their relationship turned romantic, and in 2013, the pair tied the knot surrounded by family and friends.
On June 4, 2020, however, Clarkson officially ended her seven-year marriage. The star accused her ex-husband and manager of swindling millions from her. On court papers, she cited irreconcilable differences as her reason for the split.  
The first sign of trouble appeared a month before the divorce when the star's father-in-law, Narvel Blackstock, accused Clarkson of not paying her management company Starstruck Entertainment, which he owns.
Blackstock claims he has yet to receive $1.4 million from her appearance in "The Voice." Clarkson blasted the allegation, countering the argument with her own accusation claiming Blackstock provides illegal services.
The star is set not only to wage a tough divorce war but is also looking to protect her hard-earned earnings from her ex-husband.
The toll of the divorce has brought Clarkson to tears. Previously on her show, while watching a Garth Brooks performance, Clarkson shielded her face with her sweater and quickly apologized to her childhood idol.
Taking her mental health seriously, however, the star admitted to viewers that during the holiday season with her two children, she picked up a unique mechanism that helped her cope - coloring-in. She says:
"I used to laugh at people when I saw adults with coloring books ... I didn't get it. Now, I am one of them. It's really therapeutic and this has been a hard year."
During their marriage, Clarkson and Blackstock welcomed two children River Rose 6, and son Remington Alexander, 4. Last month, the courts granted Clarkson primary physical and legal custody of both children.
Clarkson had initially filed for joint custody with Blackstock, but co-parenting proved difficult, and she eventually won primary custody. Soon after the ruling, Blackstock filed for over $400,000 in child and spousal support.
The finale of "The Voice" saw the celebrity hint at her struggles. After a superb performance of the song "Holy Ground" by Kelly's mentee, DeSz, Clarkson choked through tears, admitting that she needed that song.
The star is set not only to wage a tough divorce war but is also looking to protect her hard-earned earnings from her ex-husband, ex-father-in-law, and his entertainment company, Starstruck Entertainment.