Chris Brown's Daughter Shows Long Curls Rocking Gray Outfit & Matching Hat — See Her New Snaps
Chris Brown's little princess, Royalty Brown, seems ready to strut down a runway as she dished out some stylish vibes rocking a gray outfit, long curls, and a matching beanie.
Undoubtedly, American singer Chris Brown's mini-me Royalty is his doppelganger. The mini Brown already runs an Instagram page with a growing number of fans who show off their loyalty by liking and commenting on her posts.
Recently, Royalty gave her fans something to dote on. She shared a snap that showed her rocking matching pants and a sleeved top, which was cutely accessorized with a gray cap on top of her curly hair.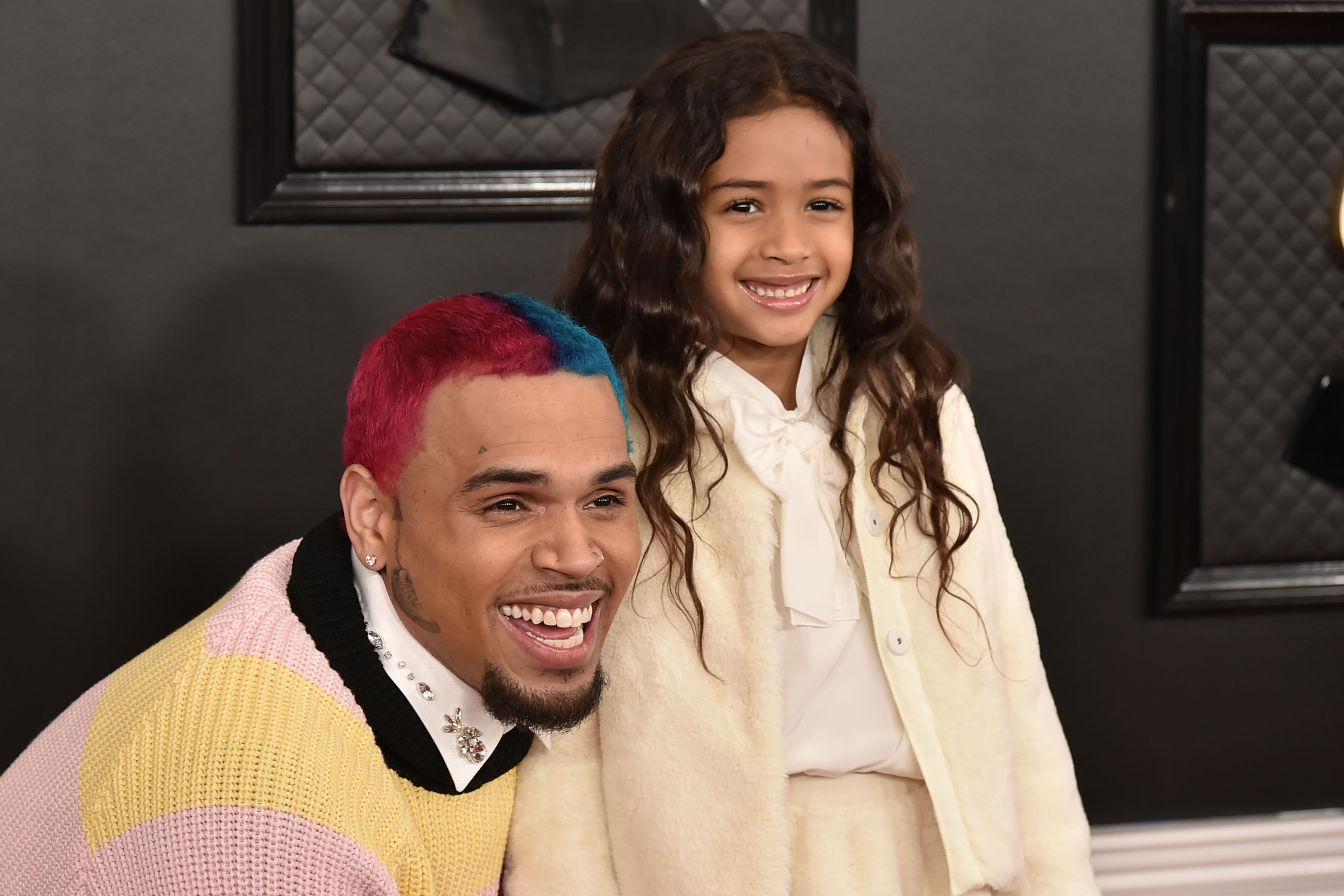 Brown's daughter spiced up the appearance by posing in colorful kicks. She looked attentively at the camera while sipping from a Starbucks-like cup.
An hour later, the 6-year-old added another adorable snap. This one was a selfie that featured her and a friend who looked her age. She captioned it:
" My girl @thatgirllaylay ❤️ #HTownRepresenters."
Many of her fans that spotted the photos threw in one or two comments, some opted for the like button. Like Instagram followers, Nia Guzman, her mother, also showed her support and love for Royalty.  
Royalty shared another sweet-looking group selfie that featured her and her mother posing alongside her friend. She captioned it, "Princesses!"
Another eye-catching thing that gains the attention of fans is the 6-year-old's dancing talent. 
Since Royalty's arrival into the world, Guzman has been her biggest fan. Apart from the online posts, she shares details concerning her daughter via interviews.
In 2016, she admitted to feeling hurt over Brown's unreadiness to go public with their daughter until she turned one. Fast forward to now, the former lovers are in each other's good books because of their daughter, as they get along well.
According to a source, Brown gets along with Guzman because they decided a long time ago to make things work for the sake of Royalty. The dancer's love for spending time with his daughter is often noticed by internet users.
Last week, a shared post showed the duo enjoying memorable moments as the singer playfully hugged his child. Lots of fans soon commented on the soul-stirring post.
Aside from the invaluable love portrayed by the singer, another eye-catching thing that gains the attention of fans is the 6-year-old's dancing talent that matches up to her father's.
A few months ago, she flaunted some moves in a cool outfit while engaging in an online dance challenge initiated by the singer. 
This sensational video hit thousands of likes on the internet, with many agreeing that Royalty has a great dancing style, fashion sense, and looks like her papa!