Fantasia's Daughter Zion Shows Her 2 Nose Piercings & Earrings While Doing Duck Lips in a Video
Fantasia Barrino's daughter, Zion Barrino, took to her Instagram page to post a cute new video of herself showing her double nose piercings and beautiful eyes.
Zion Barrino's over 166k Instagram followers are used to seeing her beautiful pictures and adorable video posts, and she treated them to yet another one on Monday. 
The gorgeous beauty shared two short clips flaunting her double nose piercings. In the first video, she swayed her head from side to side while zooming the camera in and out of her face.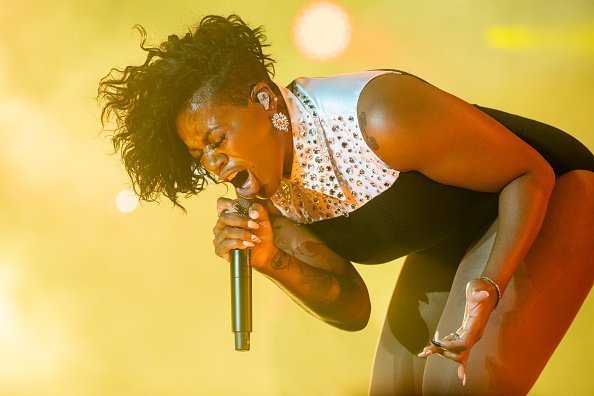 The video also showed the three ear piercings on her right ear, which she adorned with lovely silver earrings. She also wore nose rings on her two nose piercings. Zion was clad in a black V-neck top and rocked a long hairstyle. 
In the second video, she was doing duck lips while zooming in and out of her face and staring at the camera with her beautiful eyes. Zion captioned the video with sparkles emoji. 
Her fans loved the short clips and took turns to comment on the post. One fan said they liked that Zion did not talk in the video, adding that they have never heard her voice.
A second fan said Zion looked flawless, while a third person described her as absolutely beautiful. Some other fans commented with different emojis. 
Barrino is married to Kendall Taylor and announced late last year that she is pregnant with their first child as a couple.
Zion's fans are right with their observations about her beauty, as she is indeed a gorgeous young lady. There is no denying that she is her mother, Fantasia Barrino's twin. 
Barrino became pregnant with Zion when she was only 17 years old. Hence, Zion has been with her mother from her rise to fame in 2004 when the latter won "American Idol," through the difficulties she faced later in her career. 
The mother-daughter duo, who look so much alike, has developed a strong bond in those years, and Barrino recalled some of their sweetest memories when she wished Zion a happy 18th birthday in 2019. 
Besides Zion, Barrino is also a mother to a nine-year-old son, Dallas Xavier, whom she shares with her ex, Antwaun Cook, with whom she had a controversial relationship in the past. 
Barrino is married to Kendall Taylor and announced late last year that she is pregnant with their first child as a couple and her third child as a mother. The singer also recently revealed the gender of the baby in her womb to be a girl. 
It comes as good news for Barrino, Taylor, and their family following her fertility struggles, which she highlighted while revealing her pregnancy and during an interview with Tamron Hall. 
Barrino's fans will hope she delivers safely on her due date and that her baby, when born, will bring laughter to her and her family.