Naomi Osaka Reveals Her Desire to Voice Cartoons as She Poses in Black Top & Trendy Nude Pants
Naomi Osaka's latest media update informed fans of her new interest away from tennis as she made it known she would be exploring TV and animation. 
Tennis champion Naomi Osaka's Q&A session with her Instagram fans had her opening up on some rarely known facts about her, nonetheless surprising.
When asked about the passions she never got to explore outside tennis, Osaka uploaded a photo of herself during a studio session, seemingly hyped and vibing.
She wrote on the image that she always wanted to be a voice actor in cartoons, despite hating her voice. In the photo shared, Osaka had a big smile on her face and one hand raised.  
Last November, Osaka was in the news after getting featured in a new Manga cartoon series for Nakayoshi magazine as a new character.
On her Twitter page, the tennis star brimmed at the seams as she informed fans that she and her sister, Mari, grew up loving the manga cartoons.
The star shared an image of the new character dedicated to her. The animation named Naomi Tenkaichi was dressed in a tennis ensemble, rocking pink hair and an orange-colored visor. 
Tenkaichi is seen as a rarity in the history of manga cartoons because of her biracial background. Before this feat, Osaka was supposed to have been made a cartoon character by noodle company, Nissin, but she found their white-washed image offensive. 
In the city of Osaka, in Japan, the star also encouraged a peaceful Black Lives Matter protest.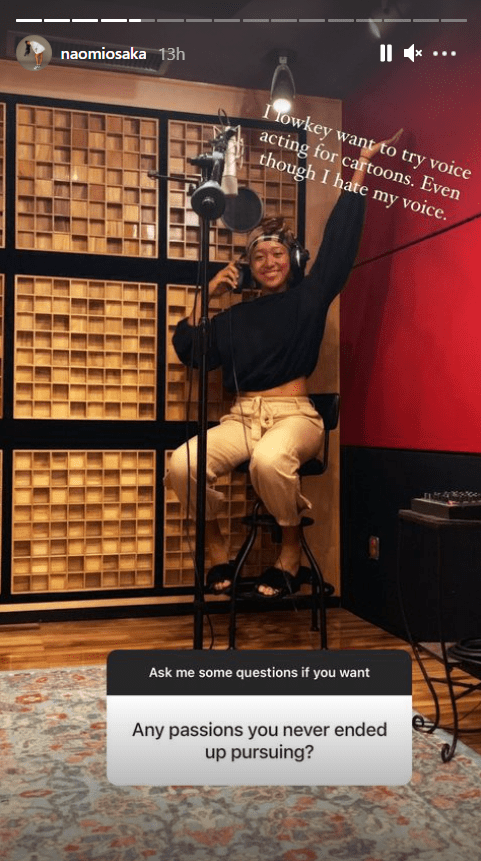 This is not the first time she has had to deal with racial issues. She once received apologies from a Japanese comedy duo who shared that she needed to bleach her skin, referring to her sunburn.  
Osaka, 23, might just be starting her thriving tennis career, but it is safe to say she came a long way regarding her voice. In past years, she has either stuttered during her acceptance speeches or bowed her head in tears. 
Once when she cried on the tennis court, Osaka got succor from tennis legend, Serena Williams who put her arms around her, comforting her. However, many witnessed her tremendous growth after that.
During the last US Open, Osaka made quite an impression speaking out for victims of racial prejudice. Through the tournaments, she wore black face masks with the names of the Black victims emblazoned on it. 
She etched the memories of Breonna Taylor, George Floyd, Ahmaud Arbery, Trayvon Martin, and Tamir Rice, who all died at the mercy of racial prejudice and police issues. In the city of Osaka in Japan, the star also encouraged a peaceful Black Lives Matter protest.