Dying Dog That Was Abandoned in a Parking Lot Is Showing Signs of Progress — Details Revealed
Ethan, the dog, abandoned in the parking lot outside the Kentucky Humane Society, has been improving, and the vet team is cautiously optimistic that he will make a full recovery. 
The brindle pup has gained a social media following since he was discovered in a parking lot after his owners abandoned him. Extremely malnourished, the Kentucky Human Society took him in and had been caring for him since. 
Ethan was admitted to the emergency medical hospital for immediate care but has since been released. Still needing constant care, the beloved dog still has a long road ahead of him, but things are looking up.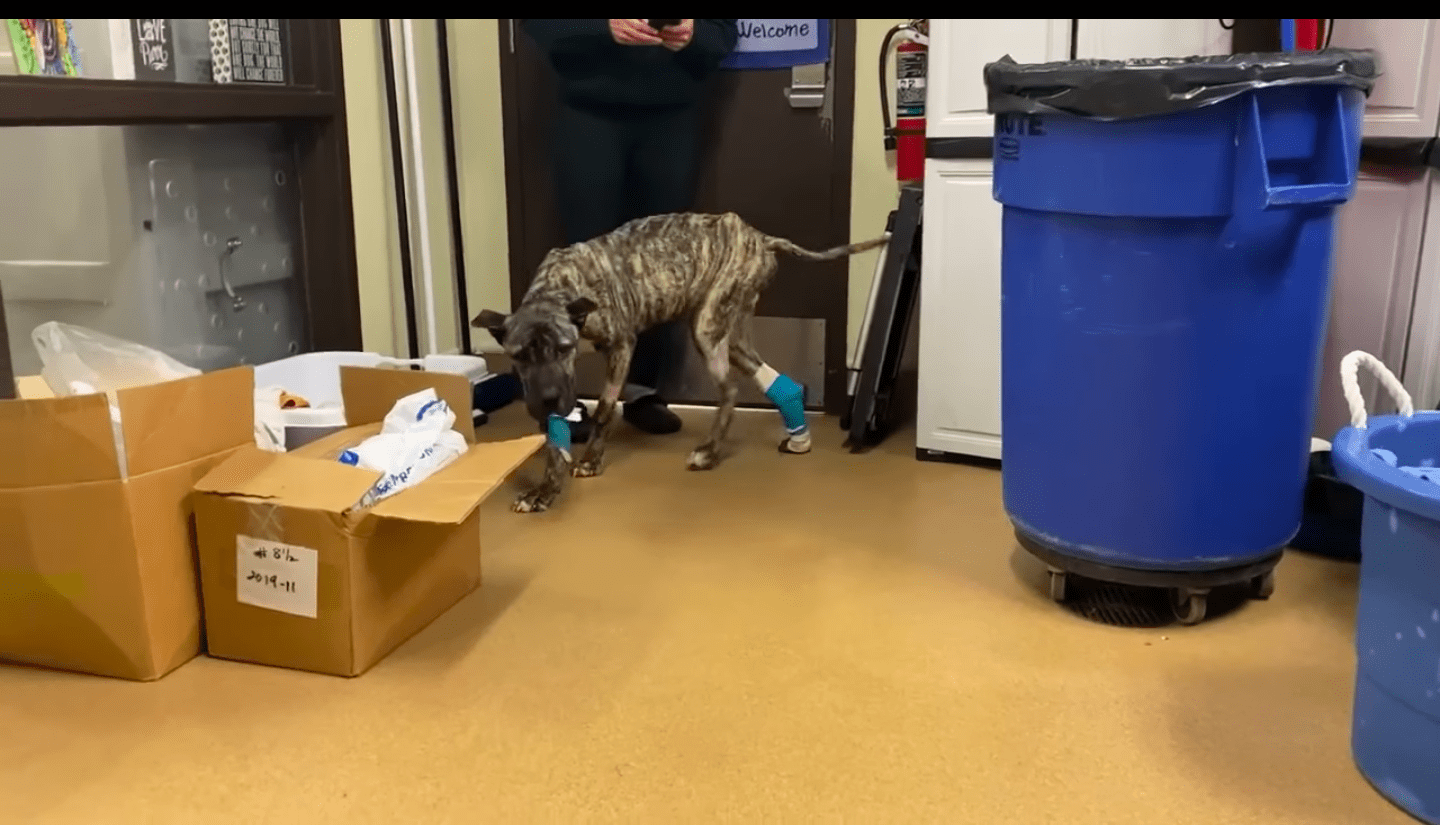 CRITICAL TO STABLE 
When Ethan was found on January 29, 2021, he was in critical condition, but he has been stable since being released from the hospital. The Kentucky Human Society updated their Facebook followers with photos of the recovering dog. 
Although still very weak and in need of 24/7 care, the dog has been showing signs of improvement. Drinking water on his own has been cause for a sigh of relief. They elaborated, saying: 
"He is still very weak and needs help moving around but he seems to enjoy being fussed over. We got a happy tail wag this morning and honestly it made our hearts explode with happiness." 
LOCKED UP IN A CRATE
The pup's progress is tremendous when considering the state he was in when he was found. Ethan was discovered by someone on their way to drop off donations at the KHS Louiseville branch. 
Having never seen an animal so dehydrated and unable to read a temperature, the veterinary staff had to work extra hard to give the abandoned dog everything he needed to fight back. They believe he was locked up for weeks before being dropped. 
Ethan was stable enough to come home from the hospital today. While he is still unable to walk on his own & will need round-the-clock care from our vet team, we feel he is out of the woods when it comes to refeeding syndrome & our staff can take care of him from this point on. pic.twitter.com/wkw9T0fkza

— KY Humane Society (@kyhumane) February 3, 2021
TAKING IT TO COURT 
Ethan's case has been a cause for action against animal brutality in Kentucky. State Rep. Chris Freeland has introduced House Bill 57, which already has 36 sponsors. Freeland elaborated: 
"I'm just trying to make sure Kentucky moves up the ladder somewhat on our animal welfare rules. I think right now we're 47th or 49th in the nation."
This bill is intended to change animal torture from a Class A misdemeanor to a Class D felony. It also defines what brutality and torture are, with things like crushing and burning, food, water, and shelter deprivation or restraint being on the list. 
OUTPOUR OF LOVE 
After being mistreated so terribly, Ethan has been on the receiving end of plenty of love and attention. The KHS was sure to thank everyone who has been donating to ensure that he receives the best care. 
The abandoned pup has gone from one side of the spectrum to another as he has experienced extreme abuse but is now experiencing a ton of love and care. 
Ethan is a stellar example of the change that everyone chips in to make a difference. Donations raised awareness concerning abandoned dogs, and advocacy is all things that have supported him. 
With a long recovery process that still awaits him, Ethan is not yet in the market for adoption, but when he is ready, there is sure to a long line of people willing to take the pup home with them.