Michael Strahan's Twins Sophia & Isabella Model Men's Suits as They Promote His Clothing Line
Former NFL player Michael Strahan recently shared an adorable video of his twin daughters Sophia and Isabella modeling men's suits from his clothing line, "COLLECTION by Michael Strahan."
Multi-hyphenate Michael Strahan has enjoyed a successful career in sports and television. In 2015, he took over the fashion industry with his menswear line "COLLECTION by Michael Strahan," followed by "MSX by Michael Strahan," an athleisure line.
The success of his clothing and accessory fashion lines can be credited to his fame and the excellent quality of his clothing. Recently, Strahan found a great way to promote his men's clothing line.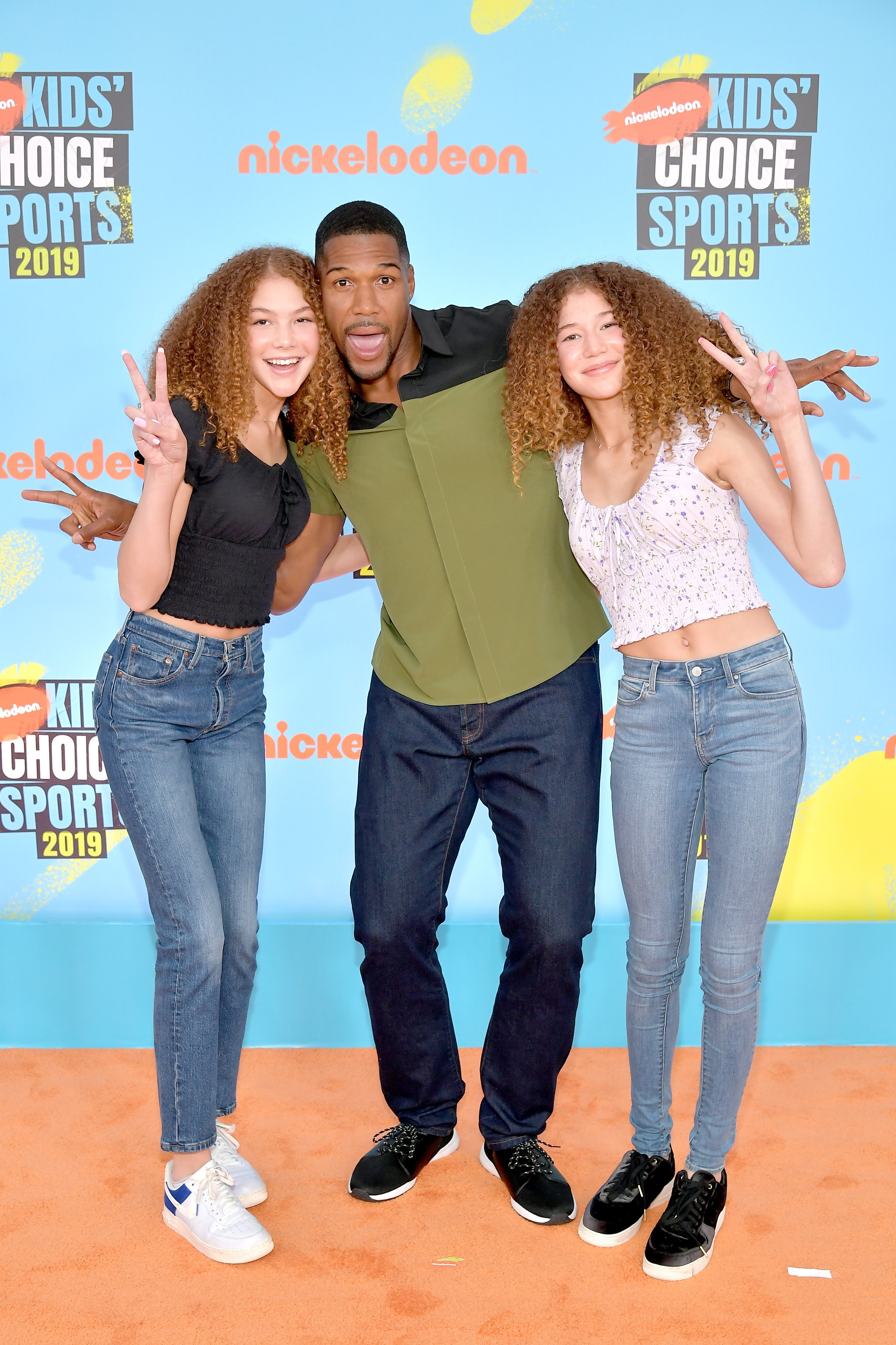 Strahan took to Twitter to share a fun video of his 16-year-old twin daughters, Isabella and Sophia Strahan, modeling his brand in a Florida J.C. Penny department store. He captioned:
"Isabella and Sophia with the greatest commercial for @MbyMStrahan ever! Love my girls! P.S. They make a good point, you should check out my line!"
The video, which was just over a minute, featured Isabella and Sophia rocking suits from the brand while standing in front of a massive poster of their superstar father.  
One twin wore a camel suit jacket over an oversized T-shirt, while the other rocked a large blue checkered suit over a crop top. Both girls wore a pair of dress pants from the line, which they described as comfortable and adjustable.
While keeping their face masks on, Isabella and Sophia walked through the aisles showing the audience the different suit styles and combinations available, including the different colored belts.
At the end of the video, the twins posed for a few photos where they looked like models in the oversized blazer and their jeans and sneakers.
Isabella and Sophia with the greatest commercial for @MbyMStrahan ever! 😂😂😂😂 Love my girls! ❤️

P.S. They make a good point, you should check out my line!! #RaiseYourGame pic.twitter.com/xYtLv3fp3B

— Michael Strahan (@michaelstrahan) February 17, 2021
The video was clearly a good promotion for Strahan's brand judging from fans' reactions, who all seemed to love the ad and expressed their delight in his comments section.
One fan commented, "Your girls are hilarious! So good to see young girls with a sense of humor. You should be proud Dad," while another added, "Beautiful girls who obviously love their dad."
Strahan has a great relationship with his daughters, who he shares with his ex-wife, Jean Muggli. Despite the strained relationship with the twins' mother, Strahan is still able to spend plenty of quality time with the girls.
Besides the twins, the two-time Emmy winner has two older children, Tanita and Michael Strahan Jr., from his first marriage to Wanda Hutchins. The older Strahan kids live a much quieter life out of the spotlight.