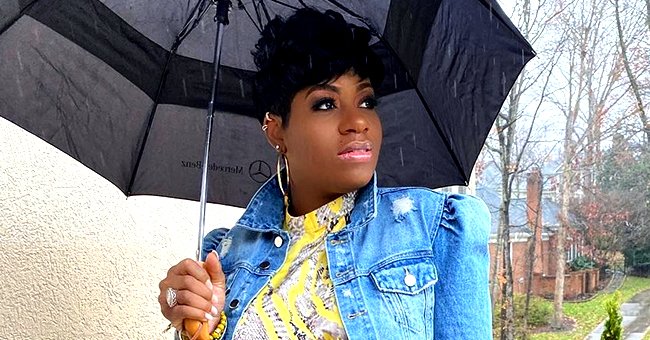 Instagram/tasiasword
Pregnant Fantasia Gives Fans a Glimpse of Her Life Spending Time with Look-Alike Daughter Zion
A pregnant Fantasia gave her Instagram followers a little sneak peek into her beautiful life whilst spending time with her beloved daughter, namely Zion.
Creating a post with three different snapshots, famous singer and previous "American Idol" winner Fantasia Barrino shared pictures on Instagram of her daughter Zion. Many have stated that this mother and daughter look very much alike.
Each snapshot contained a picture of the young Zion looking directly into the camera. In one, her mother can be seen peaking right in the corner of the snapshot, implying a playful family dynamic.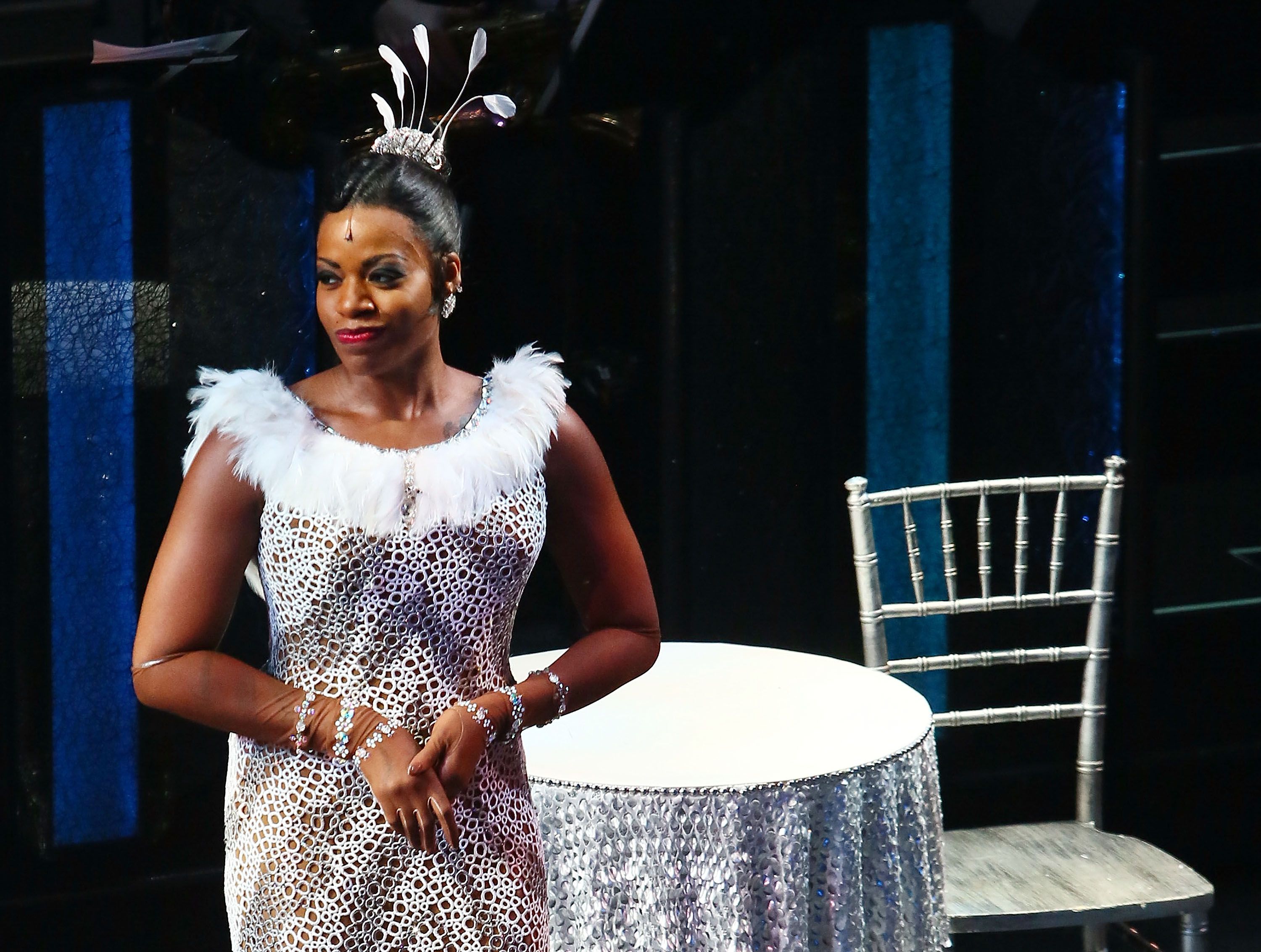 Singer Fantasia performing at the "After Midnight" Broadway opening night curtain call on November 3 at Brooks Atkinson Theatre. | Photo: Getty Images
DAUGHTER-MOTHER LOVE
In the snapshot where Barrino is sneaking a peek into the lens, they are sitting in a car, with Zion sporting a protective mask. In the two other pictures, one can see white cursive written at the top of the snapshots which can only be Zion's Insta account name, reading: "@zionbarrino"
In the two other snapshots, Barrino's daughter is eating what looks to be a scrumptious meal including cheesy tacos and tomatoes to go. In one of these snaps she is simply staring at the camera but in the other, she pulls a face - mouth wide open.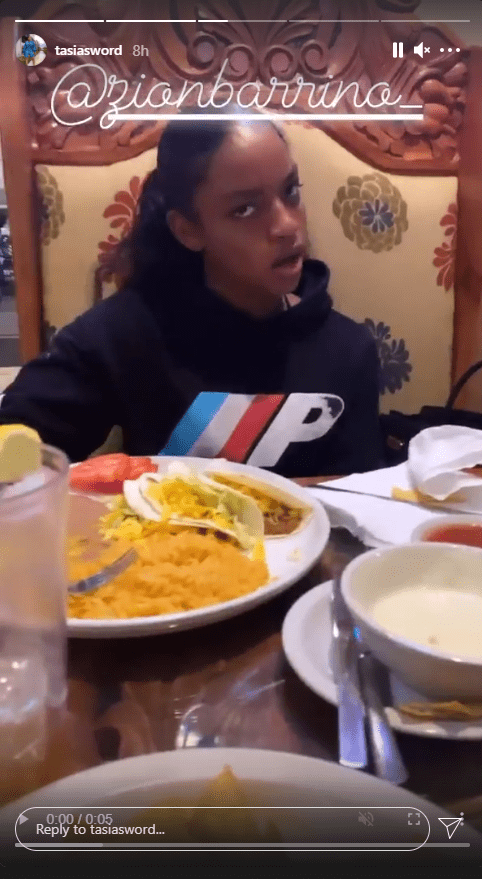 Daughter of Fantasia Barrino Zion eating food. | Source: Instagram/tasiasword
COMFY CLOTHING
In all three of the snaps, Zion seems to be wearing the same comfortable clothes. Sporting a black jacket with what looks to be some type of colorful symbol in the middle of it, as well as her natural hair tied back, the young girl appears relaxed.
Fantasia was only a teenager when she gave birth to her daughter.
The only thing that sticks out from the comfy clothing is Zion's bright red and long nails which she pulled up in a peace sign during the photo which was taken in the car. Dressed up or down, Zion is beautiful no matter what she's wearing.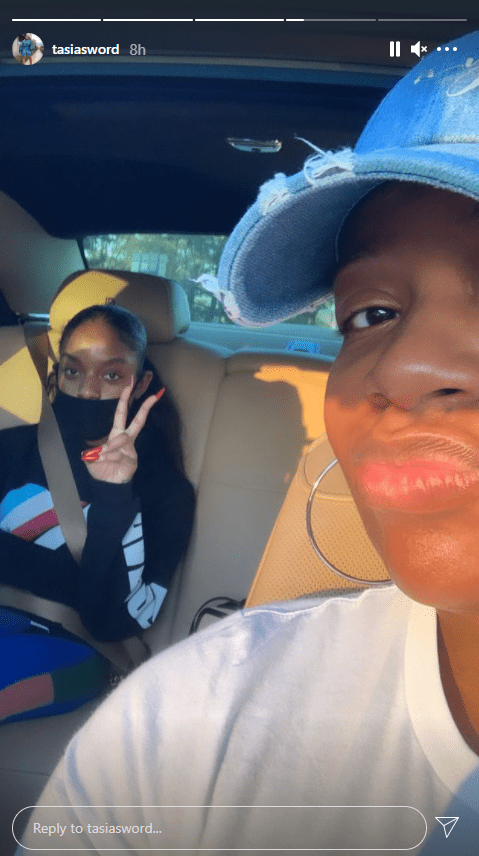 Daughter of Fantasia Barrino, Zion, pulling the peace sign in the back of the car while her mother drives. | Source: Instagram/tasiasword
HAPPY BIRTHDAY TO YOU
In the year 2019, Barrino made a fuss about her daughter's 18th birthday. In an Instagram post, the mother shared a series of photos dedicated to her daughter and wrote a touching tribute in the caption which read:
"I'm so proud of the lady you've become."
Fantasia was only a teenager when she gave birth to her daughter. She spoke about that day, claiming it was frightening for her because she was still a child herself.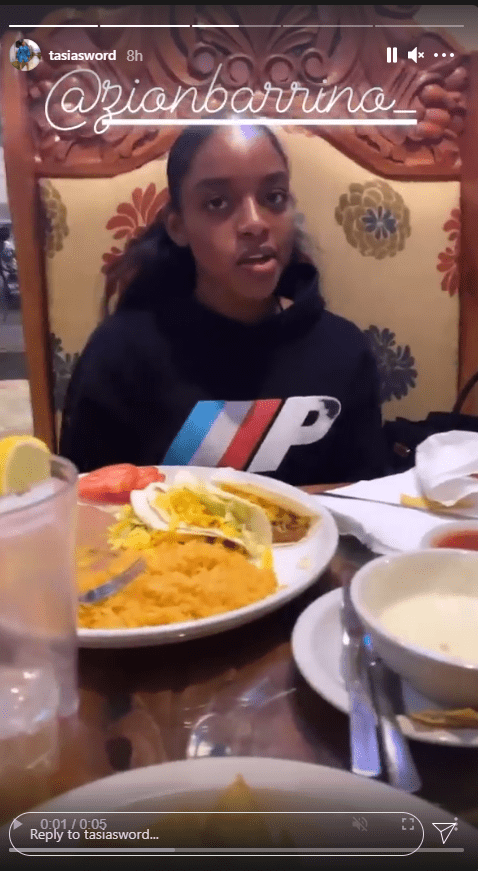 Daughter of Fantasia Barrino, Zion, eating food. | Source: Instagram/tasiasword
CELEBRATIONS ALL YEAR ROUND
Of course, a hard-working mama and celebrity has to celebrate her own day of birth as well. Last year, this talented singer turned 36-years old and did not hesitate to pull out all the stops.
Sharing a gorgeous photo of herself on Instagram in honor of her b-day, Barrino was dressed in a regal blue robe. This, of course, suited the singer perfectly, because, as most of us can agree, she is an absolute queen.
It hasn't always been smooth riding for this close mother and daughter. Barrino went through quite a rough custody battle when Zion was just 13-years-old.
In 2014, her ex and biological father to Zion, Brandel J. Shouse, filed for custody of the young teenager. He asked for many benefits despite not paying a cent to support Zion since she was born.
Please fill in your e-mail so we can share with you our top stories!