Nick Cannon's Son Golden Smiles at His Baby Sister Wearing a Cute Outfit & Matching Bow (Photo)
Nick Cannon's son with former beauty pageant queen Brittany Bell already has a solid bond with his new sister. Golden and Powerful were pictured on their mother's social media together.
Nick Cannon's partner, Brittany Bell, has shared two heartwarming pictures of their children on her Instagram story a few days ago. In the second image, the big brother smiles down at his younger sister.
Powerful is dressed in a cute white outfit with a matching bow on her head and looks very surprised. This isn't the first time that Bell shared Powerful's funny facial expressions.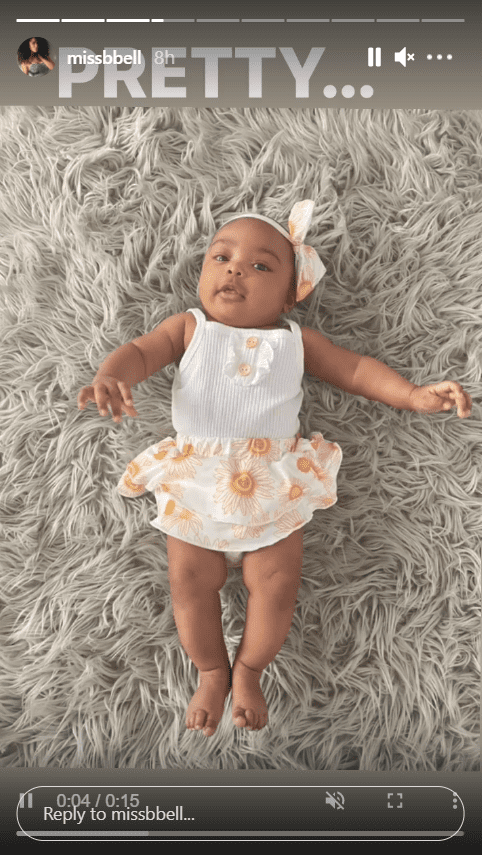 Powerful's skirt has beautifully drawn sunflowers in orange and yellow. Her brother Golden beams at her while she sits on the chair. Golden is clearly very attached to his sister already.
Mommy Bell used a song in the image's background to emphasize her two children's candid moment. She allowed the lyrics to flash over the picture, which read:
"She my queen."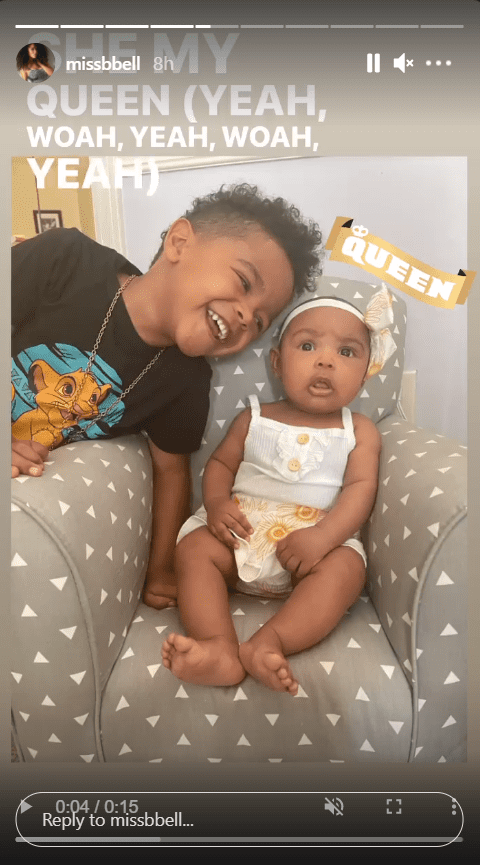 Bell and Cannon began dating in 2014, shortly after he finalized his divorce with R&B singer Mariah Carey. Cannon has nine-year-old twins with his ex-wife, and they remain on good terms.
Bell and Cannon welcomed their first child together in 2017. Golden is now three-years-old. On Christmas day last year, they had their second child, Powerful Queen, through an empowering water birth, hence her name. 
Cannon allegedly kept Bell's pregnancy with Powerful a secret from his girlfriend Jessica White.
While Cannon is known for his appearance on television, his partner Bell is recognized for winning her beauty pageantry. Bell holds several titles including Miss Guam (2014), Miss Arizona USA (2010), and Miss Congeniality.
Bell is also a qualified broadcast journalist. She studied at Arizona State University. Her other accomplishments include a fashion line called Mama Gang and being a yoga instructor. While pregnant with Powerful, she said:
"To be pregnant is one thing.. to be a safe home to a soul + spirit other than your own is another."
Cannon and Bell were dating off-and-on, and then in 2015, he began dating a Victoria Secret model. He allegedly kept Bell's pregnancy with Powerful a secret from his girlfriend, Jessica White.
Cannon was on a break with White at the time that his daughter was conceived. White said that the baby news came shortly after she had, in fact, suffered from a miscarriage with Cannon's baby.
White received a lot of backlash from Bell's fans and said that it was a harrowing ordeal. At the same time, she confessed that she is now on better terms with Cannon than before.
White said that before things ended between her and Cannon, things were going really well. Neither Bell nor Cannon hasCC responded to White's accusations publicly.