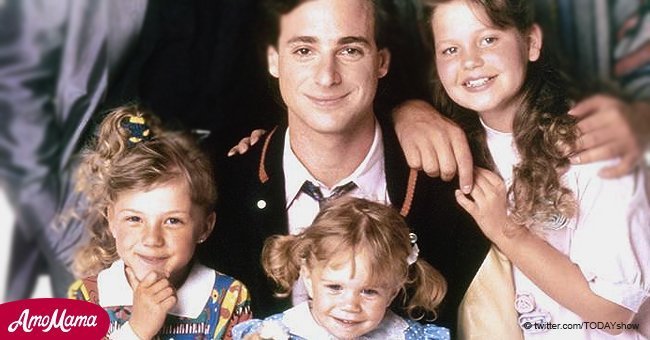 What Happened to Bob Saget – 'Full House' Dad Who Overcame Four Family Losses
Bob Saget eschews the word "celebrity," claiming to be just a comedian/actor/director for almost five decades. Most of us who watched his shows are unaware at what personal cost he made us laugh.
The actor got his big break on the series "Full House." Saget played the role of Danny Tanner, the wholesome, lovable father of three daughters. With life often imitating art, Saget is the father of three girls in real life, too.
What almost nobody knew at the time was that he had been through not one but four tragedies in his life, and his unfailing humor is what helped him cope with them.
View this post on Instagram
BECOMING AN ACTOR THANKS TO HIS ENGLISH TEACHER
Born in Philadelphia to a Jewish family on May 17, 1956, Saget wished to become a doctor soon after he graduated from high-school.
However, his grades were not as high as expected for a doctor. Apart from that, his Honors English teacher Elaine Zimmerman noticed that he was very creative and urged him to try his luck in the entertainment industry.
Thankfully, he listened to his teacher and went on to study at Temple University's film school. There, he created a black-and-white short documentary titled "Through Adam's Eyes."
View this post on Instagram
The project, which portrayed a boy who got reconstructive facial surgery, was so outstanding that he received an award of merit in the Student Academy Awards.
Soon after, Saget started studying at the University of Southern California. Sadly, he quit only days after that because he was a "cocky, overweight 22-year-old."
The actor pointed out that those aspects of him changed when he almost died due to a "gangrenous appendix" that was taken out on time, fortunately.
View this post on Instagram
WORKING AS A STAND-UP COMEDIAN
Even though most people know Saget as the hilarious Danny Tanner from "Full House," the truth is that the actor started developing his comic nature through stand-up shows, where he is considered anything but "wholesome."
Doing comedy for more than four decades, Saget told CBS that his act could lean towards the blue, adding:
"I'm a little bipolar in my work because I'm doing stand-up again and I feel a need to perform now more than I ever have."
View this post on Instagram
He worked on the comic club circuit for many years. Thanks to those gigs, he met Brad Grey, who became his manager and helped him snag roles in TV and films, such as "New Love, American Style" and "It's a Living."
STARTING HIS FILM AND TV CAREER
Saget's first important gig in the entertainment industry came in 1987 when he joined CBS's "The Morning Program." Although it was a news show, the actor was added to the project to lighten things up with some humor.
View this post on Instagram
Unfortunately, his time in the show ended only six months later. Soon thereafter, he landed the role of Danny Tanner in "Full House."
Thanks to his comic personality and impressive acting skills, Saget's counterpart became one of the nicest and funniest dads on TV between 1987 and 1995, when the show came to its end after 192 episodes.
View this post on Instagram
The second project for which Saget is known is "America's Funniest Home Videos." He was the show's host from 1989 until 1997, even coming back in 2009 to guest-host one episode.
With his comic transitions between the clips that the audience provided to win a cash prize, "America's Funniest Home Videos" became an instant hit soon after its released date.
After leaving "Full House" and "AFHM," Saget returned to his successful stand-up persona. In 2007, he paired with HBO to create his stand-up special titled "Bob Saget: That Ain't Right."
View this post on Instagram
PORTRAYING DANNY TANNER AGAIN IN "FULLER HOUSE"
Although people may not have recognized his voice as the narrator of future Ted Mosby on "How I Met Your Mother," and everyone who is a fan is thrilled at seeing him come full circle in "Fuller House."
The sequel to "Full House" portrays the life of Danny's daughter, D.J. Tanner-Fuller. As a veterinarian and widowed mother of three sons, D.J. lives in the Tanners' childhood home.
View this post on Instagram

A post shared by Entertainment Tonight (@entertainmenttonight)
"Fuller House" and its prequel have a very similar premise and, to make it even more nostalgic, most of the actors from the original show came back to portray their previous roles. The only people missing so far are the Olsen twins.
Both Ashley and Mary-Kate chose not to participate. The former admitted that she has not been in front of the cameras for a long time and didn't feel comfortable acting.
While Saget's career has been filled with highlights and success, he has been dealing with grief since he was quite young. Thankfully, he has managed it in a great way to avoid it from affecting his life and career.
View this post on Instagram
UNDERGOING FAMILY TRAGEDIES
Saget's family lost twin babies at birth, his siblings Robert and Faith. Losing children affects the whole family, and the actor told CBS, he coped with it through humor:
"It's hard to make gallows humor out of something, which is what we always fall back on, which was what my dad instilled upon me."
Years later, Saget's sister, Andi, died from a brain aneurysm at 34. His sister, Gay, developed a skin condition known as Scleroderma. To raise awareness of this disease, he made a movie called "For Hope."
View this post on Instagram
Having already lost three siblings, Saget's support for Gay's battle was unwavering. He is currently a board member of the Scleroderma Research Foundation, joining them after Gay passed away in 1994 at age 47.
In 1987, the actor and comedian helped the foundation launch the Cool Comedy – Hot Cuisine fundraiser, which has become one of the foundation's primary funding sources, having already raised around $45 million.
Now, Saget works as the host, co-executive producer, and writer of the ABC series "Videos After Dark," which features home videos with an edgy twist. He will be part of "Fuller House" during its fifth and last season.
Do you think Bob Saget would have been as funny as he is if he hadn't gone through such tragedies? Do you know another celebrity with a similar story? We'd love to hear from you!
Get More Amazing And Related Articles Here:
Please fill in your e-mail so we can share with you our top stories!