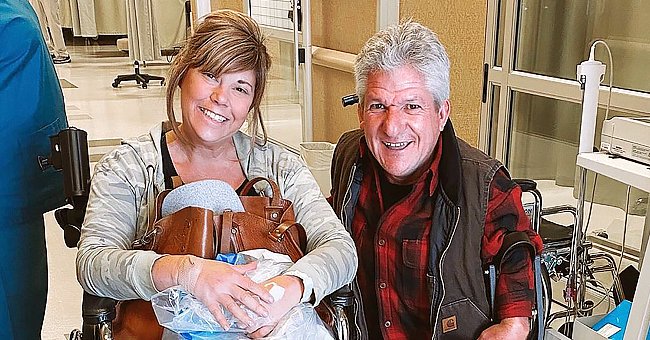 instagram.com/carynchandler1
LPBW's Matt Roloff Responds after a Fan Encourages Him to Marry His Girlfriend Caryn Chandler
"Little People Big World" star, Matt Roloff, surprisingly responded after a fan encouraged him to marry his girlfriend Caryn Chandler in a comment on his Instagram post.
Matt Roloff of "Little People Big World" fame responded to a fan who told him to 'marry' his girlfriend Caryn Chandler on an Instagram post of a series of photos of the couple dining out.
"Little People, Big World " stars Roloff, 59, and Chandler, 53, maybe already or soon to be engaged judging by an Instagram hint Roloff may have dropped on a fan's comment.

Comment by Matt Roloff on his post dated March 16, 2021. | Source: Instagram.com/mattroloff
FANS BEG ROLOFF TO PROPOSE
Fans begged the 59-year-old to marry the lady in the photo he posted of her and the kids and he fed the speculation of wedding bells in the near future by replying to the comment:
"Maybe I will !! You'll have to wait and see. :))"
The "LPBW" star and Chandler have been dating for about five years while she previously worked as his assistant. The couple's relationship has been going strong and it would be interesting to see if he proposes.
HAPPY BIRTHDAY CHANDLER
Roloff celebrated Chandler's birthday in a touching Instagram post with photos of them out to eat and of a birthday cake they enjoyed with family. He captioned,
"Happy Birthday to the most fabulous person in the world.. You're amazing Caryn and you touch so many people with your sweet joy and beautiful spirit! Here's to many many more. Xoxoxo."
The couple shared pictures of the special occasion in which they are out to eat with their kids. Chandler is holding one of the children as the other sits beside her and looks along as she takes the photo.
ROLOFF WANTS EX OUT OF FARMHOUSE
The reality star had previously been married to ex-wife Amy, 56, from 1987 until 2016, with whom he shares four adult children. The two have been known to cause a lot of drama on the TV show.
Amy frequently shares photos of the couple on social media, including a number of shared holidays.
In a recent episode of "LPBW," Matt came out direct and clear saying he wants Amy to move out of the family farm since she had bought a new house. The mother of four has been finding it difficult to move.
AMY ROLOFF IS ENGAGED
As Matt contemplates getting engaged to his girlfriend, Chris Marek popped the question to Amy! She couldn't contain her excitement as she never thought she'd ever get married again.
Marek proposed the day after Amy's birthday, at the restaurant the couple has frequented since their first anniversary. Amy frequently shares photos of the couple on social media, including special holidays spent together.
Fans of the reality show were shocked by Amy's revelation that Chandler had shared inappropriate photos and texts with her ex-husband before the couple broke up.
Matt continues to romance his lady as his ex-wife also moves on with her life. Even though the altercations between the reality TV stars can get uncomfortable, they both desire to be cordial for the sake of their children.
Please fill in your e-mail so we can share with you our top stories!