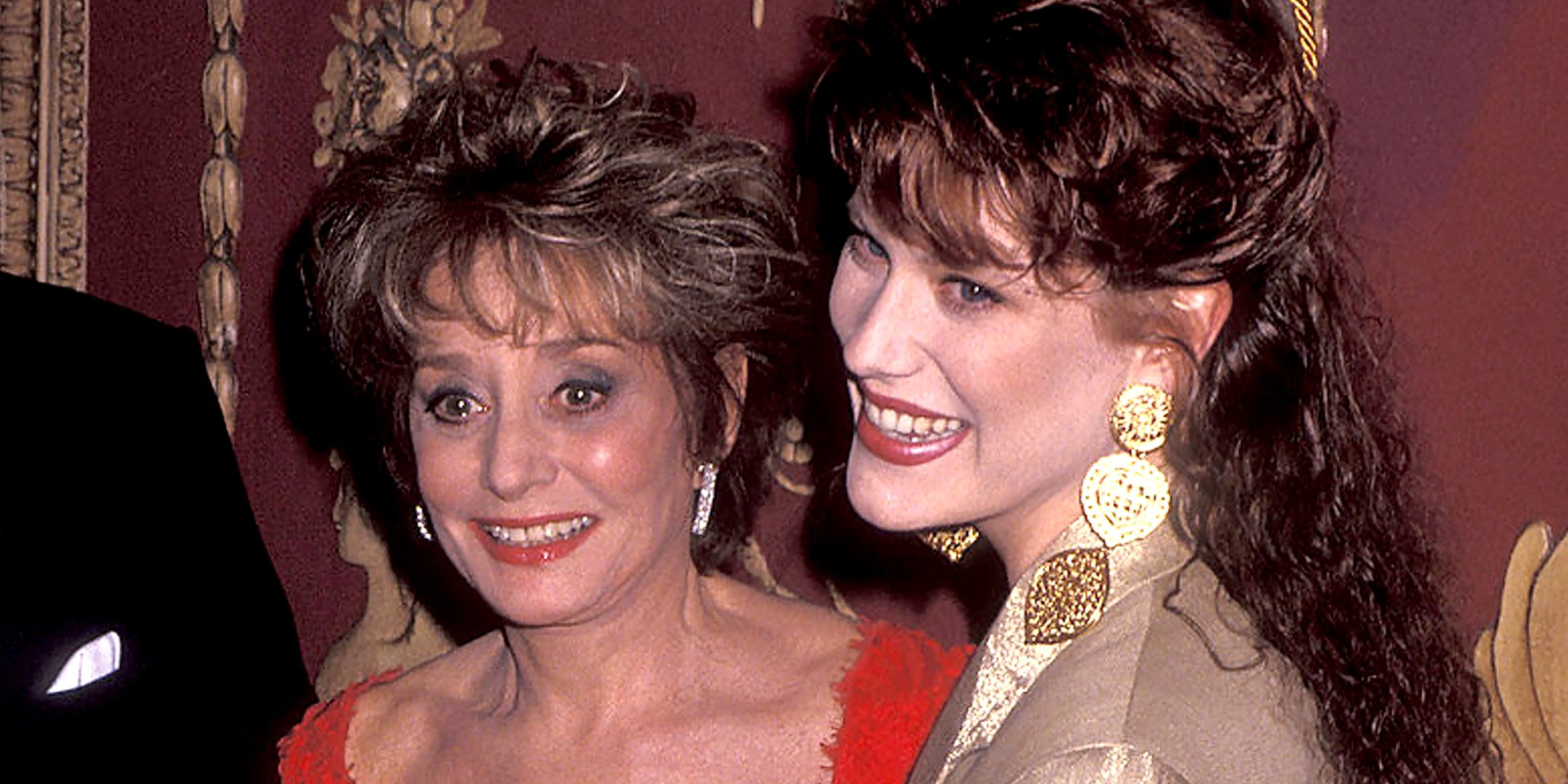 Getty Images
Jacqueline Dena Guber Is Barbara Walters' Adopted Daughter Who Went from Rebel to Helping Others
Retired journalist Barbara Walters has only one daughter named Jacqueline Dena Guber, adopted during her second marriage. Sadly, Jackie had a turbulent youth.
Barbara Walters has called her daughter, Jacqueline Dena Guber, the "apple of her eye," and the star takes every opportunity to talk about how much she "adores" her daughter.
Jacqueline was adopted as a young child by Walters while at the peak of her career, and her world changed the day Jacqueline entered her life.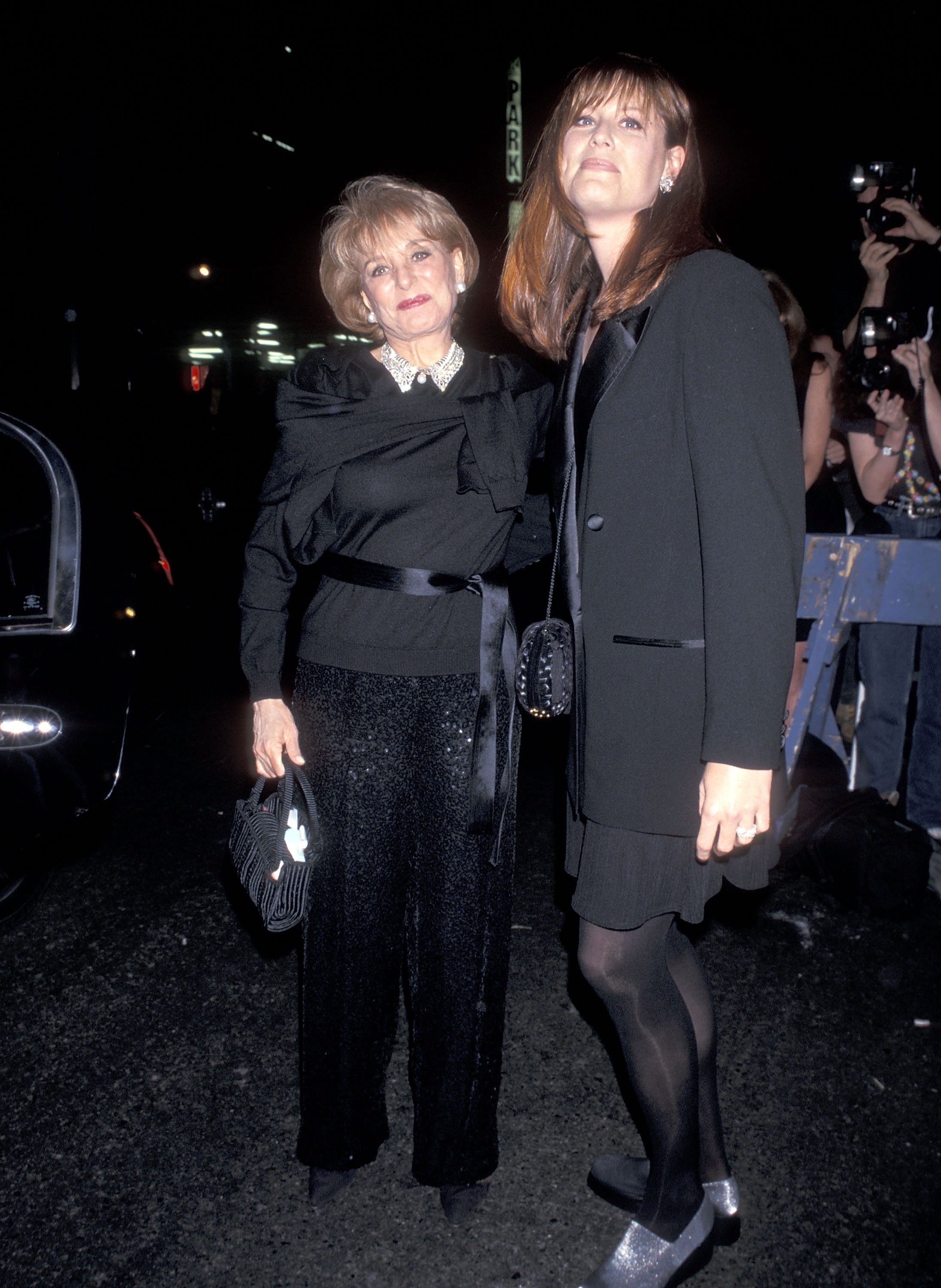 Barbara Walters and daughter Jacqueline Guber attend Michael Douglas' 55th Birthday and Catherine Zeta-Jones' 30th Birthday Party on September 25, 1999, at Club 151 in New York City. | Source: Getty Images
Then in the days and months that followed, Walters completely fell in love with her daughter and has never stopped feeling that way. Of course, their relationship has not been rosy as Jacqueline grew to resent her mom's popularity, and Walters sometimes had to put her job first.
WHO IS JACQUELINE GUBER?
Five years after Walters and her husband Lee Guber married, they decided to expand their family via adoption. The adopted child was born in June 1968 and was named Jacqueline, after Walters' sibling.
They kept everything private and did not announce any kind. Walters would later reveal that it was partly because she did not want the biological mother to know that they were the ones who adopted the child.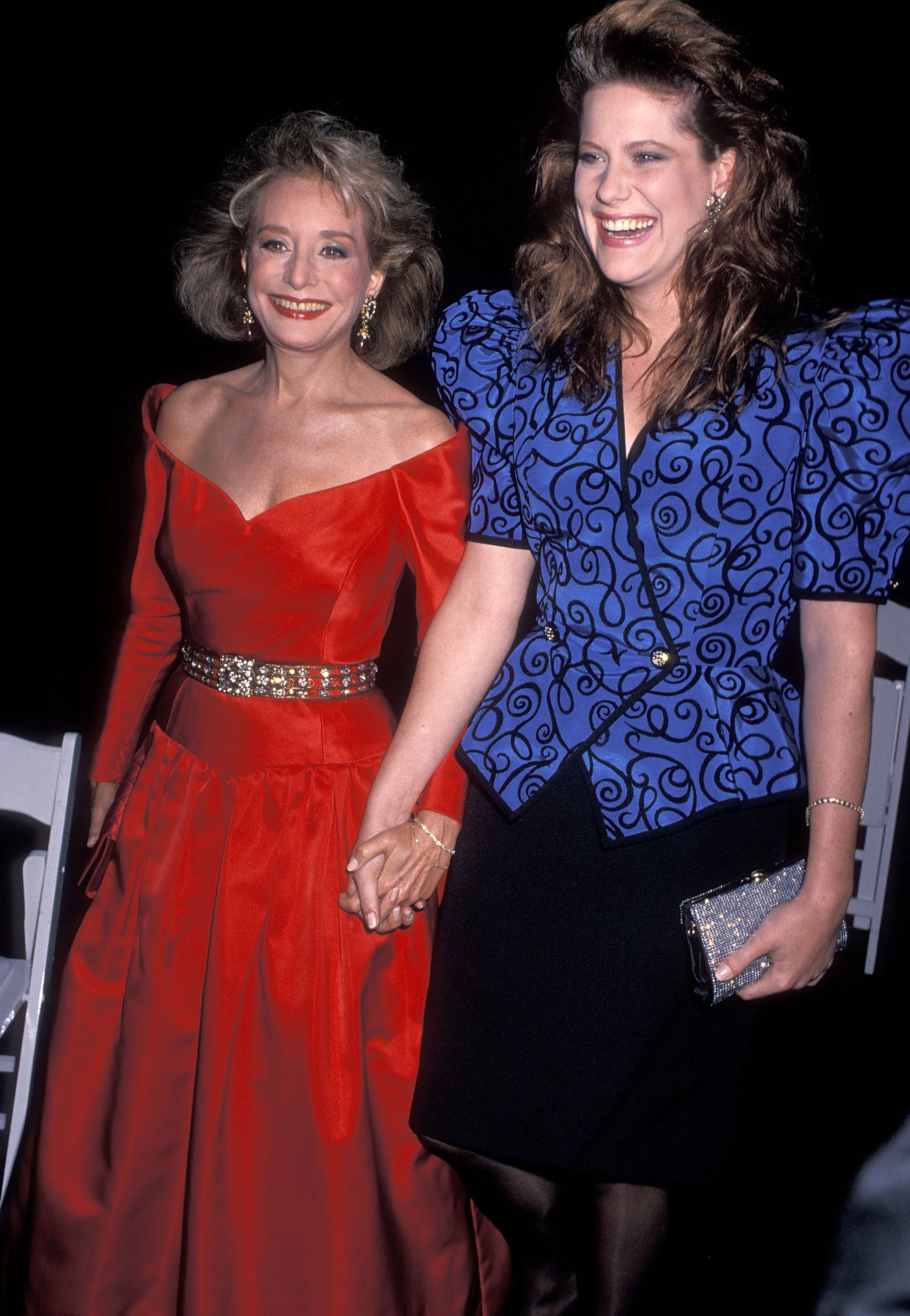 Barbara Walters and daughter Jacqueline Guber attend the Sixth Annual Television Academy Hall of Fame Induction Ceremony on January 7, 1990, at 20th Century Fox Studios in Century City, California. | Source: Getty Images
JACQUELINE DENA GUBER'S UPBRINGING
Barbara Walters' daughter went through a very rebellious phase as a teenager as she would do defiant things like skipping school to sneak into Studio 54 – one of the most renowned dance clubs at the time – when she was only 13 years old.
The reason for Jackie's disobedient phase? She felt out of place. In a 2002 interview with Jane Pauley, Jackie explained she never felt like fitting into her mother's world.
To make matters worse, she was way taller (six feet) than her classmates at 12 years old. Jackie also admitted that, as an adopted teen, she wondered why her biological family gave her up, another reason for her rebellious period.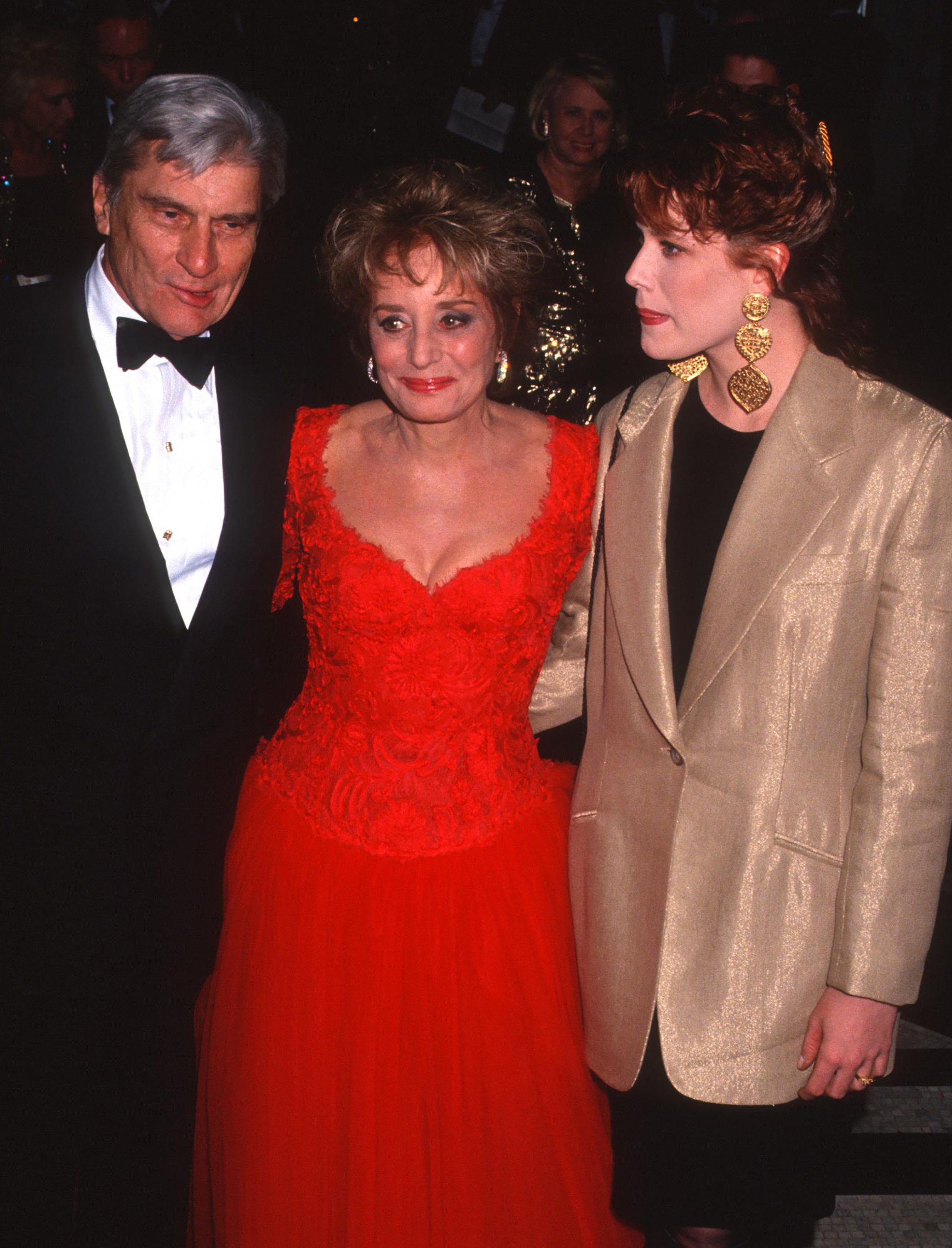 John Warner, Barbara Walters and daughter Jacqueline attend American Museum of the Moving Image Awards Honoring Barbara Walters in New York City on March 19, 1992. | Source: Getty Images
According to Walters' daughter, she felt like an outcast and considered that she could relate more with a housekeeper than the girls in her "elite private school." Meanwhile, Walters kept working, unaware that her daughter was slipping away.
When Jackie was 15 years old, she went missing for an entire month. She hitchhiked 800 miles with a "guy" she met on the street as she thought running away would solve all her problems. Instead of taking her home, Walters sent Jackie to an intervention program in Idaho.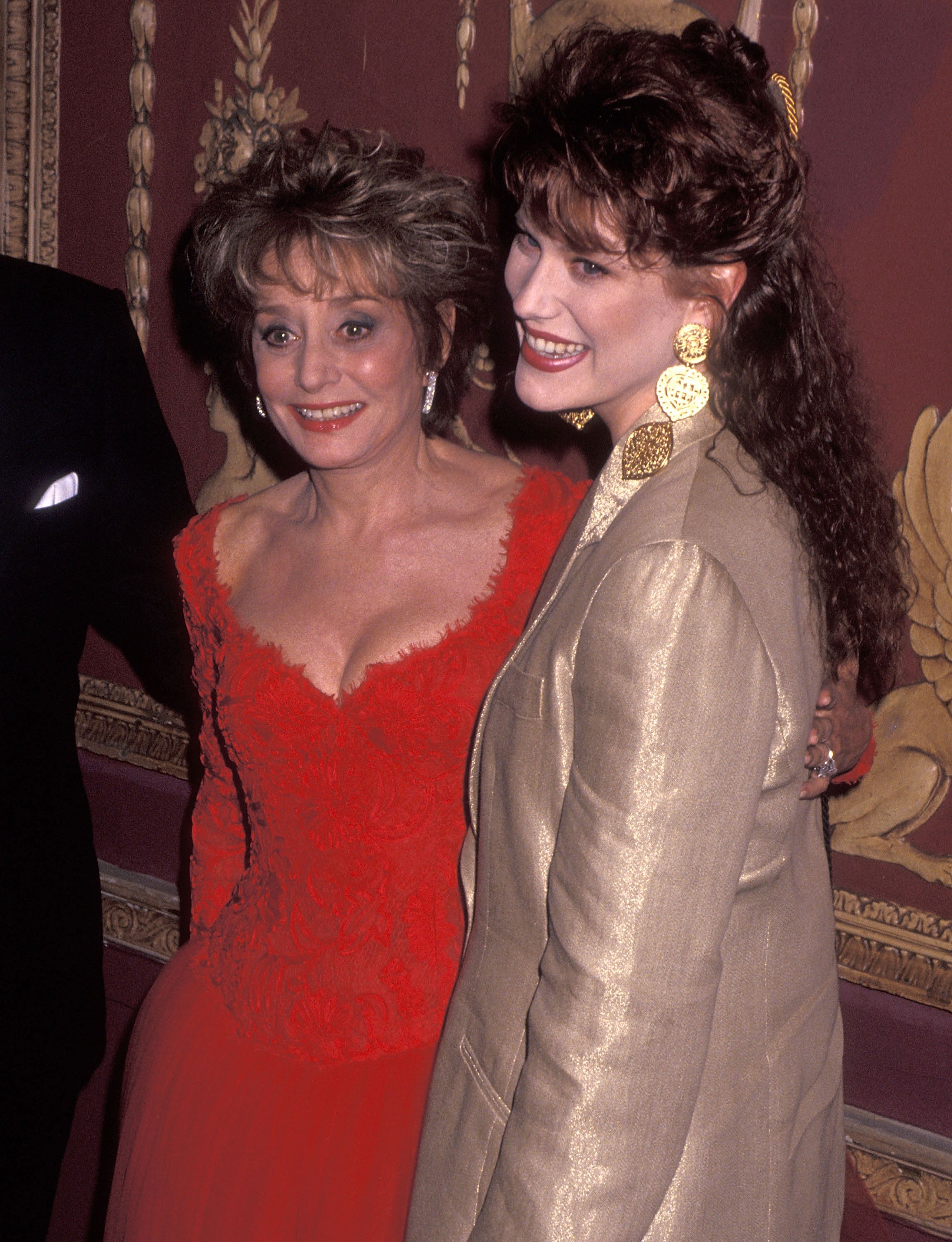 Barbara Walters and her daughter, Jacqueline Guber, at the American Museum of the Moving Image Salute to Barbara Walters on March 19, 1992, in New York City | Source: Getty Images
WHO IS JACQUELINE DENA GUBER'S FATHER?
After her first failed marriage to Robert Henry Katz, Walters found love again with theater impresario Lee Guber, and he became her second husband after they tied the knot in 1963.
Guber was the one who founded the Westbury Music Fair and facilitated the integration of Broadway entertainment into theaters and concert halls all over the country. In his active years, he produced several Broadway shows, including "The King and I," "Fiddler on the roof," "Gypsy," and "I Do! I Do!"
Guber got married three times in his lifetime. His marriage to Walters lasted 13 years before they divorced in 1976. The talented man passed away from brain cancer in 1988 at 67.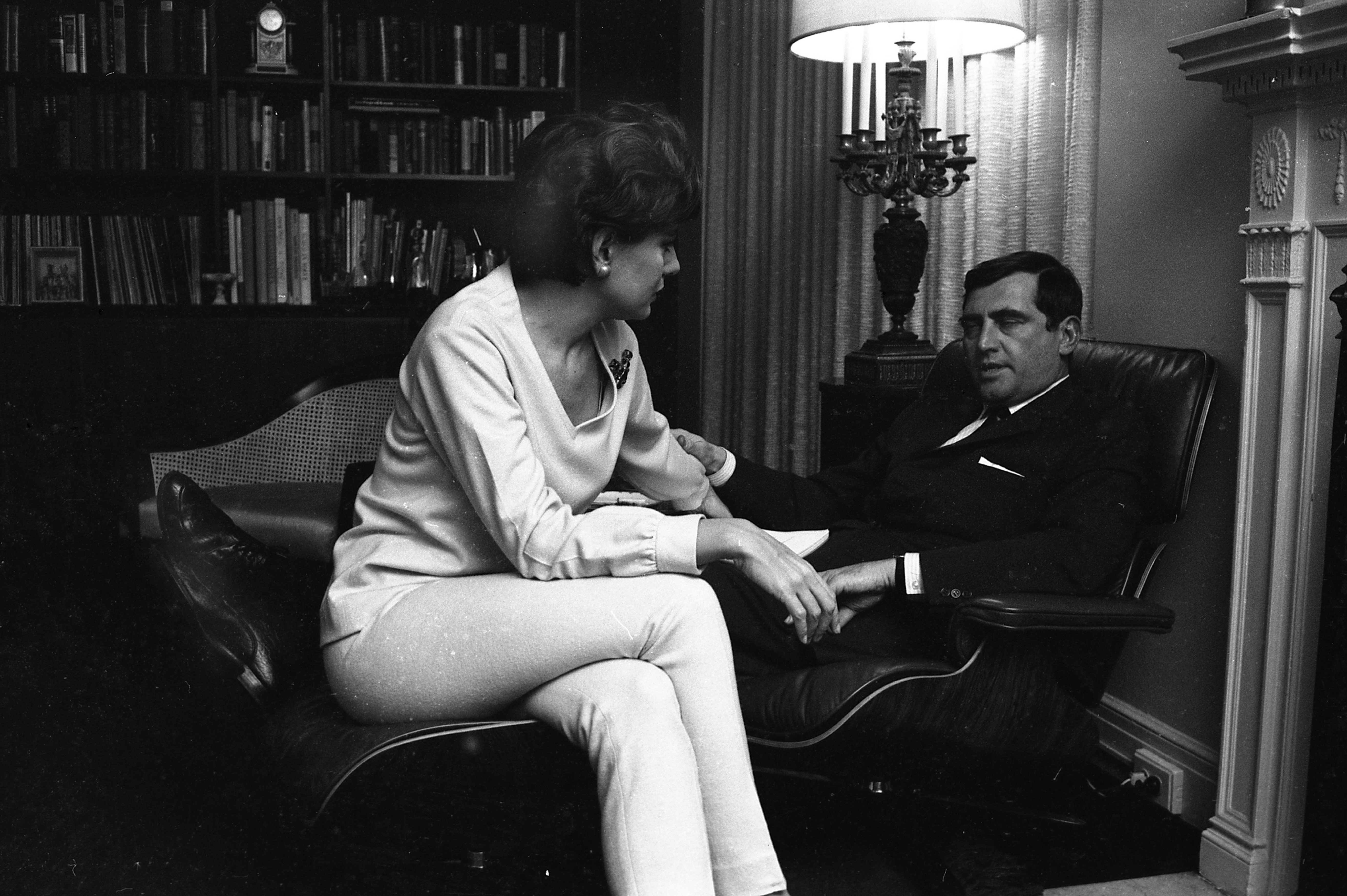 American broadcast journalist Barbara Walters sits at home with her husband, businessman and theatre producer Lee Guber, New York, 1966. | Source: Getty Images
JACKIE'S REBELLIOUS PHASE
From the outside, people might believe that nothing could be better than having famous parents. For Jackie, though, it was quite the opposite. Walters once said:
"Jackie has found it difficult, all her life, because she wants to be anonymous, she just doesn't like to be a celebrity."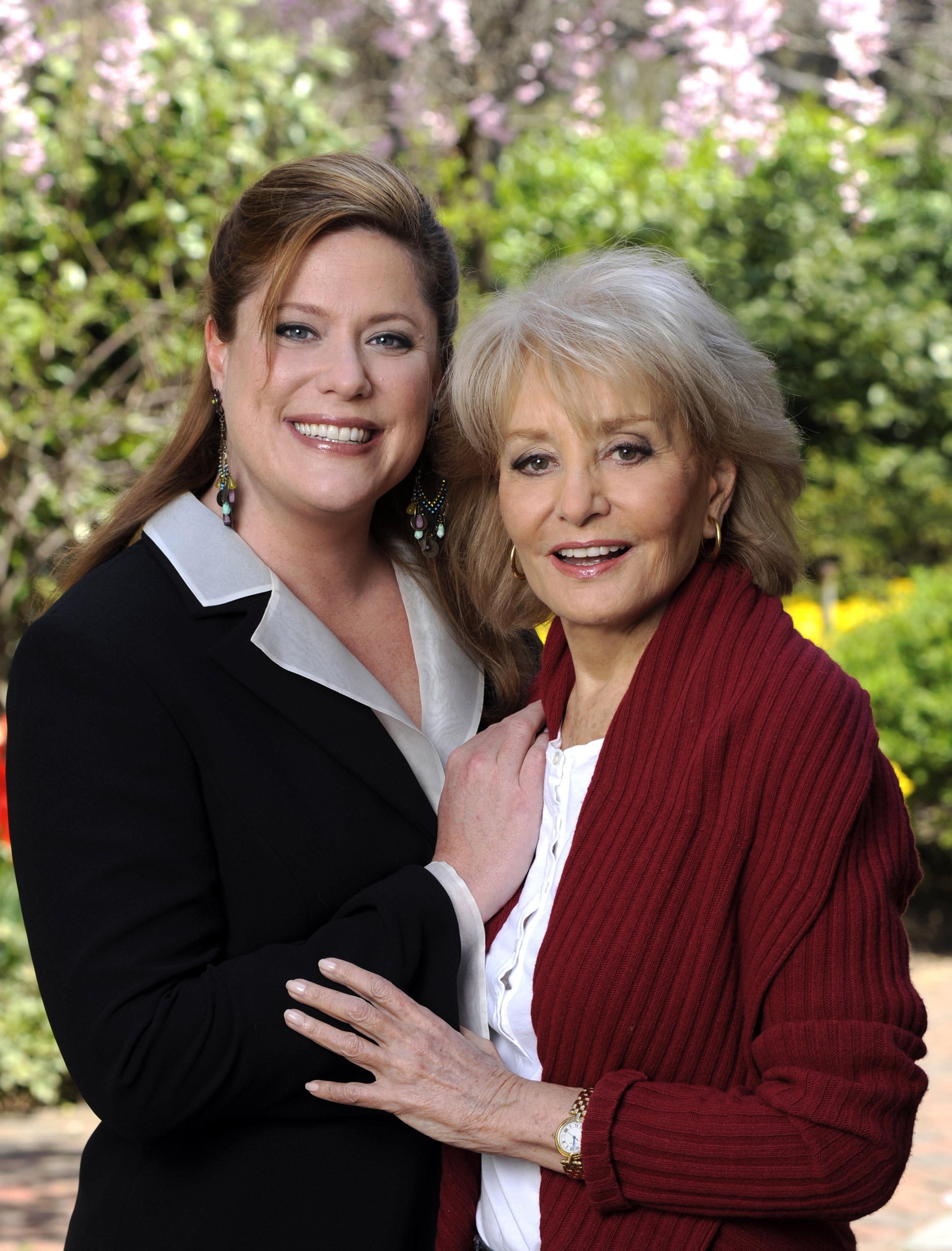 Barbara Walters' Journey," an Walt Disney Television. | Source: Getty Images
When she ran away and her mom found out, she did not call the police immediately. Most parents would have called the police immediately, but Walters didn't. She didn't want "the headlines" for her daughter because she was unsure what Jackie could do. Walters revealed:
"When I first found out all the things that she had done, I was so shocked. And Jackie is so open. Sometimes I think I wish I didn't know."
Jacqueline Dena Guber confessed that she did different drugs during her teenage years as they numbed her feelings but didn't take away the real issues she was dealing with.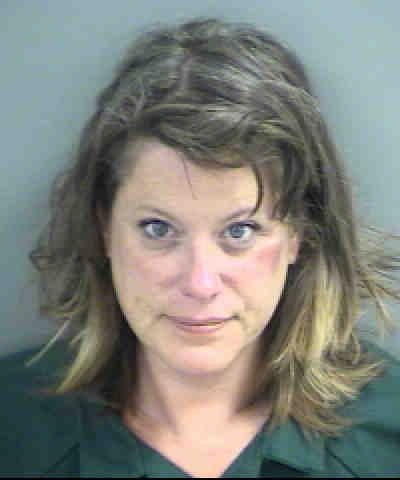 Jacqueline Danforth in a handout photo provided by the Collier County Sheriff's Office after her arrest on charges of driving under the influence on May 19, 2013, in Naples, Florida | Source: Getty Images
GETTING BETTER
A month after leaving home, the "guy" found Walters' phone number in Jackie's wallet and called her. The TV personality then sent an ex-Green Beret for her daughter. Instead of taking her home, Barbara Walters sent Jackie to an intervention program in Idaho. Jackie stayed there for three years and has credited the program with saving her life.
From then on, Jackie has kept herself mostly away from the drama. In 2013, she was arrested for a DUI but was so out of control that she had to be "taken to the ground" to keep her from running into traffic.
In a 2014 interview, Walters said she adored Jackie and regretted not spending more time with her daughter because of her demanding career. Nowadays, Jacqueline Dena Guber and Barbara Walters have a much better relationship. Still, Jackie prefers to live her life away from the spotlight.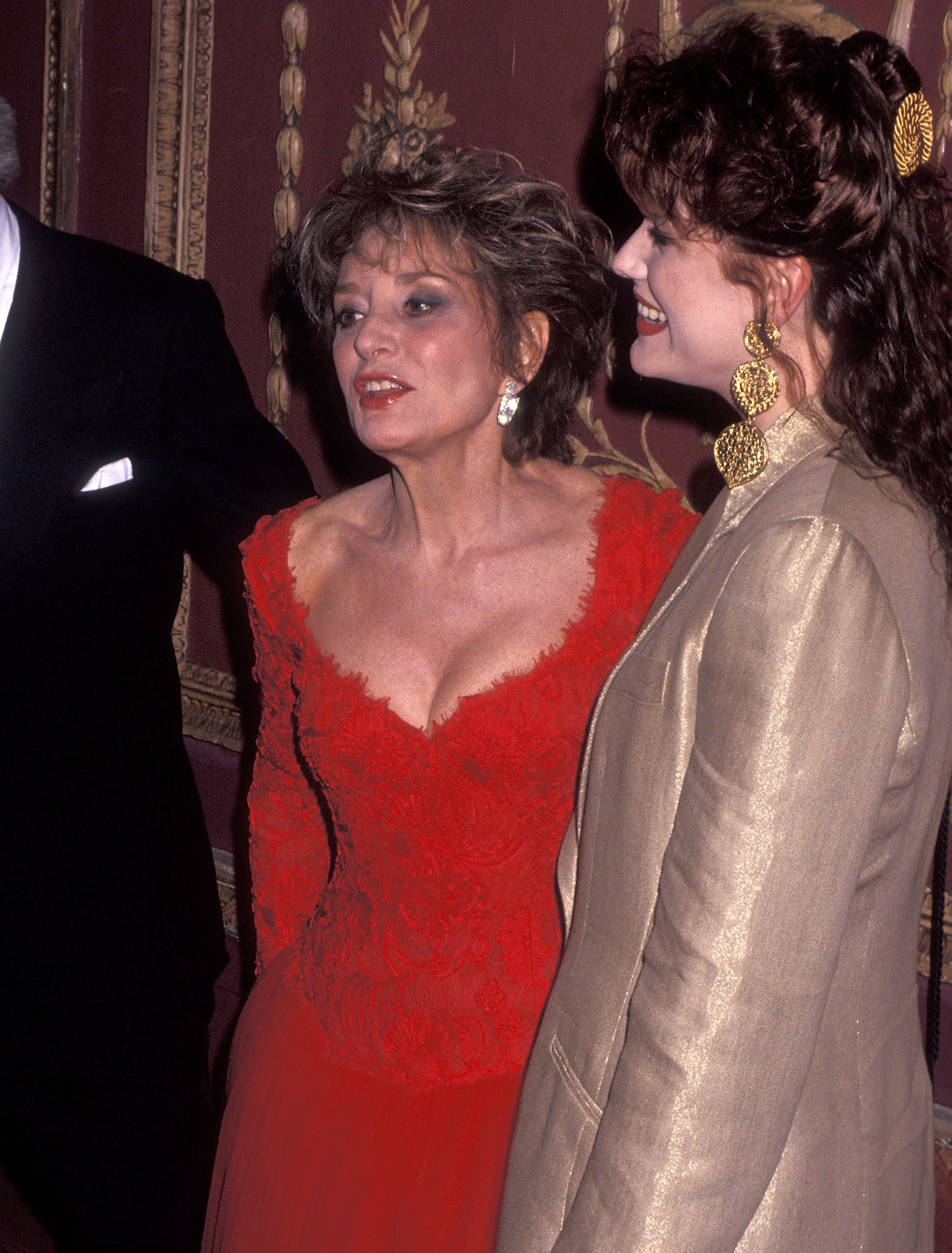 Barbara Walters and daughter Jacqueline Guber attend the American Museum of the Moving Image Salute to Barbara Walters on March 19, 1992, at the Waldorf-Astoria Hotel in New York City. | Source: Getty Images
JACQUELINE DENA GUBER CHANGED HER LIFE AROUND TO HELP OTHERS
After getting her life together, Jacqueline continued to live a private life; therefore, not much is known about what goes on in her life. However, she is known to have been married twice. Her first husband was a man named Scott Pontius, the son of an affluent local family, and the wedding was held at the Inn at Semiahmoo.
The ceremony was held on a dock over the water, and the reception went down at the inn. The event was star-studded, including guests like Ivana Trump and David Letterman.
Jacqueline, 29 at the time, met Pontius while working as a receptionist at Riverton Hospital. They ran into each other when she moved into a home with a view of Puget Sound, which was not far from Pontius' parents, Bill and Ruby Pontius, who owned a waterfront residence.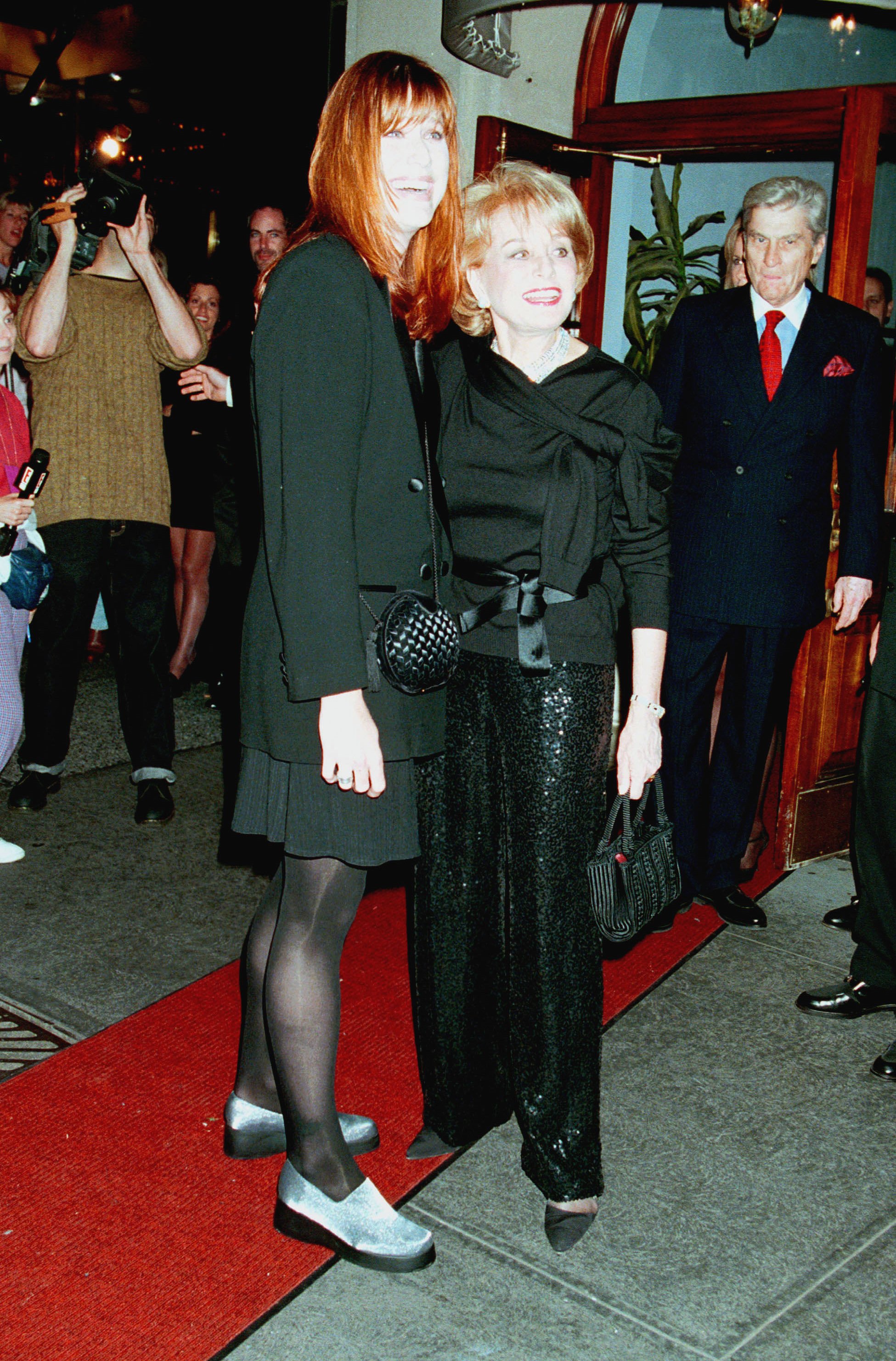 Arrival of Barbara Walters with daughter Jacque line. | Source: Getty Images
After that marriage ended, Jacqueline found love again with a registered Maine guide named Mark Danforth. They got married in 2001, but little is known about their relationship. It is unknown if they are still married, but it is public knowledge that Jacqueline does not wish to have kids or raise them.
This means that Walters, who has always wanted grandkids, will not get any. Nevertheless, the proud mom supports her daughter's choice to avoid having kids and has praised today's society for not pressuring women to carry or raise kids when they don't want to.
These days, Jacqueline manages a therapeutic wilderness camp in Maine for teenagers. It was founded because of what she passed through as a young woman, hoping she could help other kids get better as she did.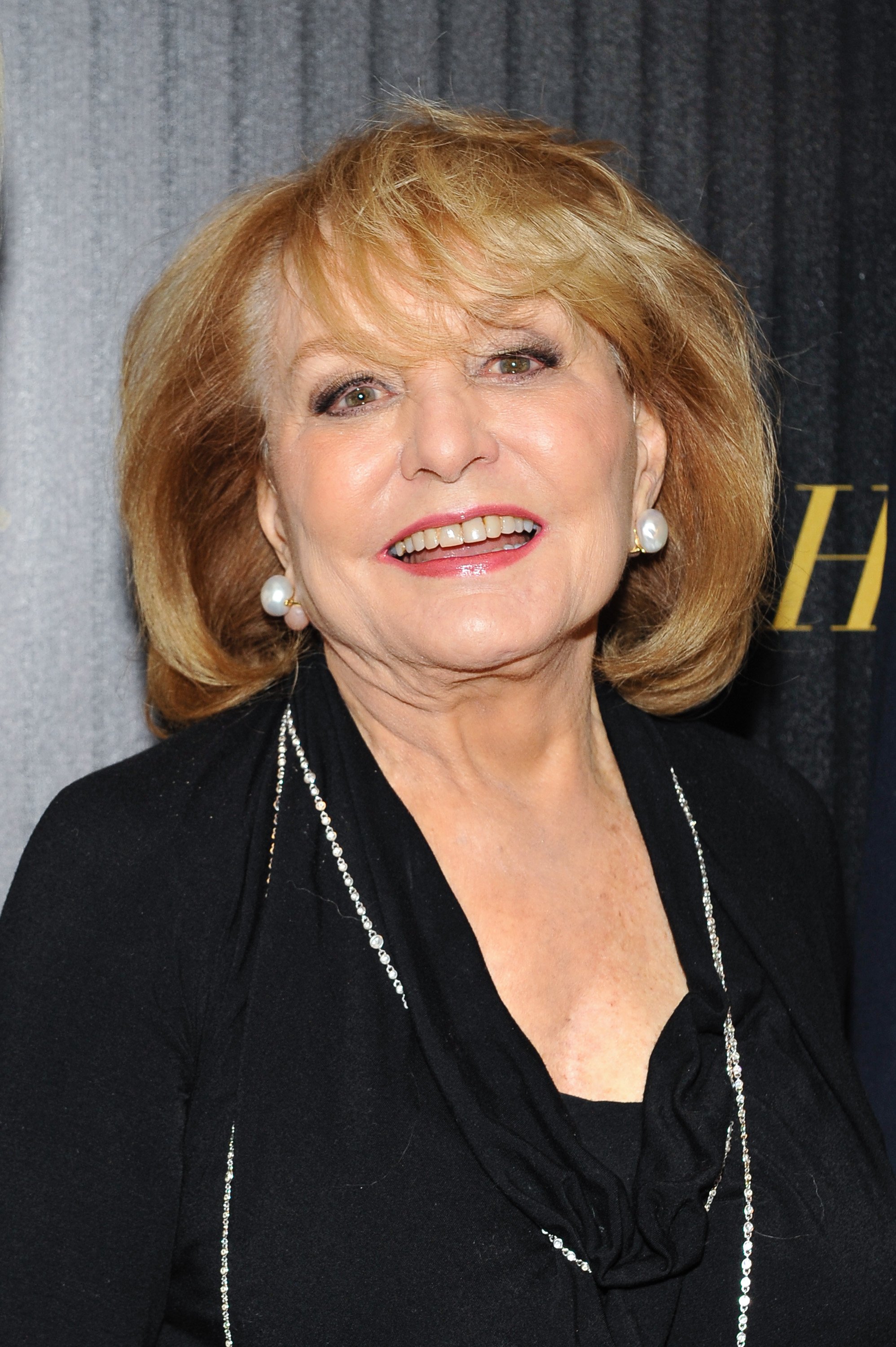 Barbara Walters attends the Hollywood Reporter's 2016 35 Most Powerful People in Media at Four Seasons Restaurant | Source: Getty Images
According to Barbara Walters, Jacqueline sees the girls she caters to as her kids, and she adores what she does, so she is happy. Her therapeutic camp lasts six to nine weeks and costs between $20,000 to $30,000.
As soon as the girls arrive on site, they are stripped of their gadgets, clothes, and jewelry and given program-issued garments, which include socks, underwear, and swimsuits. This was reportedly done to discourage competition and encourage the girls to look within.
The camp has no TVs or radios. The girls make music by singing and have no instruments to tell the time or mirrors that can boost vanity. In summer, Jacqueline and her girls can be found in the wilderness doing different things, including canoeing. In spring and fall, they go hiking with backpacks and often camp along the Appalachian Trail.
By winter, they spend three days a week in a cabin on the New Horizons campus. On the other days, they camp on a nearby lake in their canvas tents and wood-burning stoves.
Even though the camp is located in the wilderness, Jacqueline has said that it is not a survival camp but a place where the girls come to learn how to live. Her efforts have greatly helped the kids, but Jacqueline has also significantly benefited.
After zipping around Oregon and Washington working odd jobs after high school, she has tagged Maine as her home because it fits her down-to-earth lifestyle.
Please fill in your e-mail so we can share with you our top stories!