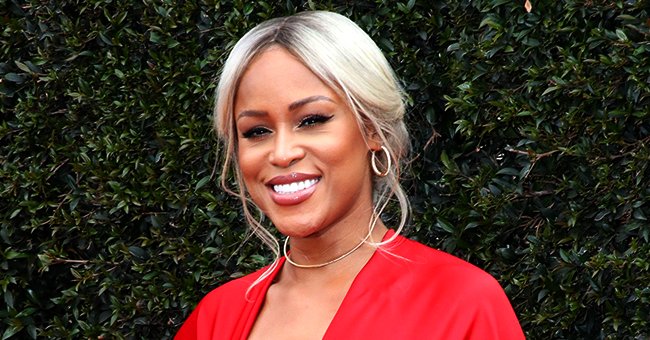 Getty Images
Rapper Eve Posts FBF Photo Posing Next to Her Millionaire Husband in Front of a Lavish Pink Car
Eve claims that she has the most authentic relationship with her husband. This certainly appears true based on their Instagram photos, where recently she shared the sweetest photo of her and her husband.
The famous rapper Eve recently took to Instagram to share an FBF photo with her millionaire husband, Maximillion Cooper. In the snapshot, the music artist posed next to her husband while standing in front of a lavish pink car.
Cooper and Eve certainly looked calm and comfortable next to each other in the snapshot. The two stared confidently and almost uncaringly into the lens while a bunch of expensive-looking cars stood behind them.
Eve at the grand store opening of Philipp Plein on November 15, 2011 in Germany. | Photo: Getty Images
COOL, CALM, AND GLAMMED UP
Eve looked absolutely cool, calm, and collected, yet stunning in her black cap and pink-orange diamond-shaped glasses. The comment section went wild for the couple, with some asking the rapper to make music again, one reading:
"I know you don't make music much but I need a hot 16 missing that?."
Her skin looked absolutely flawless with a slight glow that matched her nude pink lipstick as she gave a subtle pout. Her grey sweater added to the comfortable yet glam look, along with her black and pink necklaces.
Cooper also embodied the calm yet glam ambiance, his black glasses sitting on his face while he smiled coolly at the camera. His beard looked neatly done, while he wore a cozy and snug black jacket.
After the two were officially hitched, Eve became the stepmother to Cooper's four children.
They appeared to be attending some high-class event with not only the pink car parked behind them and another costly vehicle standing right next to it. The snapshot received almost 89,000 likes in total.
Speaking about her relationship with Cooper back in 2016, Eve said that they are both looking to become a mom and dad and are as ready as they will ever be. Expanding on her and her husband, she said:
"We respect each other, we are the realest. It's the realest relationship I've ever had."
Eve expressed that the two of them are great friends, although she admitted that this statement was slightly commonplace. However, it didn't matter to her because it's the truth at the end of the day.
The rapper and her husband commemorated their six years of marriage last year, smack bang in the middle of lockdown. However, Eve expressed, quarantine with Cooper actually made their relationship more solid.
She felt blessed to have come out of the quarantine, having improved her relationship, as the opposite has happened to many others. She stated that they learned a lot about one another while in isolation.
The rapper also said that she had learned more about her husband via lockdown, but marriage has taught her many lessons. One is that she doesn't always have to do everything alone and can sometimes let her husband help.
After the two were officially hitched, Eve became the stepmother to Cooper's four children. Expanding on her experience, she said it was initially quite challenging, but now she loves it to death.
Please fill in your e-mail so we can share with you our top stories!