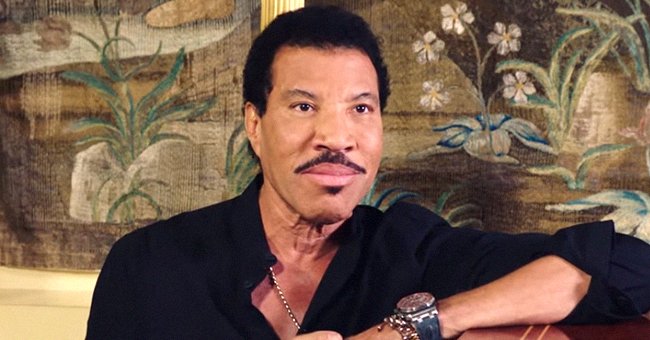 youtube.com/GQ
Check Out Lionel Richie's Girlfriend Lisa Parigi Posing In a Comfy Gray Tank Top & White Pants
The online world has a lot to say about the age gap between Lionel Richie and his girlfriend. That being said, whatever anyone's opinion may be, they certainly can't deny that Parigi has good fashion sense.
Lionel Richie's much younger girlfriend, Lisa Parigi, recently took to social media posting a stunning photo of herself. In the Instagram snapshot, she was posing alluringly while wearing a gray tank top and white pants to go.
Looking into the shining distance, Parigi sat in an enticing yet elegant pose on what looks to be soft as silk white faux fur. The subtle sunshine shone on her light brown and radiant skin, bringing out its beautiful tone.
Lisa Parigi and Lionel Richie at the exclusive Lionel Richie exhibition 'STILL' on July 5, 2016 in London. | Photo: Getty Images
Her grey tank top combined with her white pants gave off a subdued yet sexy ambiance, as the pants covered her legs and the shirt showed part of her midriff and cleavage. Taking to the caption, Parigi wrote:
"Bring the indoors out. ?"
Her bare feet, combined with her long untouched sleek natural black hair which caressed its way down her back, gave way to the weird yet intoxicating mix of the cozy indoors yet wild outdoors, with a touch of seduction.
Her silver necklace shimmered in the light accentuating her cleaving and sparkling along with her skin and the natural light. The scenery behind her complimented her clothes, hair, and skin tone, with its colors and modern Tuscan look.
[Parigi is] able to speak four different languages.
Her red nail polish shone out of the photo's generally soft look, just giving it an extra dash and tiny edge of ambiguous lust. Parigi's inebriating post pulled in just under 300 likes in total.
Of course, Richie's lover doesn't only spend her time taking and sharing pictures of herself. Near the end of last year, Parigi took to Instagram, sharing a romantic photo of her and the legendary singer traveling together.
She appears to love looking in the distance, a habit she shares with Richie, as they both stared towards the golden light into the snapshot. Parigi lovingly put her arm around Richie, her hand landing on his chest in the sweet, captured moment.
Although the age gap hasn't really been a central topic globally, recently, there was a Twitter storm about how much younger Richie's girlfriend is. Many had negative as well as positive views where one user tweeted:
"Lionel Richie with his new Bae, he's 71 and she's 30, love wins."
A lot of individuals who were taking part in the trend appeared to be commenting on how young Richie himself looked, implying that this particularly made it okay. Others found the age gap between the two hilarious.
Of course, there is much more to the beautiful woman Parigi than being the younger girlfriend of Richie. One fascinating fact about her is that she is of mixed heritage and speaks four different languages.
Richie has had a lot to say when it comes to how he views her and his general opinion on love. He expressed that love has to be passionate for him and that it has to be something that turns you on.
Please fill in your e-mail so we can share with you our top stories!