Thylane Blondeau AKA World's Most Beautiful Girl Models Crop Top and Bikini Bottoms in New Bathroom Selfie
A new selfie of Thylane Blondeau, also known as the "World's Most Beautiful Girl," highlighting her famous thigh gap in bikini bottoms, has been posted online.
On April 5, Thylane Blondeau was in swimwear mode on her Instagram. The 20-year-old French model posted a photo to show off both her figure and her marbled bathroom to her legion of followers.
In a vein marble bathroom with a deep-soaking tub, Blondeau snapped a shot of herself while swinging a hip. The beauty's only outfit was a cream crop top and skimpy bikini bottoms.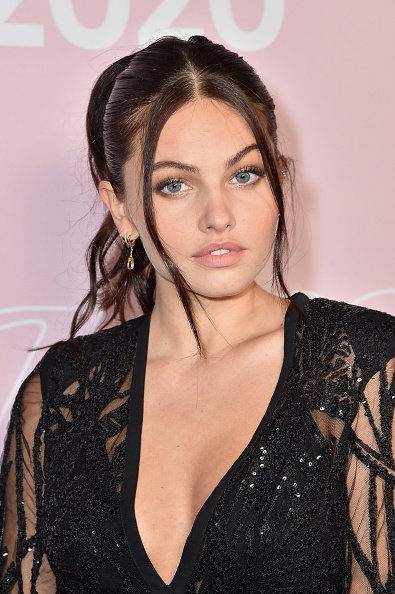 Her gold belly chain added a touch of sparkle to her outfit, and no makeup is noticeable on her face. The sexy picture sheds light on her hard stomach and toned legs. 
Blondeau's adoring fans loved the new update, which already amassed over 117,000 likes. Several followers commented in the post, expressing their admiration for the star.
Meanwhile, Blondeau has also recently celebrated her birthday, snapping a windswept shot with a pout. In the caption of the photo, the stunner said she's now 20 years old.
The separation of her parents took place in 2016.
In a message to her fans, Blondeau, who has modeled for numerous designers, including Dolce & Gabbana, thanked them for always supporting her. The star would like to hug all of them.
The journey to fame that Blondeau moved through is a captivating one. She came into prominence at ten years old when her Vogue Enfants shoot was criticized for being too sexual.
Despite its controversy, the photoshoot has drawn quite a bit of attention. Many people were wondering more about the 10-year-old girl, who was referred to as "The Most Beautiful Girl in the World."
Blondeau's parents are former international football player Patrick Blondeau and French actress and television personality Véronika Loubry. The separation of her parents took place in 2016.
Despite not being a part of the Tommy Hilfiger and Gigi Hadid Spring 2018 show at London Fashion Week, Blondeau still made an impression when she walked the carpet.
Blondeau is friends with high-profile individuals. Her best friend is Daniel Day Lewis's son, Gabriel-Kane Day-Lewis. Also, her social media pages are flooded with snaps of her and other celebrities.