Elton John Performs Duet with Dua Lipa at Oscars Pre-show & Raises $3M for His Aids Foundation
Elton John had an electrifying duet with Dua Lipa at the virtual Oscars pre-show party. The collaboration raised $3 million for Elton's Aids Foundation to help tackle the disease.
Despite the ongoing pandemic, Elton John was able to host his much-anticipated Academy Awards Pre-party for the 29th time. The renowned singer opted for a virtual ceremony, but it wasn't any less spectacular.
The ceremony, which was John's Aids Foundation's first virtual ceremony, featured several memorable events. However, John's duet with singer Dua Lipa was the main event of the fundraiser.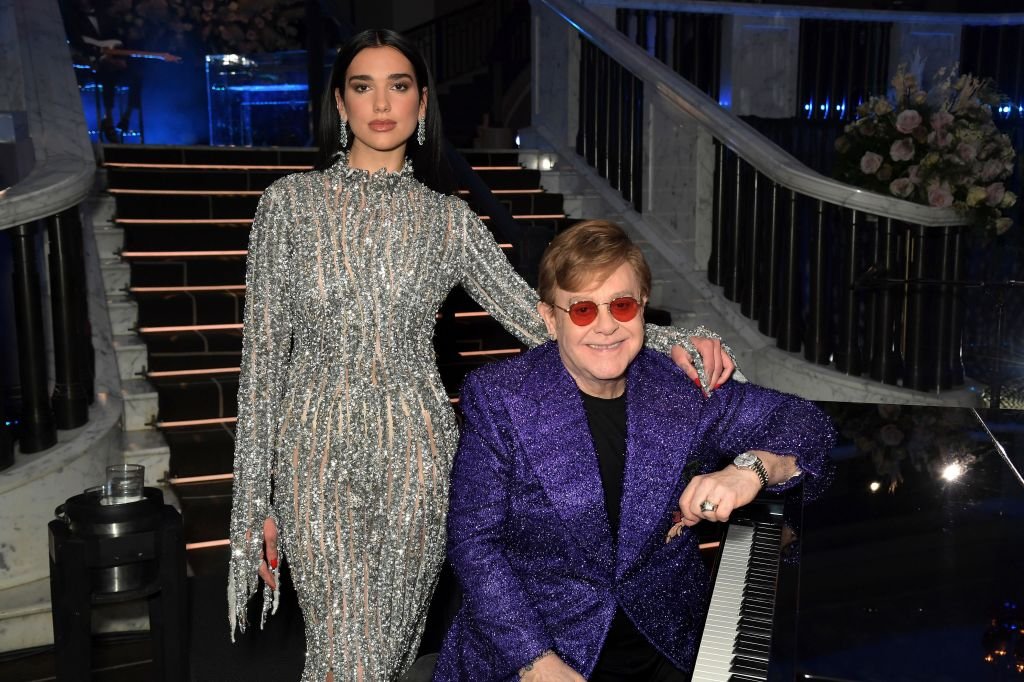 John and Lipa teamed up to perform each other's songs. They began with "Bennie and the Jets," followed by a rendition of "Love Again" from Lipa's 2nd studio album. The "Rocket Man" crooner gushed over their duet, saying: 
"It was so much fun to perform with the gorgeous Dua Lipa and open up our Party to supporters all over the world."
The pair's seamless connection wasn't only evident in the symphony of their voice but their matching sequins outfits. Lipa donned a gorgeous long-sleeved dress with silver fringes while John rocked a purple-sequined blazer.
Elton John Aids Foundation aims to tackle the discrimination that plays a role in hampering the efforts to end HIV/Aids.
The event aired on Sunday, April 25, was hosted by John alongside his husband David Furnish and actor Neil Patrick Harris. It featured special appearances by Lady Gaga and "Harriet" star Cynthia Erivo.
Gaga hosted a segment talking about mental health while Erivo changed the lyrics of John's tune "Your Song" to deliver fun trivia about movies. Other guests include Dr. Anthony Fauci, Elizabeth Hurley, and the cast members of "It's A Sin."
The Oscars pre-show was undoubtedly a success as it raised a whopping $3 million as part of the global effort to end AIDS. The funds are aimed to support young people living with HIV and at risk of the disease.
With his virtual show being held at Rosewood London, John couldn't be part of the 2021 Oscars physically, but that didn't stop the music legend from sharing his thoughts about the award show.
John poked fun at the award ceremony, which was held at the Union Station. He compared it to Starbucks station in Tianjin, China, saying that it looked like "it's coming from a Starbucks somewhere."
According to
the website,
 the Elton John Aids Foundation aims to tackle the discrimination that plays a role in hampering the efforts to end HIV/Aids. Their focus is on vulnerable groups like the LGBTQ community and youths in Africa.