Twitter Users Think Meghan Markle Gave a Subtle Hint about Her Daughter's Name via 'Vax Live' Dress
Meghan Markle, Duchess of Sussex, rocked up in a stunning poppy-print tie waist shirt dress during a pre-taped video at the Vax Live that took place on May 8.
Meghan Markle is heavily pregnant with her second child, a baby girl. She dressed up in a Carolina Herrera outfit covering her already grown baby bump.
Since her virtual appearance at the Vax Live, fans have been speculating that she dropped a hint on what she would name her unborn child.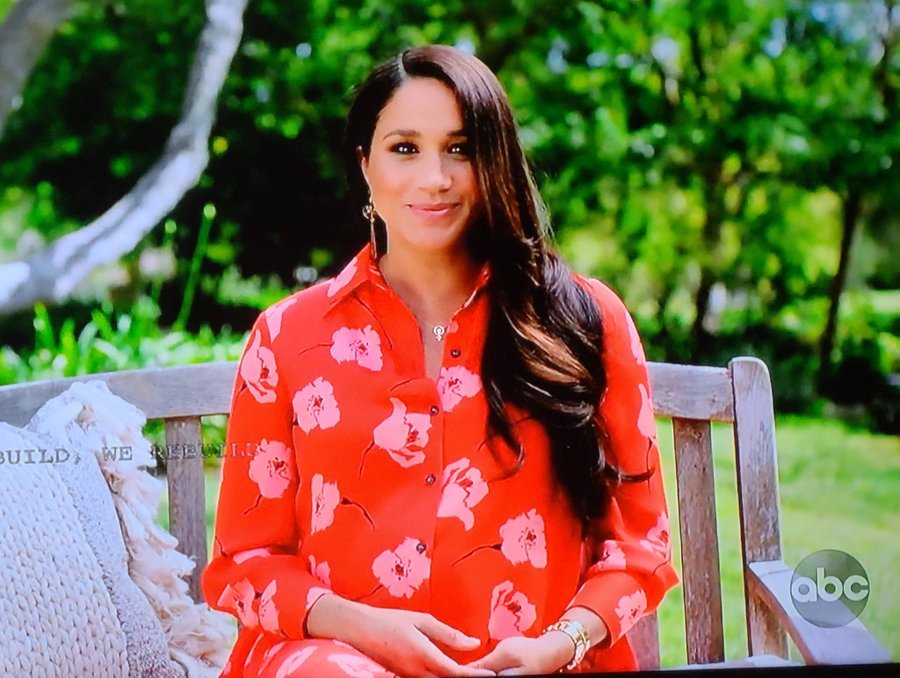 BABY NAME GUESSES
Twitter users shared their opinions on Markle's choice of attire and revealed she was sending a clear message with her gorgeous look for the event.
"Being a Taylor Swift fan has made me look for clues in simple things in life," one tweeted before saying, "Aka – I hope Meghan names the new princess Poppy and this was an easter egg."
Another user recalled that the Duchess wore a dress with California poppies on it that evening. She added the 39-year-old was sending a message to her and that no one can convince her otherwise.
So the golden poppy is the official state flower of Cali, but I'd like to think Meghan Markle is reppin' & showing some #californialove to her home state by wearing that poppy dress. #vaxlive pic.twitter.com/iZn9yWLOQn

— SierraBo22 (@SierraBo22) May 9, 2021
One other Twitter user wrote Markle's poppy getup gave a big nod to where she and her husband Prince Harry are, which is in California, adding:
"She wore the CALIFORNIA POPPY. When she married H, she had CW flowers + poppies embroidered in her veil & the Q allowed the RF minions to chase her away. CALIFORNIA BABY!!"
Meghan wore the poppy dress by Caroline Herrera, in rememberance to all those people, who lost there lives this past year.
SERVICE IS UNIVERSAL!

— Grace K. Yancy (@Amazegky211) May 10, 2021
BABY NAME PREDICTIONS
In April, a source exclusively told Us Weekly that the royal couple wants their daughter's name to have meaning and have not yet decided on a name for her.
"They…have not settled on one yet. There are some top picks for names but nothing concrete," said the insider before explaining that the pair are over the moon to have a larger family unit.
However, Bookies have come up with another baby name prediction and believe Markle and Prince Harry will name their child after Prince Philip, opting for Philippa.
NO BABY SHOWER
Aside from baby names, the actress is also not having a baby shower ahead of her daughter's arrival. A source revealed the "Suits" alum does not think having an over-the-top baby shower with gifts is appropriate now.
The insider continued and said there is a lot of bad going on in the world and seeing she and her spouse have been involved in humanitarian work, they both believe they can use their time and resources for a better purpose.
BODY LANGUAGE DECODED
To realize their cause, the pair advocated for people in emerging countries to receive their vaccinations. Markle gave a speech during the pre-recorded event from her mansion, and a body language expert weighed in on her posture.
According to Judi James, the Duchess seemed nervous and replicated Queen Elizabeth's style in her first appearance since her interview with Oprah Winfrey.
James said Markle appeared on screen looking demure, elegant, and rather regal on her country bench. She added while she seems typically at ease, there was a trace of nerves during her recording via her self-comfort thumb rub gesture.