Christie Brinkley Wows in Emerald Mini Dress at Great Gatsby-themed Party — See Photos from the Event
In an emerald mini dress, Christie Brinkley looked royal at a Great Gatsby-themed birthday party. Here are some adorable pictures that the supermodel captured during the event.
Christina Brinkley, who turned 67 in February, is fully immunized and hasn't wasted any time. The mother-of-three has attended a few gatherings, including a Great Gatsby-themed birthday party recently.
Fans were able to see photos that the star had taken during the affair. Brinkley looked terrific in a flattering emerald mini-dress, as seen in the pictures she shared with her legion of Instagram followers.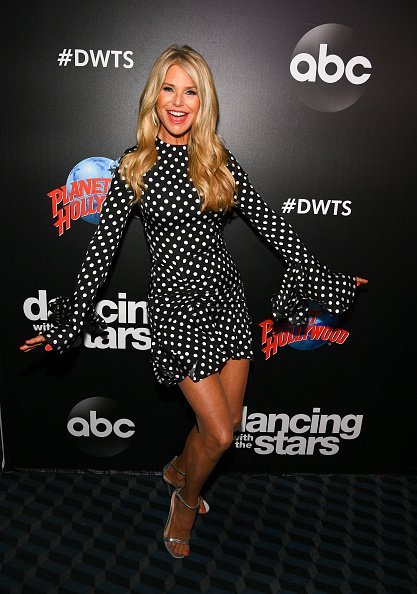 Brinkley, who rose to stardom for her Sports Illustrated Swimsuit Issues appearances, accessorized the ensemble with black gloves, a pearl necklace, and a 1920s headpiece. In the caption, she wrote:
"It's good. Isn't it grand? Isn't it great? Isn't it swell? Isn't it fun? Isn't it? Nowadays... After a year in quarantine, the answer is YES! [sic]."
Brinkley also revealed who appeared in her photos. In addition to her beautiful children Sailor and Jack, the pictures also included her friends Donna Karan, Katie Couric, and Drew Barrymore.
Brinkley's heeled sandals, embellished with gems, added an extra pop of glitz to her polka dot dress.
Brinkley's fans commented positively on her post in the comments section. According to a commenter, she looks gorgeous in green. Another added, "Wow!! You guys look amazing!!"
Brinkley has been delighting her fans lately with her outfits. On May 27, she shared a throwback picture of herself in rollerskates. The image showed her tanned and smiling from ear to ear.
Brinkley also showed off her youthfulness with a stunning image she shared on Instagram last March. She caught attention when she kicked her legs up into the air and sipped Bellissima Prosecco.
Brinkley's heeled sandals, embellished with gems, added an extra pop of glitz to her polka dot dress. Her facial expressions were filled with happiness as she posed with her beverage next to a piece of art.
During the 1970s, Brinkley rose to prominence as a model after a photographer discovered her. The beauty appeared in three consecutive Sports Illustrated Swimsuit Issues beginning in 1979.
Brinkley appeared in her first film, "National Lampoon's Vacation," in 1983 and displayed her incredible physique. The fashions of that time don't match the charming smile that carries Brinkley throughout the years.