Jim Fassel Met Son John 34 Years after Giving Him up for Adoption — Who Was the Coach?
Former New York Giants head coach Jim Fassel died in June 2021 at 71. His NFL career was remarkable, but he made tough choices throughout his life, including putting his first son up for adoption.
Football fans were shocked to learn that Jim Fassel, who took the New York Giants to a Super Bowl in 2000, passed away on June 7, 2021. One of his five sons, John, confirmed his death. 
John revealed his dad dealt with chest pain earlier that day and was taken to a local hospital. He was sedated but unfortunately suffered a heart attack and died.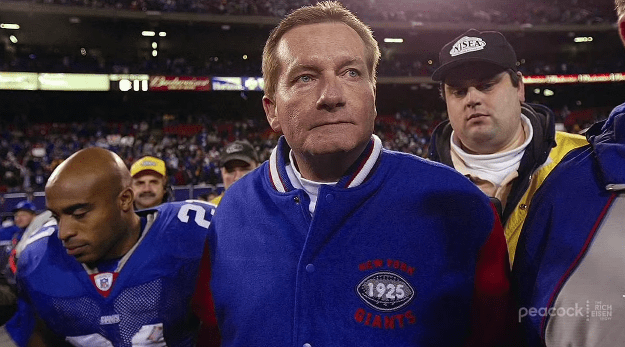 JIM FASSEL'S NFL CAREER
Just like many other coaches, Fassel began his career as a player, but it was short-lived. The Chicago Bears drafted him, a quarterback, in the seventh round.
He was also part of the Houston Oilers and San Diego Chargers. Eventually, he moved to Canada to play with the Toronto Argonauts and retired with The Hawaiians in 1975.
A very rare photo of the late Jim Fassel as a quarterback for the Hawaiians of the ill-fated World Football League in 1974, @AdamSchefter. It was during this season that he went from a so-so player, to a 25-year old assistant coach. https://t.co/hxWw876NKC pic.twitter.com/nKYBKV0TLU

— Keith Olbermann (@KeithOlbermann) June 8, 2021
After spending years coaching college football, New York Giant's Bill Parcells hired him as an assistant in 1991. He was then promoted to offensive coordinator, which he fulfilled with the Denver Broncos and Arizona Cardinals. 
Finally, Fassel was hired as the Giants' head coach for the 1997 season. His performance during his first season was so outstanding that he won the Coach of the Year award. 
One of the more underrated soundbites in NFL history—Jim Fassel guaranteeing his @Giants would make the playoffs. From there, they won 7 straight and made the Super Bowl. His coordinators that year? @SeanPayton and John Fox.

RIP to a good man. pic.twitter.com/Ma55CWTATB

— Albert Breer (@AlbertBreer) June 8, 2021
Jim Fassel's guarantee of taking his team to the playoff in the 2000 season is quite famous, especially because he did it with a 7-4 record and after two straight losses. 
The Giants not only made it to the playoffs but also the Super Bowl. Unfortunately, they lost to the Baltimore Ravens. Fassel's head coach NFL career ended in 2003, but he worked as an offensive consultant and coordinator for the Ravens until 2006.
Special teams coordinator John Fassel to miss this week's minicamp following the passing of his father, Jim Fassel.

Our hearts go out the Fassel family.

— Dallas Cowboys (@dallascowboys) June 8, 2021
PAYING TRIBUTE TO FASSEL
As soon as Fassel's death was announced, several NFL personalities took to social media to pay tribute. Michael Strahan wrote that Fassel was a big part of his life, a great man and coach that will be missed. 
Ravens head coach John Harbaugh also released a statement saying that he always respected and appreciated Fassel's approach to coaching and how he treated his players. 
We are devastated to hear of the passing of Coach Jim Fassel. Our thoughts are with his family at this time. pic.twitter.com/A791lWAr5N

— Utah Football (@Utah_Football) June 8, 2021
Shannon Sharpe, Danny Kanell, and more former NFL players and teams shared heartfelt comments about the late coach, who died 51 years after putting up his first child for adoption.
John Mathieson […] always wanted to find their biological parents.
"Just a great man, great coach and he will be missed."@michaelstrahan reflects on his time with former Giants coach Jim Fassel who has died at the age of 71. pic.twitter.com/jBZMevSw8A

— Good Morning America (@GMA) June 8, 2021
JIM FASSEL'S FIRST SON
On April 5, 1969, almost two years after Jim Fassel and his wife Kitty met as college freshmen in Fullerton, California, they welcomed a baby boy. At the time, the couple was only 19 years old. 
Kitty and Fassel considered tying the knot, but their parents talked them out of it due to the potential strain of forced marriage. After much consideration, they decided to give their son up for adoption in Colorado three days after his birth.
Statement from Head Coach John Harbaugh: pic.twitter.com/MtZuZ6n4Ed

— Baltimore Ravens (@Ravens) June 8, 2021
In 1971, Kitty and Fassel got married. They began having children in 1974 when Fassel started his coaching career. In 2002, the couple gathered their four kids – John, Brian, Jana, and Michael – and talked about their first son.
The Fassels reunited with their son in 2003, 34 years after giving him up for adoption. Tom and Dorothy Mathieson, the boy's adoptive parents, named him John.
"I wouldn't have got where I got without Jim Fassel." - @johnelway pic.twitter.com/N0HPzNINyZ

— Denver Broncos (@Broncos) June 8, 2021
John Mathieson, who played linebacker in high school and joined the military for seven years, always wanted to find his biological parents. When his second child was born with kidney problems, it became a priority. 
Mathieson eventually found his birth parents. They arranged a meeting at a Denver hotel and spent the first minutes just studying their facial features. Jim Fassel's relationship with Mathieson after that meeting is unclear.