Grandpa Holds up Chair under Roof So an Animal Could Jump Down Safely
An older man came to the rescue of a cat stranded on a roof by holding up a chair so that it could jump down. The man was praised for his actions. 
A video posted to Reddit shows a grandpa who goes out of his way to ensure that a cat that found itself in a sticky situation was able to escape and be free again. 
The older man stands with a chair above his head close to the edge of a roof where the cat was stranded with nowhere else to go. The cat trusted the grandpa and was able to jump onto the chair and escape the dire circumstances of being stuck.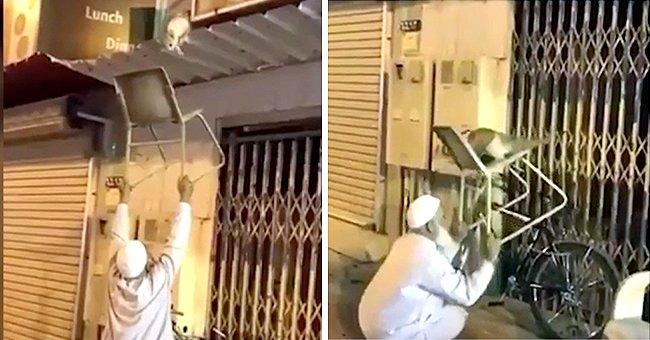 GOING VIRAL 
The footage showcasing the older man's act of kindness toward the feline went viral on Reddit and gained some traction on the social media platform. 
The video was viewed more the 3,200 times and racked up more than a dozen comments, most of them praising the man for saving the cat. One user wrote in the comment section, "A truly good man," while another said: 
"[A] simple act of kindness but still warms my heart 💙"
HEDGEHOG SHELTER
This older man isn't the only one making an effort to improve the lives of helpless animals. Another man is working to aid baby hedgehogs and has launched a shelter for them, providing a home for 14 baby hedgehogs. 
The man shared that he uses a mixture of kitten milk and puppy mouse to feed the baby hedgehog.
A video showing him feeding a week-old hedgehog called Dexter went viral on Reddit, being viewed more than 1,500 times. The man explains how the feeding works and how many hedgehogs he is caring for. 
FULL-TIME JOB
The kind man explains that the baby hedgehogs are on a rigorous feeding schedule that amounts to a full-time job. They get their first meal at 6:00 am, and the feeding continues right through the day and night up until 1:00 am. 
There isn't only one hedgehog to keep the man out of his sleep, but there is a total of fourteen little animals that need his love and attention, which results in a strenuous schedule to keep the rescue shelter going. 
This man runs a rescue shelter for hedgehogs! https://t.co/hONkblzhUC #humansbeingbros

— HumansBeingBros (@HumansBros) July 3, 2021
FEEDING THEM
Reddit users couldn't get enough of little Dexter and shared compliments and praise for the man doing all the hard work to ensure that the hedgehogs survive. One user commented: 
"You are a saint. Thank you for rescuing these cute little critters."
In the video, the man shared that he uses a mixture of kitten milk and puppy mouse to feed the baby hedgehog, which is given to the little critter through a syringe.