Serena Williams' Mini-Me Olympia Joins Mom on Court to Perform Ballet Tennis in Cute Video
Serena Williams and Olympia Ohanian are back on the tennis court with a twist. The adorable mother and daughter duo switched things up as they added a bit of dancing to the classic sport. 
There is never a dull moment when Serena Williams and her daughter, Olympia, are on the tennis court. The two always seem to have a good time while bonding over their shared love for staying active with sports. 
Their matching tennis unitards and playful antics have fans glued on their phones for updates from the duo. Thankfully, they graced followers with yet another adorable video of them having fun on the court.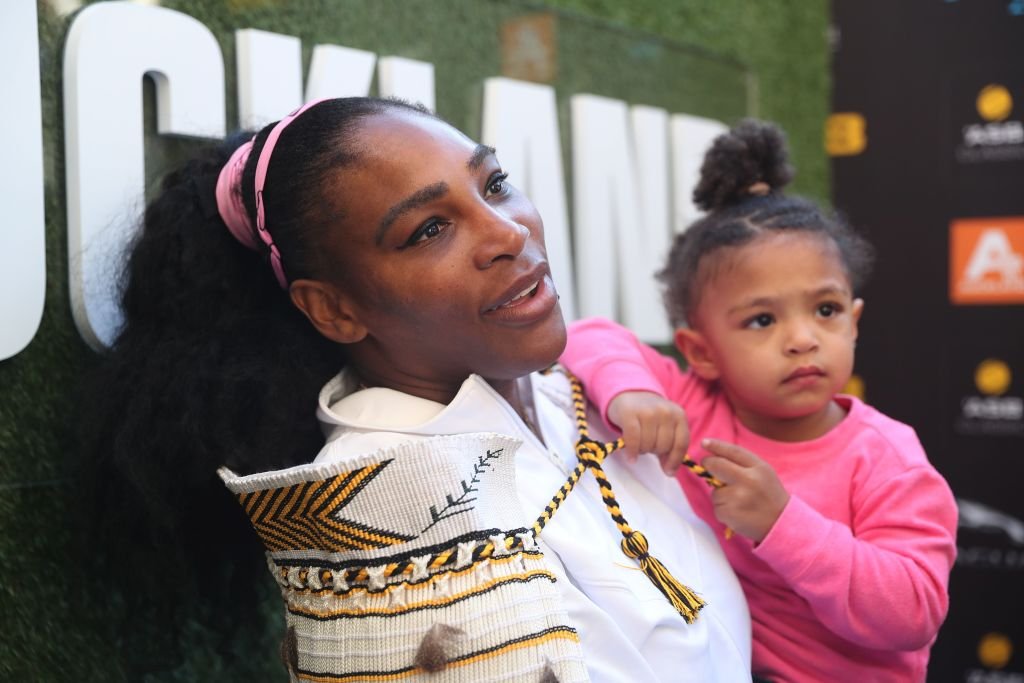 Williams and her toddler daughter, Olympia, have fans gushing at their moments together again with her latest post. The Instagram video shows the tennis athlete and three-year-old Olympia twirling on the tennis court. 
Although Williams is usually graceful on the court, this isn't a move we see her practice often with her opponents. However, the tennis star isn't afraid to mix things up when her daughter joins her.
Williams instigates the ballerina style dancing, and Olympia follows suit in her vibrant colored tennis dress. The toddler's skirt moves as she adorably twirls around after her mother in her tiny sneakers and accessorized braids. 
Unlike her cute mini-me, Williams opts for performance tights, a tank top, and a cap for her tennis ballet moves. However, the mother of one looked like she was having just as much fun spending time with her daughter. 
This adorable ballet tennis moment isn't the first among the mother and daughter duo. Olympia and Williams regularly show off their loving relationship on social media for all their fans and followers to see. 
When Williams isn't giving her mini-me a lesson twirling on the court, she teaches her a few tennis tips. The athlete revealed that she was giving Olympia lessons to keep her busy in a socially distanced environment last year. 
Since then, we have witnessed tons of twinning moments between the two on the court, and we love it! Thankfully, the twinning moments between the duo are not limited to tennis attire and athletic wear. 
The two have shown off several matching moments in swimsuits, princess dresses, and even sweatsuits. There is no doubt that Olympia got her fashionable sense of style and impressive kiddie tennis skills from her mom. 
Another thing Olympia definitely has from her mama is unconditional love, which she continually displays in the media. Williams' bond with her daughter is also so strong that it overrides her decades-long career. 
The gold medalist athlete recently revealed that she would not be playing at this year's Olympic games. Her reasoning for skipping out on a fifth gold medal is that the travel restrictions that wouldn't allow her to bring her daughter. 
Williams explains that she and her daughter have been together every day since the day she was born. Consequently, leaving her behind to play tennis at the Olympic Games would put her in a depressive state. 
The athlete also revealed that she had other reasons for making the decision about the Olympics during a news conference. Additionally, the injury she sustained from slipping on wet grass multiple times at Wimbledon is a factor. 
Williams is one of the most successful tennis players in Olympic history, so her presence on the courts will be missed. However, she has proven herself well enough at the games in 2000, 2008, and 2012. 
Although Williams has made some exceptions for her daughter, there is no sign of her slowing down. The 39-year-old athlete is still undoubtedly one of the greatest athletes in the world, and fans can't wait to see her in action again.