Simone Biles' Parents Share Message to Her after Second Place Finish at Tokyo Olympics Gymnastics Qualifying
World Champion Simone Biles received a warming and encouraging message from her parents as they cheered her on after she came second at the Tokyo Olympics qualifying.
Simone Biles's parents and biggest cheerleaders had some encouraging words up on Instagram in the wake of her game during the women's gymnastics team qualifying.
Simone's parents, Nellie and Ron Biles shared a sweet family photo with their superstar girl. However, the highlight of the post was the words they penned to keep her going at the Olympics.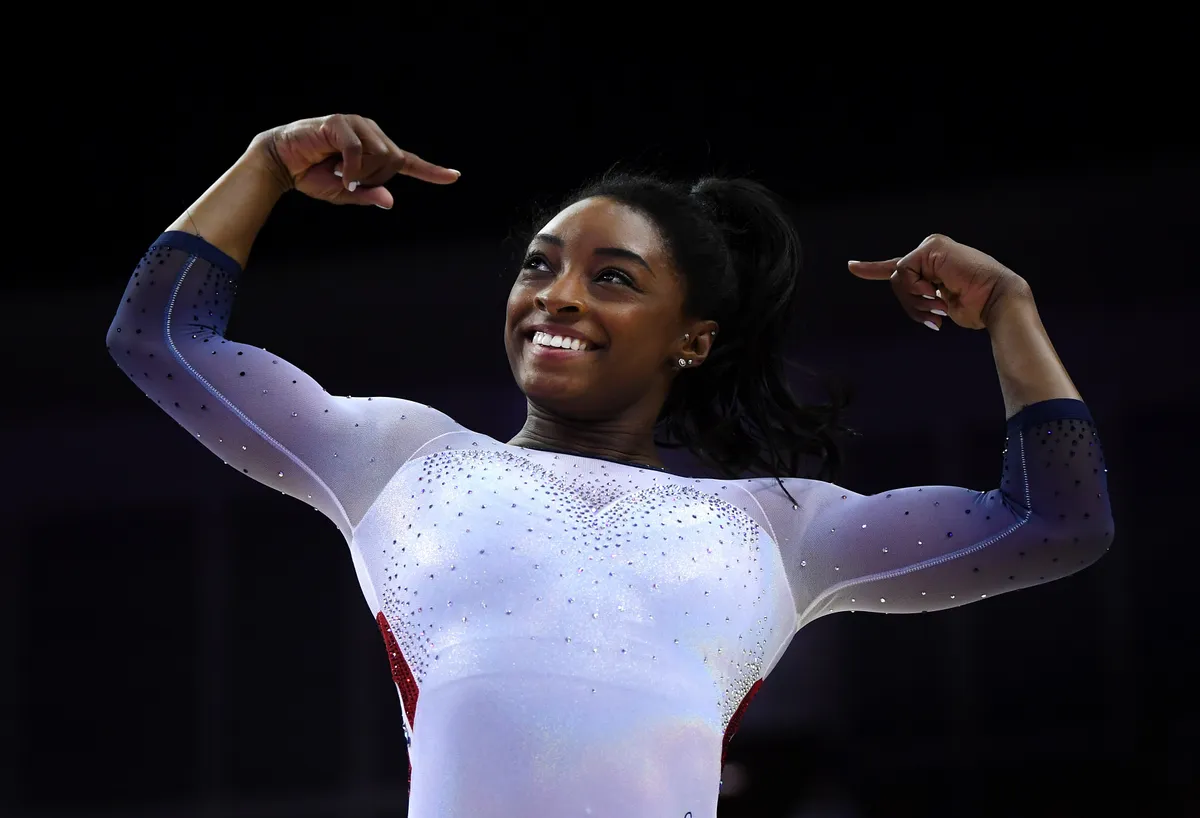 SIMONE'S PARENTS SHOW SOME LOVE
The photo featured the young adult and her parents, all proudly flagging the national colors of the United States. Simone looked lovely rocking the official USA sports gear.
Her mom stood to the left in a blue and white striped long-sleeved top while her dad stood tall on the other end in his Nike USA outfit. Nellie draped the Star-spangled banner around her neck. The caption read:
"We held our breath but knew that prayers would prevail. Just be the Best, Simone. We love you."
SIMONE'S RECENT OLYMPIC PERFORMANCE 
Many fans and sports lovers were left stunned by the rare position Simone found herself in after getting a reduction in her score. This had happened due to a falter in her floor exercise. 
The 24-year-old's score was reduced by 0.3 after she bounced on the mat. Her score of 14.133 left her in second place to Italian gymnast Vanessa Ferrari who scored 14.166.
Simone met the same fate on the vault when she scored 15.183 behind her teammate Jade Carey who had 15.166. She also had a weak link when she scored lower than teammate Suni Lee. 
However, she reached all five individual rounds for the all-around game. She topped the all-around at 57.731 for her total tally. Brazil's Rebecca Andrade came second with 57.399 while Lee was third with 57.166. 
During her stint in "DWTS" in 2017, Simone brought out her parents on stage, making it known that they saved her.
SIMONE BILES VERSUS HERSELF
Simone has risen through the ranks in the world of sports, becoming one of the most revered stars in international sports. However, it wasn't always like that.
Although it was long ago, there were times Simone was mainly concerned about food. In her Facebook Watch series, "Simone Biles Vs. Herself," the champion opened up about her childhood.
Simone had four siblings, and they lived with their mom, who struggled with drugs and alcohol addiction. The youngster and her siblings ended up in foster care.
In the third episode of the docuseries, Biles talked about her time in foster care. She noted that she did not remember a lot, but she was scared of being separated from her siblings.
After a while, her grandfather, Ron, and his second wife, Nellie, adopted her and her sister Adria. Her other siblings went to stay with an aunt. Nellie also opened up about how she became a mom to the superstar.
Nellie kept it real as she noted that it was not always easy connecting with Simone and Adria. She relayed that loving them needed to mean more than words. 
The proud mother began to work on it, and today she is grateful to have helped nurture Simone to greatness. Nellie and Ron often appear at her events, but things are different this time due to the COVID-19 precautions.
SIMONE SHOWS AFFECTION TO HER PARENTS 
When it comes to celebrating family, Simone has proved that it is a two-way thing. Just as Nellie and Ron cheer her from the sidelines, Simone takes out time to honor them.
During her stint in "DWTS" in 2017, Simone brought out her parents on stage, making it known that they saved her. The star recalled that her granddad told her she could call them "mom and dad."
The multiple-time Olympic gold medalist shared that she could not thank her parents enough. She voted how they set great examples of treating others and how they supported her from the onset.