Tracee Ellis Ross Perfectly Recreates Mom Diana's Iconic Photo Wearing the Same Yellow Halter Ensemble
Tracee Ellis Ross has paid tribute to her mother, Diana Ross. In a photo shared on social media, she's wearing the same yellow halter dress as her mom wore decades earlier.
It's nearly impossible to replicate Diana Ross' classic looks. Still, Tracee Ellis Ross recently proved that the apple doesn't fall far from the tree when she recreated her legendary mother's famous photograph.
On July 26, Tracee, known for her lead roles in the television series "Girlfriends" and "Black-ish," took to her Instagram page to share a picture of herself donning an elegant beaded yellow halter dress.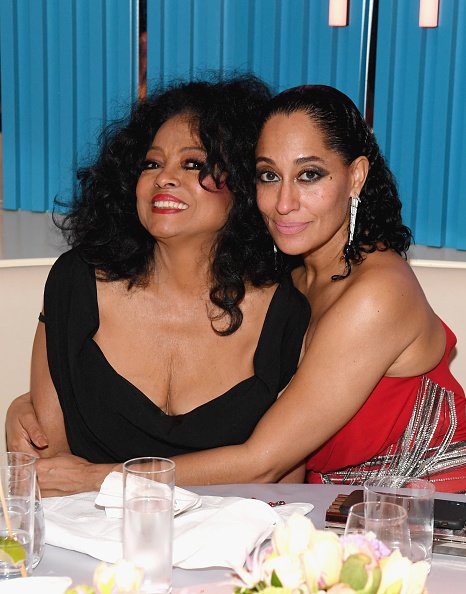 COPYING HER MOM
In her next post, she showed her legion of followers where she copied her stunning look, and it's from the one and only Diana Ross, who established herself as the lead singer of the vocal group the Supremes.
The mother and daughter had their signature curly hair slicked back in a chic bun, as seen in both photos. To make their faces look extra-special, they wore wine-colored lipstick and smokey eyeliner.
Tracee also accessorized herself with the same magnificent statement necklace. The actress then struck a pose that was reminiscent of her mom Diana's in a photo probably from the late 1970s.
It is easy to see the similarities between Tracee and Diana. Although Tracee wore a different top and earrings, her necklace made up for it. The resulting shots are so striking that one may be tempted to take a second look.
Tracee talked about the moment her mother heard her sing for the first time.
Essentially, a big reason why they look like twins, whatever their age, is that it seems like they've discovered how to stay young forever. Both Diana and Tracee have always been excellent-looking women.
A CHEEKY STORY
Tracee recently shared a humorous account about her mom's reluctance toward things that most people would consider personal treasures in Naomi Campbell's online series "No Filter With Naomi."
During a discussion about her former modeling career, new career, and parents, Tracee shared a precious moment from her past back when she stumbled across a forgotten piece of her mother's wardrobe.
"Why is this not in a case? This could pay for college," she recalled telling her mother then. The iconic piece of clothing is a black blouse covered in rhinestones that Diana wore in 1981 during her duet with Michael Jackson.
Tracee told Campbell that her famous mother has and had excellent taste. The actress, however, remarked that Diana does not always recognize thing's significance, which she found funny.
At some point, Tracee, who appeared in her first movie in 1996, borrowed her mother's blouse and altered it for her needs. As the story goes, she showed off her second-hand find at an awards ceremony in 2017.
STYLE INSPIRATION
Tracee once shared in an interview that her love of fashion has been crafted into her DNA from birth. According to her, when she was a child, she saw her mom as the woman singing on stage in a glamorous dress.
However, as she matured, Tracee explained that she began to find the words to express the view she had of a woman at her best, having a charismatic and sexy look with this gift she was given. She added:
"I was raised to view sexy as being at the height of yourself. Clothing was one of the ways you could wear your inside on your outside."
One of Tracee's favorite things to do when she feels antsy is to try on clothing, either from her closet or crates of her mother's vintage performance looks. She said she found her mom's worn stuff amazing.
DIANA'S REACTION
In a May 2020 interview with People, Tracee talked about the moment her mother heard her sing for the first time, which had only occurred earlier that year, and for the film "The High Note."
She trembled at the thought of being compared to her mother. Tracee, however, said it was time. And so, she headed to Diana's house. As they sat in her car in her driveway, she played the song "Love Myself."
Tracee said her mother shed tears, and they both looked at each other in excitement. Diana never doubted her singing ability. She'd received gentle prodding over the years, so it was a huge moment for her.
UNBOTHERED BY SOCIETAL PRESSURES
Last May, Tracee spoke about her career trajectory, growing up in the spotlight of her mother, and finding a sense of confidence within herself despite the pressure to adhere to a standard that doesn't fit her.
Tracee mentioned getting married as one of the pressures she faced. Despite her dream of marrying, she also pointed out that women are just conditioned to desire a life with husbands and children.