Daily Joke: Dad Did a Heroic Act in Front of His Son
A young father who had been intrigued by tractors as a young boy found himself going over his childhood days a few minutes before deciding to step out with his son.
These days, the man is focused on other things and busies himself with caring for the family. It appeared he outgrew the obsession due to taking school work more seriously, and well, the girls came along as he advanced in his teenage years.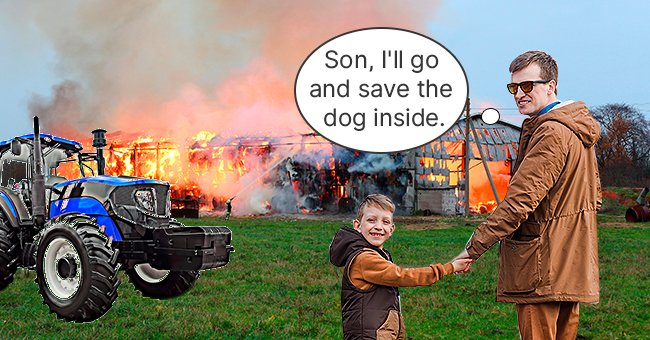 But on this fateful day, the man stared into space and smiled as his mind thought of how he hung pictures of tractors around the house and decorated his room with them. He had many toy tractors to play with and even had a tractor-themed cake during one of his birthdays.
The tractor lover was soon distracted by his playful son, who reminded him about a promised walk. They decided to take that walk before dinner time, holding hands and chatting as they walked down the street.
But before they reached three blocks away from their home, a visibly scared woman ran in their direction, asking for help. She begged for her dog to be rescued from a raging fire that had nearly burnt down her barn.
With no hope of getting the firefighters just in time to stop the death of her pet, the man summoned the courage to perform a heroic act. So he stormed the barn, took a deep breath, clearing the smoke from the barn, found the dog, and ran out.
When he got out, he let go of his breath, dispensing the smoke in the air. The woman was overwhelmed with joy and she showed her appreciation.
However, his son remained still, he could not understand his dad's courage, and so, the little boy asked, "How did you do that, Dad?" The man smiled, turned to his child, and said:
" Well, son. I was an EX-TRACTOR FAN."
Did you enjoy this joke? Here is another one about a father and son who went out on a fishing trip during a weekend vacation and the curious son had some questions for his father. 
Source: Reddit