Mary J Blige Looks Fabulous Striking a Pose in Leather Shorts, Stiletto Heels & Embroidered Top
Mary J Blige recently showed off her good looks when she took to her Instagram page with photos that captured her posing up a storm in leather shorts; one fan implied it would look terrible on some other people. 
Mary J Blige is a stunner, and she knows it! The beautiful singer gave her fans something to moon over when she shared pictures of herself dressed in a gorgeous outfit. 
In the pictures, the famous singer dazzled in a sleeveless embroidered top coupled with leather shorts that ended just above mid-thigh, revealing the artful rose tattoo she has on one of her bronzed legs.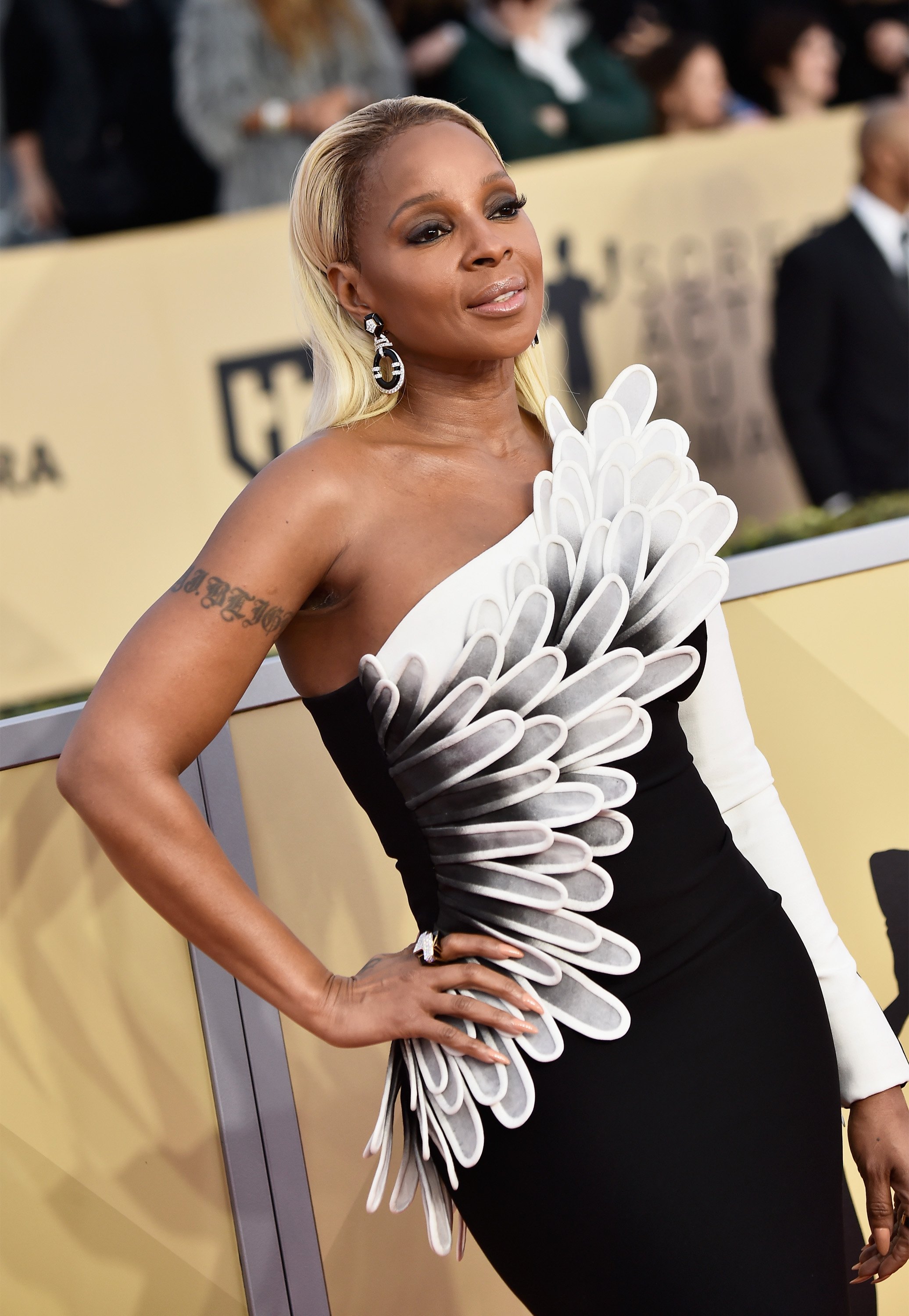 She completed the outfit with dazzling stiletto heels and accessorized with glittery jewelry that graced her slender wrists and long manicured fingers. 
Her blond hair was styled in loose waves that fell past her shoulders, and her face sported some makeup that perfected the whole look. 
The first shot she shared had her hands fingering the hem of her leather shorts, drawing attention to how short they were, while the image that followed saw her pose with one hand on her waist. 
Her caption revealed that she knows just how good she looks and is not afraid of flaunting it. Her fans gushed over the photos in the comment section, throwing compliments and sweet words around unabashedly. 
Even after she started making it big with music, her demons still hung around.
One fan who decided she looked too good even went as far as declaring that the outfit would not look as good on anyone else. At the same time, another pointed out that she seems to be aging backward, which seems plausible given that Blige is already 50 but hardly looks it. 
A user also mentioned that the picture advertised her desire for the man in her life, which is not impossible since she is divorced. However, the talented singer also keeps her love life away from the media, so not many know if she is currently seeing someone or not. 
The nine times Grammy award winner is one of the music veterans recognized in Hollywood for her excellent music and resolute spirit. 
She had a rough start as a child, having been targeted by a family friend who sexually abused her as a child; however, thanks to her raw talent, her future changed, and now, she is truly something to behold. 
She was discovered at 17 years old and promptly got a record deal, after which she caught the eyes of Sean Combs, who saw something in her. Blige grew up surrounded by music which made it easy for her to channel her depression and pent-up emotions into it. 
However, even after she started making it big with music, her demons still hung around, and people making money off her were content to keep them around by keeping her ignorant. The cycle broke when she met a man named Kendu Isaacs. 
He changed her life, and with his help, she became a better person. They tied the knot in 2003, and she became a stepmom to his three kids. They remained married for years but called it quit in 2016.