22-Year-Old Woman Had to Announce Her Pregnancy at Her Boyfriend's Funeral
A woman recently shared the story of how she tragically lost the father of her unborn baby days before she found out she was expecting. The baby was born in 2019 and purportedly resembles his father. 
Hannah Probert never expected that her life would change dramatically in the timespan of a few days, but that's what happened when her boyfriend, Bradley Lukins, was involved in a car accident.
The duo was inseparable from the moment they met, and quickly they realized that they wanted to have a baby together. While still in their season of attempting to become parents, the unexpected happened.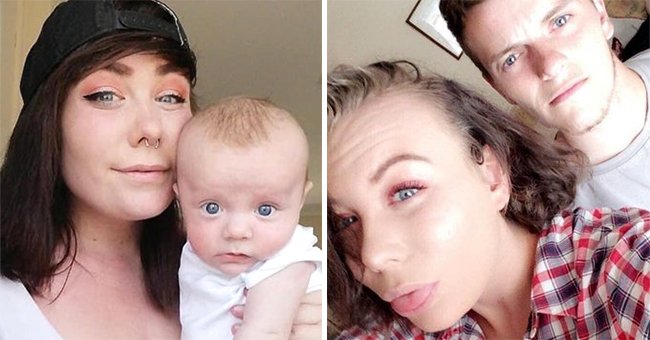 CUT SHORT 
Lukins was driving in the back passenger seat of a Volkswagen Polo in Whales when Delme Marks lost control of the vehicle. Sadly, Lukins was the one who suffered the most during the crash.
Probert explained that her boyfriend "took the brunt of the impact and suffered catastrophic internal bleeding." The couple had an array of exciting plans for their future, and all of them were cut short in an instant.  
FOUND OUT SHE WAS PREGNANT 
The young woman expressed that she is not sure how she survived the days following Lukins' death. Probert added that it was all "a bit of a blur." 
She also stated:
"I remember two days after his death I took a pregnancy test and when the lines got darker I realized I was pregnant with Bradley's baby." 
BITTERSWEET MOMENT 
Probert shared that finding out about her pregnancy was a bittersweet experience. She was happy that a piece of her boyfriend was inside of her, but it was gutwrenching to accept that he never knew he was going to be a father.
She stated that being a dad was something Lukins wanted more than anything. Lukins' mother contacted Probert to tell her about his passing. The young woman didn't believe it at first, but she knew he was gone after seeing him in the hospital.
ANNOUNCING THE NEWS
Probert decided to make the baby announcement at the funeral. She said it wasn't easy to share the news, but she knew it was the right thing to do. Telling everyone at the funeral was special because it was in the presence of Lukins' loved ones. 
Nine months after his death, Probert welcomed their son into the world. Archie-John Bradley will never meet his father, but Probert has kept photos and clothing for him. The mother also expressed that her little one looked just like his dad.
SOURCE OF STRENGTH 
Probert stated that her baby's uncanny similarity to Lukins was comforting. She explained: "Maybe Archie was Bradley's parting gift to me. That is the way I like to think of him."
Archie is now 3 years old, and he is Probert's source of strength and motivation to push forward. She vowed to tell her son what a great man his father was, and she added that she was forever changed by Lukins' love.